In 2006, the Philadelphia Phillies gave Chris Coste the opportunity of a lifetime when they put him in their starting lineup. He'd played through the minors, endured the long bus trips, but patiently waited to get called up to play in the big leagues. Coste would later go on to write a book entitled "The 33-Year-Old Rookie".
Eight years after Chris Coste started his first MLB game, another 33-year-old rookie would start his first NHL game between the pipes for the Philadelphia Flyers. His name: Rob Zepp.
A journeyman through just about every league, Zepp was drafted twice while with the Plymouth Whalers of the OHL. He played in the ECHL and AHL before testing the waters in Finland for two seasons. He found a home for himself in the Deutsche Eishockey Liga (DEL) with the Berlin Polar Bears. Spanning from 2009-2014, Zepp won five straight championships in the DEL and was approached last offseason by the Flyers to sign a contract.
In this interview he talks about his time in Germany, the differences between Europe and North America, and if he thought his hopes at an NHL career were over.
Enjoy!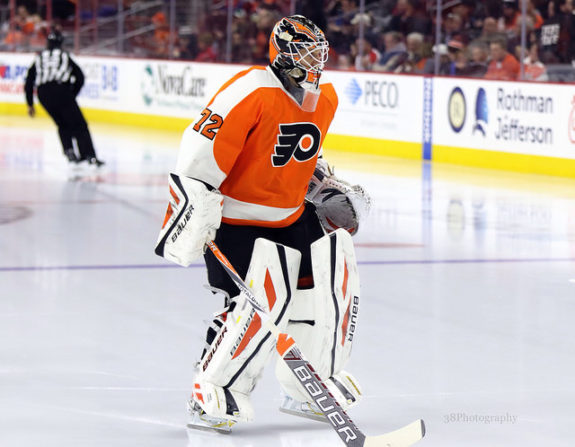 You spent 7 years in the DEL with the Berlin Polar Bears. What did you take away most from your time in Germany?
The biggest thing I took away was the feeling of being a champion. Whenever you win, that is something no one can take away from you and it propels you to a new level of confidence.
Did you pick up German while you were there? Are you fluent? How difficult was it to learn?
I did pick up a limited amount of German. I was at the point when I left the house that I would communicate exclusively in German. I would not say I am fluent though, my German sounds quite rough to a native German speaker. It is a difficult language to learn because of all of the grammar rules and genders for each noun that you have to learn.
The German league isn't as notorious as the KHL, Swedish Elite League, or Finnish League. Can you talk a bit about the differences between the DEL and those leagues? How is the fan support from a country whose main sport isn't hockey?
The level of the DEL is quite high. The top teams in the DEL can compete with the best from those other leagues. We had quite a bit of success in the European championships, even winning it one year.
Who has been the most difficult goalie you've had to face off against in your career and why?
I'd say Pekka Rinne. He is so big and athletic and catches a lot of pucks so there are not many second chance opportunities. He is also excellent at handling the puck.
Same question but for most difficult player? 
Pavel Datsyuk…need I say more?
You had won 5 straight DEL championships with the Polar Bears. Why did you decide to make your way to Lehigh Valley instead of trying to continue your run? Did Giroux and Briere coming over during the lockout have any effect?
I went over to Europe with the intention of coming back to have a shot at playing in the NHL. It took a little longer than originally planned but the feel and fit of the Flyers organization felt right. Of course G and Danny had a big role in that. They always had nothing but good things to say about the Flyers organization and fans.
Did you have any other offers to joins any other NHL/AHL teams? If so, which ones?
I have had a number of offers over the last 5 or 6 summers. A gentleman never tells though.
It looks as though you've adjusted well to the AHL in the early going. How has it been playing for the Phantoms in the first half of the season?
It has been a great experience playing for the Phantoms. We have a first class facility and great fan support, you can't ask much more than that. It has also been a good experience for me to get re-acclimated to the North American game.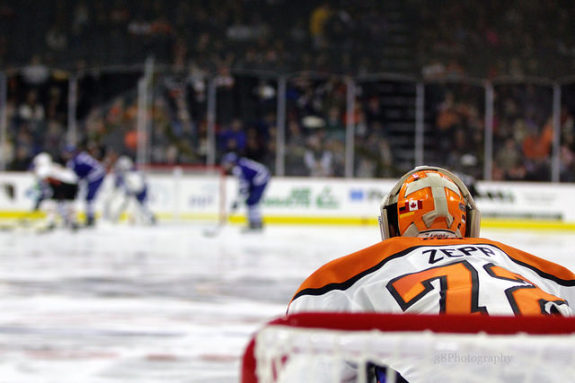 Do you still keep tabs on the DEL and your former teammates?
Of course, I regularly follow the DEL and the Eisbaren of course. I am also in touch with many of my former team mates. There is a saying in Berlin, "Einmal Eisbaer, immer Eisbaer", which basically means once you are an Eisbaeren, you are always and Eisbaeren.
Was there a time in your career having been through the minors then to Europe that you thought the NHL dream was over?
My belief that I had the ability to play never wavered however, from time to time doubts about actually being able to live that dream would creep in as so much is out of your control.
Was it good to get the first NHL game (and more importantly your 1st NHL win out of the way)?
For sure it was. It was a great experience and an even better feeling, however, I would like to make a career out of it and the first game is only the first step towards that. It is also nice to be able to get the nerves out of the way.
Where do you keep the game-winning puck?
The Flyers kept it and they are having a plaque made up for me.
Given your career, would you go back and do anything differently?
There are always things that you can look back on and wish you did differently but that is true for life in general. It is impossible to do so. There is no point in taking up energy thinking about it. The path I have taken in my career has led me to where I am today and for that I am grateful.
If you could go back is there anything you would tell your younger self as a goalie playing for the Plymouth Whalers?
Focus one game at a time and focus on what you can control. Focussing on anything but that is a waste of time and energy.
What's the best advice you've received in your career and who gave it to you?
I have received a lot of great advice in my career. Two things stand out to me. My good friend Anthony told me that success is a combination of hard work, good luck, and timing. You can only control one of those things so make sure you focus your energy on that. Also, my agent at the time Mike Gillis, suggested I go to Europe to develop my game and play at a higher level, in hindsight, going to Europe was one of the best decision I have made in my career. If I would have stayed in North America, I highly doubt I would still be playing hockey and I definitely would not have played in the NHL.