In just his third NHL game defenseman Michael Kapla was on the ice opposite arguably the best player in the game Sidney Crosby of the Pittsburgh Penguins. Quite the change from before March 28 when Kapla was playing collegiately for the UMass-Lowell River Hawks and not the New Jersey Devils.
"I try not to look at the other guys because I might get distracted, I've watched these guys for a long time," Kapla would say after the game (a 7-4 Devils loss to the Pens). "He's a special player, and he can make a lot of plays; I wasn't really focused on him out there, I was focused on my game and trying to do what's best for my team."
The transition isn't easy, but these first few games of experience are invaluable to Kapla who is learning amongst veterans that have been a part of the NHL for tons of games. And obviously, New Jersey sees something in the defender who will turn 23-years-old in September that they signed him to a two-year deal.
JUST ANNOUNCED: The #NJDevils have signed @RiverHawkHockey D Michael Kapla to a two-year, entry-level contract. https://t.co/bA0grda7NC pic.twitter.com/SetdDXB9TV

— New Jersey Devils (@NJDevils) March 28, 2017
The Devils are trying to rebuild their defense corps and now add Kapla's name to the mix amongst Steven Santini, Damon Severson, Joshua Jacobs, Colton White, Yegor Rykov, Jeremy Davies, Viktor Loov and Jacob MacDonald as in-house options. The newest Devil finished his college career with 92 points (17g-75a), four game-winning goals and 102 penalty minutes.
Following the game against the Penguins, we spoke with Michael Kapla to get some insight into what the 22-year-old's experience in the NHL has been like thus far.
The Hockey Writers: What has the last week or so been like for you, joining an NHL team days after your college career at Mass-Lowell ended?
Michael Kapla: Obviously this is what you dream of growing up as a kid; everything happened so fast. We had just lost, were playing to go to the Frozen Four; I think it's pretty cool to get a taste of what this level is like and it's a dream come true being able to play my first couple of NHL games here.
THW: Were there any other teams pursuing and trying to sign you besides the Devils?
MK: I had met with a couple of people — GM Ray Shero and assistant to the GM Tom Fitzgerald — earlier in the year during my season and I liked what they had to say. They seem like really great people and I felt like this would be a good fit.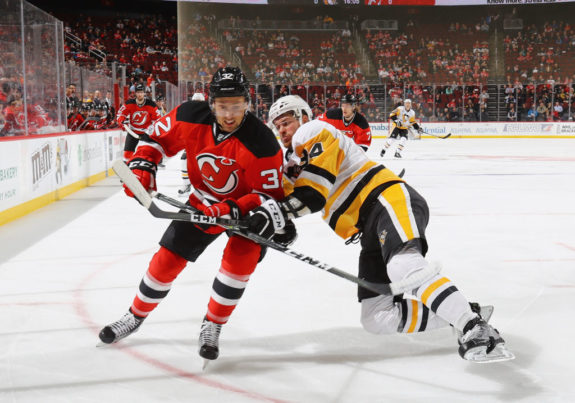 THW: What has it been like being around this franchise for about a week as a young kid and now they are honoring their all-time leading scorer Patrik Elias?
MK: He's obviously a living legend (smiles), I come in and get to meet him, I've been on the ice with him a couple of times. It's cool to see what he's like as a person. I had some 'Elias' sticks with his curve growing up, so it's kind of cool to see him walking around; this is pretty special.
THW: You were captain of your team in college, what does that respect and honor mean to you?
MK: It's a nice thing, your teammates and coaches pick you to be that guy. There have been a lot of good captains that came before me in that program, so to be along with those names obviously is a nice honor. I was proud to be a leader of that team and I hope my teammates were happy with how I did.
Captain Michael Kapla (@mKapla3) signs two-year deal with @NJDevils #UnitedinBlue #UMLHockey50 #AlwaysARiverHawkhttps://t.co/h12WPjzWQf pic.twitter.com/UZeckfejDb

— UMass Lowell Hockey (@RiverHawkHockey) March 28, 2017
THW: As a kid from Wisconsin, what led you to decide on attending a college in Massachusetts?
MK: They were actually the first team I ever talked to. Once I went out there, saw the rink, the facilities, the campus…it was great. The coaches are great people and I felt like it was the right fit; looking back on it, it was the perfect spot. I could have asked for anything more.
THW: You played in a school-record 161 games, so you mist be some sort of ironman; did you miss any games at all?
MK: (laughs) Yeah I chalk that up to my strength coach, my athletic trainers – they helped me stay healthy, with workouts in the summer. Preparing my body for the winter season, helping me with dings and bruises throughout the year, helping me to be able to play every night.
THW: You're a defenseman, so there are definitely a lot of dings and bruises…
MK: Yeah definitely (smiles).
THW: That first game in the NHL, was it just one big blur or does anything, in particular, stand out?
MK: It was an exciting time and like I said a dream come true, but I felt pretty comfortable out there. It was a lot of fun; I played alongside Ben Lovejoy that game and he made it a lot easier for me. I had some family there so that was really nice.
THW: The second NHL game you played you had two shots on goal, did you feel a little more into the game?
MK: Yeah I think you play in more and more games in any league you get to feel more comfortable, and I think that was the case. It's a fast league and there are a lot of skilled players out there. Every game is a learning curve because obviously, this league is the best league in the world. I feel alright, but obviously, I have a long ways to go to be a full-time NHLer.
THW: One of your teammates in college, Joseph Gambardella, grew up in my hometown and a friend of mine played with him growing up, what's your scouting report on one of the newest members of the Edmonton Oilers?
MK: He's relentless on the puck, I don't think he'll ever be outworked and to go along with that he has a lot of skill and great vision. He's a predominantly a pass-first type of guy; I was actually just talking to him and he had his first two points  – a goal and an assist – in his first pro game (with the Bakersfield Condors in the AHL) yesterday. That's cool to see, he's an even better person than he is a player.
Dan Rice is in his 9th year of reporting for THW & has covered NJ Devils home games for 15+ years at various websites. He began his journey working for legendary broadcaster/writer Stan Fischler from 2002-04 & completed an internship at the ECHL; he also has been writing features for the NWHL (nwhl.zone) website since 2016.