The Toronto Maple Leafs have had their fair share of goalies the past few seasons but there is one in particular that isn't usually spoken of but who shows potential. Kasimir Kaskisuo has had stellar numbers thus far for the Toronto Marlies, posting a 5-1 regular season record with a 1.84 goals-against average and .934 save percentage. He carried this play into playoffs where he has started eight games, posting a 2.56 GAA and .891 SV%.
Kaskisuo has a history of putting up stellar numbers, especially in his last season of University hockey. Before signing his first professional hockey contract, he had a season to remember. Playing for the University of Minnesota-Duluth, he posted a 19-15-5 record with a 1.92 GAA and a .923 SV %, leading to his first contract.
On March 28, 2016, Kaskisuo signed a two-year, entry-level contract worth $1.85 million. Kaskisuo, who played two seasons as a Bulldog at the college level, was clearly excited about the opportunities ahead for both himself and the Maple Leafs.
I couldn't be more excited to sign my first professional contract with the @MapleLeafs. It's been a dream come true. #LeafsNation

— Kasimir Kaskisuo (@Kaskisuo) March 29, 2016
A dream come true indeed, and with the success of his recent season, I'm sure the Leafs management are thinking about the current Marlies goaltending situation. I was surprised to see Kaskisuo playing over both Antoine Bibeau and Garret Sparks, but then again he was signed to a contract for a reason.
Kasimir Kaskisuo – Leafs Depth Chart
Clearly, if he is being trusted with the Marlies' playoff hopes, he is the best option of the three. That being said, here is an updated depth chart of the current Leafs goaltending situation. Keep in mind that Curtis McElhinney is a UFA this summer. There is no guarantee that he returns as a Maple Leaf next season, therefore he will not be included.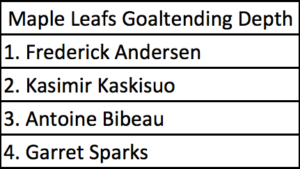 I understand the sample size of Kaskisuo is rather small, but the fact that he is starting in playoffs over both Bibeau and Sparks should not go unnoticed. He didn't have the greatest season playing for the Orlando Solar Bears of the ECHL, posting a 3.45 GAA and .899 SV%. Clearly, the Finland native didn't let that phase him, as he has made the most of his latest AHL opportunity, seizing the starting position at the most important time of the year.
Future Outlook: 2017-18 Season
The Marlies already had two goalies who have earned a bit of NHL experience in Sparks and Bibeau. Neither looked terrible in the NHL, but neither seemed ready to be a permanent NHL goalie. In the above goaltending depth table, the order of Bibeau and Sparks could easily be reversed, as they have both had their moments with the Marlies and Leafs. Next year the Maple Leafs could consider calling up Kaskisuo for a little taste of NHL action of his own.
Maybe that's a little too soon and he needs to show he's capable of playing a full season as the Marlies starter to pay his dues in the AHL. As for the future of Bibeau and Sparks, it's a toss up because they are both restricted free agents this summer. Sparks is currently backing up Kaskisuo, but since Sparks and Bibeau are both 23 years old, there is no reason they can't keep both and let a little healthy internal competition brew for the starting position next season. Right now, the ball is in Kaskisuo's court, or crease I should say.
Current Objective
The Marlies are currently down 3-2 in a seven-game playoff series against the Syracuse Crunch. In the most recent 5-1 loss, Kasimir Kaskisuo allowed four goals on 22 shots, which simply isn't good enough to get the job done in playoffs. The Marlies seem to do a good job of suppressing shot totals, therefore Kaskisuo simply needs to play like he has during the regular season. Facing elimination Monday, the Marlies will need Kaskisuo at the top of his game. Can anyone sense a comeback coming the Marlies' way?
I've been a Leafs fan since I was a little kid, and had to live through the painful collapse of the 2012/13 season against the Bruins. Most of the Leafs top players are my age. They light up the NHL and I write about it! The youth on this roster makes for very entertaining hockey. You won't want to miss a game!