Hitting is an underappreciated art in the NHL. While many hockey debates revolve around the skill and point production of players, the narrative often leaves out the fact that good hitting can legitimately change a game. Whether it's a momentum shift after a booming hit, the fatigue that sets in after being hit repeatedly in a game or even the fear of a pending big hit, there are clearly many situations where hits affect play.
Though the NHL has cracked down on illegal hits in recent years, there's still a need for players to be protected more than they have been in the past. It is for this reason that the game has shifted away from fighters and enforcers who make a living by simply protecting their teammates. Still, there are many players in the NHL who have found a healthy balance between contributing on the team while also using their body to change the game.
With that in mind, here are the top hitters in the NHL today:
8) Milan Lucic (Edmonton Oilers)
Milan Lucic is a rare breed in the modern day NHL. If he came in the league to be a pure enforcer tasked with protecting his teammates and changing the game with booming hits, he would have lived up to expectations and then some. Instead, he was selected in the second-round of the 2006 NHL Entry Draft by the Boston Bruins as a legitimate power forward and has since gone on to be a top-end talent in the NHL.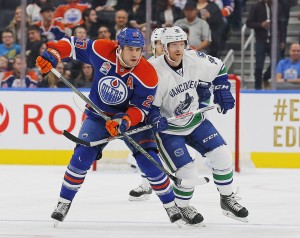 Scoring at least 20 goals in five seasons topped off with a career-high 30 in 2010-11, Lucic's offensive numbers have always been just as good as his physical ability. Still, it would be a discredit to the 6-foot-3, 235-pound left winger to not mention his physicality as his most notable trait. Though he recorded only 202 hits in 2016-17 in his first season with the Edmonton Oilers, Lucic has continued to show that he is as physical as they come in the NHL.
Notching 2.46 hits per game and 8.61 hits per 60 minutes, Lucic certainly saw a downtick from his typical production in the 2016-17 season. Just one season prior, however, the Vancouver-native recorded 244 hits, good for 3.01 hits per game and an impressive 10.49 hits per 60 minutes. It's entirely possible that the 2016-17 campaign was just a down one for Lucic, however, and no NHL top hitters list would be complete without him in the mix.
7) Tom Wilson (Washington Capitals)
Tom Wilson is an interesting player. Though he was taken in the first-round as a power forward with a scoring touch, the 6-foot-4 215-pound Wilson has yet to display much of an offensive skill set in the NHL. What he has done, however, is live up to his name as a physical player – often drawing the ire of opposing fanbases and teams.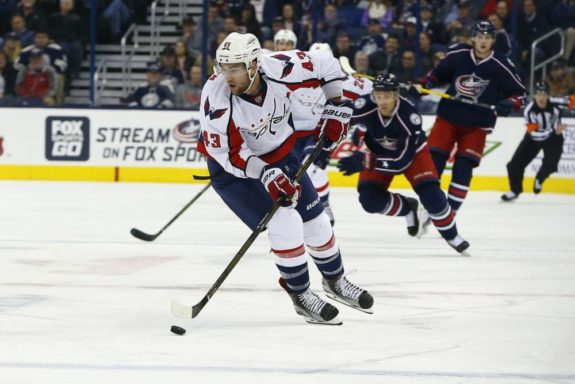 Wilson finished the 2016-17 campaign with 239 hits to give him 2.91 hits per game and 13.54 hits per 60 minutes. Never afraid to use his size to his advantage, Wilson's ability to create an impact due to his size has not gone unnoticed. Whether it's laying out a big hit or using his size on the forecheck, Wilson has earned himself a spot on this list despite how criticized his play might be at times.
6)  Cal Clutterbuck (New York Islanders)
Though he only finished the season with 222 hits in 2016-17, Cal Clutterbuck has proven time and time again that he can play a physical role in the NHL. Even in a down year in terms of hits, Clutterbuck still finished the season with 3.36 hits per game – good for eight in the league. Additionally, he laid out 14.43 hits per 60 minutes.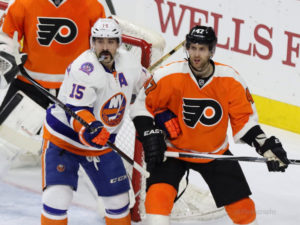 Clutterbuck is consistently near the top of the league in terms of hits and he has even had some offensive success in the past. Scoring double-digit goals six times in his career, Clutterbuck's contributions in a bottom-six capacity have benefited the Minnesota Wild and New York Islanders greatly, highlighted by his ability to take charge and physically wear an opposing team down.
5) Ryan Reaves (St. Louis Blues)
Once a dual-athlete who played both hockey and football, it isn't surprising to see how physical Reaves has been throughout his career. While he won't beat a team up on the scoresheet, he's made a name for himself – especially within his own division, as a physical player who isn't afraid to make his presence known. It's gotten him in trouble with the league at times, but Reaves has always played with an edge to help create energy for his team.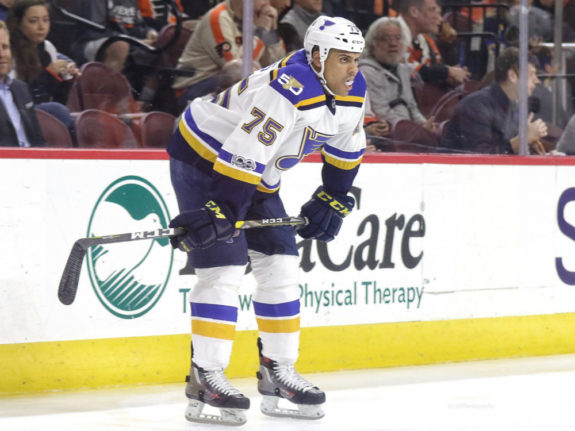 Ranking 10th in the league in 2016-17 with 239 hits, Reaves found ways to create a stir in limited ice time whenever he saw a shift. Finishing the year as only one of three players to record over 20 hits per 60 minutes (20.20), Reaves made the best of his time.
4) Luke Schenn (Arizona Coyotes)
Though he was once considered a blue-chip prospect and an untouchable player on the Toronto Maple Leafs blueline, Schenn has never quite lived up to his draft status as a fifth-overall selection in 2008. Selected in a draft the featured defenders like Drew Doughty, Alex Pietrangelo and Erik Karlsson, among others, Schenn definitely had some talented competition to compete with from his draft class. While Schenn hasn't become a bonafide No. 1 defender, he's certainly made an impact as a hitter in his career.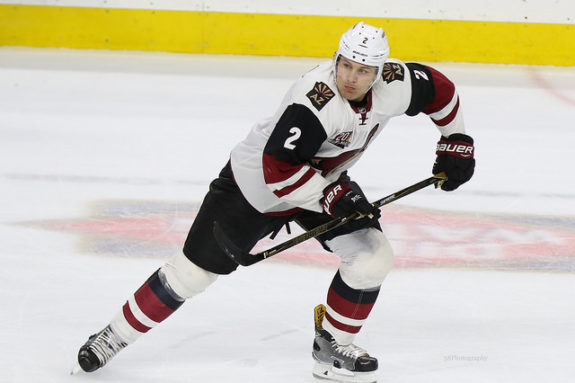 Recording the third-most hits in the league in 2016-17 with 286, Schenn's ability to impact a game physically has never been in question. Always ranking near the top of the league in hits, Schenn recorded 3.67 hits per game in 2016-17 and finished the year with 12.20 hits per 60 minutes. Still young and looking to continue making an impact, Schenn likely won't change his physical style of play anytime soon.
3)  Radko Gudas (Philadelphia Flyers)
When looking for a hard-hitting and gritty player, look no further than Philadelphia Flyers defender Radko Gudas. The 6-foot 204-pound blueliner has made a name for himself as one of the premier hitters in all of the NHL. Playing with an edge the way Flyers fans have come to expect skaters to play, Gudas has totally embodied what it means to be a Flyer. His 280 hits ranked fourth in the NHL in 2016-17 among players with at least 25 games played and he was one of just three players in the league in the 2015-16 season to reach the 300-hit mark.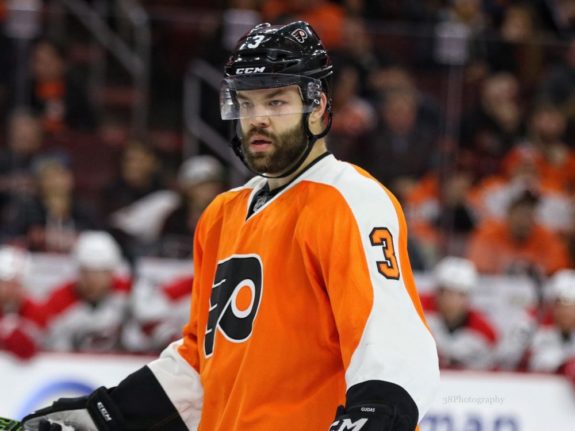 Recording 4.18 hits per game and 13 hits per 60 minutes, Gudas may be working on becoming a more well-rounded defender, but his calling card will always come in the form of his physicality on the ice. Unfortunately, however, that physicality has come with a price more than once.
2) Matt Martin (Toronto Maple Leafs)
When the Toronto Maple Leafs signed Matt Martin, they knew the type of player they were getting. The deal wasn't made with the expectation that Martin would be a consistent offensive contributor. Instead, it was a signing to get experience on their roster as well as a solid energy player who could protect some of the youth that the team was preparing to implement into their lineup.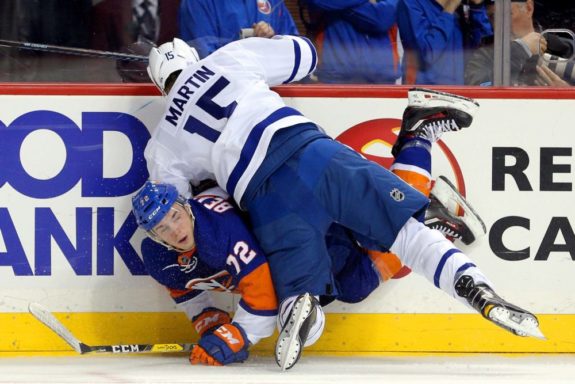 In Martin, the Maple Leafs got one of only two players to record 300 hits in the year. His 3.66 hits per game ranked fourth in the league this season and his 24.69 hits per 60 minutes were far-and-away the highest mark in the league. It isn't always pretty and it may not always go unnoticed by NHL's Department of Player Safety, but Martin's physicality has always been the biggest part of his game.
1) Mark Borowiecki (Ottawa Senators)
There aren't many players in the league who hit as often or as hard as Ottawa Senators' defender Mark Borowiecki. Laying out a league-high 364 hits in the 2016-17 season, Borowiecki made the most of his ice time by laying out an astounding 5.20 hits per game. To put that in perspective, Gudas finished in second in the league in 2016-17 with 4.18 hits-per-game. Over 1 hit less than the Senators blueliner.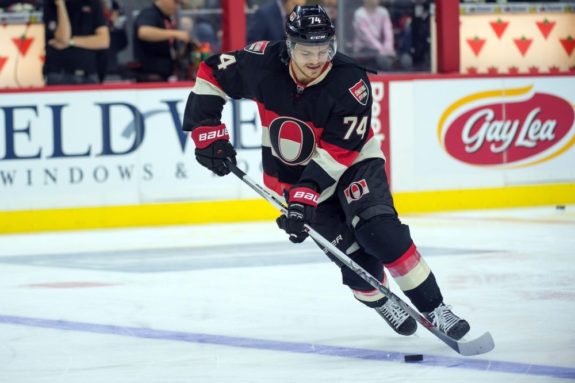 In terms of hits per 60 minutes, only Martin on the Maple Leafs ranked higher than Borowiecki who finished the season with 22.29 hits per 60 minutes. Though he may not be one of the best players in the league, he can certainly open up play with his willingness to throw his body around each and every shift.
Honorable Mentions: Alexei Emelin, Brandon Dubinsky, Chris Kunitz, Roman Polak, Leo Komarov, David Backes, Nick Ritchie