From a value standpoint, Dominic Moore and Riley Nash were the Boston Bruins' best free agent signings of 2016. David Backes may have grabbed the headlines (and the cash), but it was Moore and Nash who had the biggest impact-to-cost ratio. The two were stalwarts in Boston's bottom six, key cogs of the league's top-ranked penalty kill and combined for less than $2 million toward the cap.
The Bruins have shelled out considerable contracts in consecutive years to Matt Beleskey and David Backes. David Pastrnak is set to sign a lucrative contract extension. Cap space, while not in "crunch" territory, needs to be used extremely judiciously. With the 2017 class of free agents set to be on the leaner side, Boston would be well-served to avoid the splash and follow the Moore/Nash approach. Depth and affordability should be Don Sweeney's approach to free agency come July 1.
Finding A Forward
Finding a left wing to play alongside David Krejci is arguably Boston's biggest challenge this offseason. Perhaps Jake DeBrusk, Danton Heinen or Anders Bjork (should he sign) seize and retain the job. Maybe Boston wades into the offseason trade market and acquires a player like Gabriel Landeskog. One thing they're not likely to do, however, is find that player in this crop of free agents.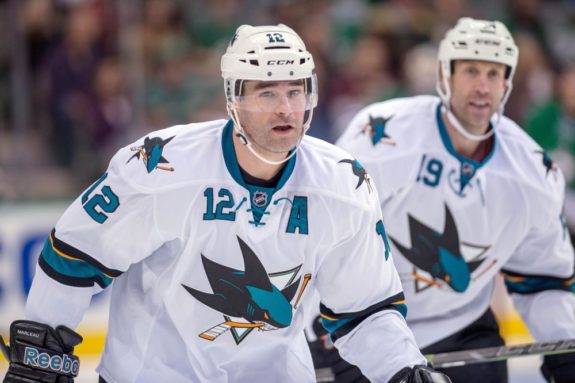 Five seasons ago, the current list of pending free agents at left wing would have been awe-inspiring. Patrick Marleau, Patrick Sharp, Thomas Vanek, Chris Kunitz and Jiri Hudler were all enjoying some of the best years of their respective careers. Alas, the sands of time have taken their toll. Of the aforementioned group, only Marleau and Vanek finished with double-digit goal totals in 2016-17. And these players are still the cream of this year's crop at the position.
Marleau is still a finisher, as evidenced by his 26 goals this past season. His 19 seasons in San Jose, however, suggest he isn't going anywhere, much less to Boston. Should the 37-year-old decide to leave the Bay Area at this stage of his career, it will be for a payday or a better shot at the Cup; Boston can offer him neither of these things.
Sharp, Vanek and Kunitz all still have something to offer a team, but they're no longer Top Six guys. Sharp battled through injuries all season long, and at 35-years-old is a risky-bet to fully rebound from major hip surgery. Vanek is better suited as a power play specialist and secondary scorer at this stage of his career. Kunitz has been in decline for several seasons and never fully rebounded from losing Sidney Crosby as his linemate.
Stafford The Solution?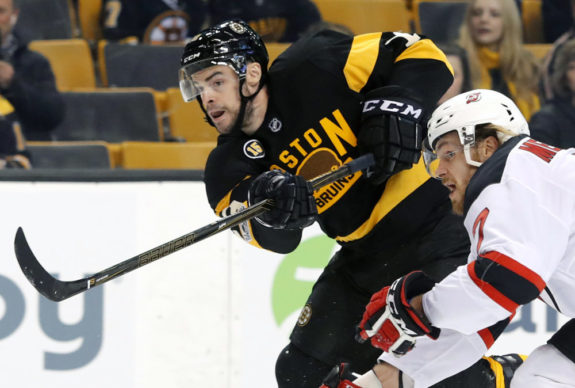 Should Boston attempt to fill the void at left wing through free agency, Drew Stafford is the likeliest man for the job. None of the aforementioned players (save for Marleau) is a marked upgrade from Stafford. Secondly, there's familiarity as well as interest on Stafford's end:
If there's any kind of a chance [to return to Boston], I would definitely be into it. I know my wife wasn't able to make it out here, but we had talked about it a little bit as a possibility," said Stafford. "If they feel like it could be a good fit then we'll cross that bridge moving forward. The business side of it kind of works itself out, but personally I loved my experience here and it would be great. We'll see what happens.

-Drew Stafford to Joe Haggerty at CSNNE.com April 26, 2017
Furthermore, Stafford could likely be retained for significantly less this season on a one-year, "prove it" contract. His four goals and eight points through 18 contests in Boston are hardly eye-popping. However, they do average out to 18 goals and assists over an 82-game schedule. He added two more goals for the Bruins in the playoffs (no Boston player scored more), and his ability to play either wing as well as up and down the lineup would serve as a healthy insurance policy for the team. Should the Bruins eschew the trade market and instead seek affordable insurance for their burgeoning prospects, Stafford is their man.
Depth On Defense
Kevan Miller likely earned protection from the Expansion Draft with his stellar play down the stretch and throughout the playoffs. His defensive reliability and ability to play on his off-wing suggest that he could serve as Charlie McAvoy's partner next season. However, Miller has proved to be a tad injury-prone, having played 70-plus games in a season just once in his career. Furthermore, a larger sample size shows that his play suffers when forced into the Top Four. Though his play down the stretch could very well indicate permanent growth to his game, it could just as likely be an aberration. Banking on his health and progress could come back to haunt the team.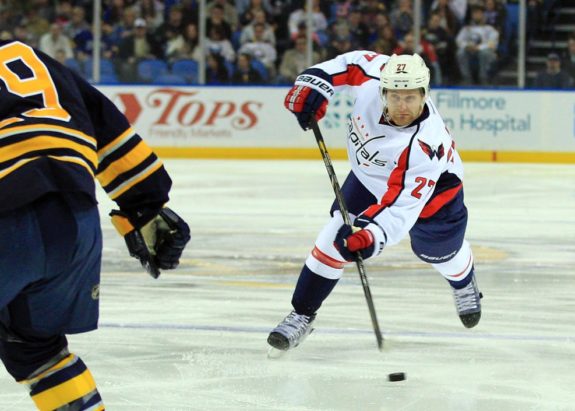 The market for defensemen in this year's class of free agents is marginally stronger than that of their forward counterparts. Kevin Shattenkirk headlines the group, though his reported asking price and handedness will keep him out of Boston. Karl Alzner is an intriguing option, and is the likeliest "splash" signing Boston could make, should they travel that route. He eats minutes and would serve as an excellent shut-down defender alongside Charlie McAvoy. However, he's likely to earn a significant increase on his $2.8 million salary. Whether or not Boston is willing to commit the dollars and term it will take to outbid the competition remains to be seen.
Brendan Smith was excellent down the stretch for the New York Rangers and likely earned himself a nice contract along the way. It's unlikely Boston overpays for him, which is often requisite for securing free agent defensemen in leaner markets. Plus, there was the Chara thing….
Rather than risking another big-money signing, Boston might be better-suited dipping into the secondary market as a means to shoring up the position.
The Next Tier
As mentioned earlier with the Nash and Moore signings, cheap, veteran depth can pay huge dividends. As we're currently seeing with the Pittsburgh Penguins, one can never have too many capable defensemen. Ron Hainsey and Mark Streit were instrumental in stabilizing the unit when the injury bug tore through the Penguins' locker room and both are set to hit the market at season's end.
Hainsey is a native New Englander and played his college hockey at UMASS-Lowell. He can play both sides of the ice and moves the puck well for a man of his size and age. Streit, though approaching 40, can still skate like the wind. He's an excellent power play quarterback and has a terrific shot from the point. His 27 points in just 68 games this year would've placed third amongst Bruins defensemen.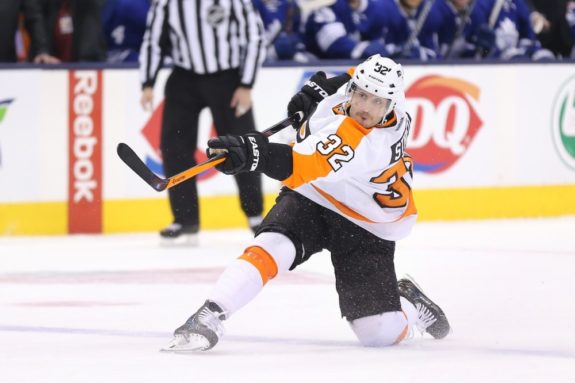 At this stage of their careers, both are likely looking at one or two-year deals, at an affordable rate.
Beyond the Penguins' pending unrestricted free agents, Trevor Daley, Kyle Quincey and Johnny Oduya form a solid secondary market. All are steady, left-handed veterans on the "wrong" side of 30. However, that should only preclude Boston from signing them long-term, or for big money, which they wouldn't. Daley and Quincey both move the puck with aplomb, and Oduya is a battle-tested winner.
None of these players are legitimate Top Four defensemen. Those are only acquired in free agency with lots of zeroes and multiple years. But with McAvoy, Carlo, Chara and Krug likely joined by Kevan Miller and Adam McQauid on Boston's blue line, depth is the name of the game. Acquiring veteran bodies on affordable contracts to stabilize the unit until Jakub Zboril and Jeremy Lauzon are ready to join the team full time should be Boston's angle.
Backup Plan
It wasn't until mid-February that Boston was able to ice a capable backup to Tuukka Rask. Though Anton Khudobin battled through inefficiency and injury until that time, his play improved perhaps more than any of his teammates following the mid-season coaching change. Excluding a relief appearance against the Edmonton Oilers, he won six of his final seven starts. He stopped 189 of 205 shots over that period, good for a .922 save percentage. His 41-save performance versus the Chicago Blackhawks in his penultimate start was the cherry on his season, as he was easily the best player on the ice for either team. However, with one year and $1.2 million remaining on his contract, there's no way of knowing which version of Khudobin shows up for the start of next season.
Zane McIntyre has had a tremendous finish to his season since his last demotion to Providence. Backstopping the Baby B's down the stretch and throughout the playoffs, his 51-save performance in the series-clinching win over Wilkes-Barre/Scranton was his most eye-opening performance to date. McIntyre was a Hobey Baker Finalist at North Dakota and serves as Boston's best current "heir" in the crease. He did, however, look overmatched in his appearances with the parent club in 2016-17. The Bruins have been seeking reliable play from their backups since Chad Johnson was playing the part in 2013-14, and relying on their current in-house options next season could very well perpetuate that trend.
Fortunately, the market is rather flush with capable candidates.
Unmasking the Masked Men
Brian Elliott is an intriguing candidate to upgrade the unit. Platooning first with Jaroslav Halak and then Jake Allen, Elliott was rock-solid for five seasons in St. Louis. Tabbed the starter this past year in Calgary, the results were not so friendly. He was excellent in February and March, and mediocre to downright-bad the rest of the season. The results suggest that he's not quite a starting-caliber netminder, but can flourish with a smaller workload. A down-season in a contract year is bad for Elliott but excellent for his suitors. As with Stafford, a one-year "prove it" contract could solidify Boston's crease while re-establishing Elliott's worth.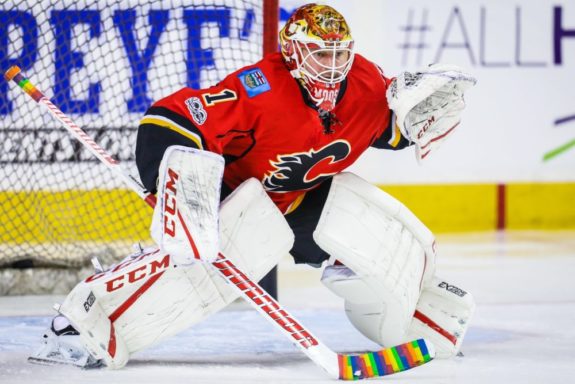 Mike Condon and Peter Budaj should also be on Boston's radar. Condon is a local guy and was fantastic at keeping Ottawa afloat while Craig Anderson tended to his ailing wife. Having made just $575,000 last season, Condon's next deal is unlikely to tip the scales much further.
Budaj, like Condon, was similarly underpaid for his performance last season. His $600,000 cap hit for turning in a 2.18 goals-against and a .915 save percentage qualifies as thievery. Budaj was the single biggest reason Los Angeles remained in the playoff hunt through February, prior to being shipped to Tampa Bay in the Ben Bishop trade. He is likely set to receive a bigger raise than Condon, but it would be surprising to see his cap hit exceed $1.5 million.
Should Sweeney dip into the market this offseason, the crop of goaltenders serve as the deepest pool. Furthermore, Boston wouldn't necessarily have to find a taker for Khudobin. Burying his contract in the minors would leave less than $200,000 of his contract on the Bruins' books in 2016-17.
Recap
Sweeney and Cam Neely hit home runs with the Moore and Nash signings a year ago. With cap space at a premium, talented prospects set to compete for spots and 2017 shaping up to be a lean year regarding UFAs, the duo would be wise to sift through the secondary market to try to replicate their luck from a year ago. Depth and affordability, not headlines and splash, should be Boston's approach to free agency come July 1.