It is amazing what a trade can do to benefit a player and possibly an entire team. After acquiring Alex Tanguay from the Colorado Avalanche in exchange for Mikkel Boedker, head coach Dave Tippett slotted Tanguay on a line with fellow Quebec natives Antoine Vermette and Anthony Duclair. The results have been phenomenal, as the trio have combined for 20 points (seven goals and 13 assists) in six games. Since Tanguay made his Arizona debut, the Coyotes are 4-1-1 and have won three straight games for the first time since putting together four consecutive victories from January 4-12.
Alex's Arrival
Tanguay's career had fallen into a rut this season. The veteran forward had just four goals and 18 assists in 52 games with Colorado. Excluding the 2013-14 campaign, which saw him play only 16 games due to injury, this was looking to be the worst full season for Tanguay in terms of offensive production. However, his scoring touch has found new life in the desert. Tanguay has notched three goals and four assists, including a three-point night in his Coyotes debut on March 5 against the Florida Panthers. The veteran has put his scoring struggles behind him and is showing the league that he still has something left in the tank.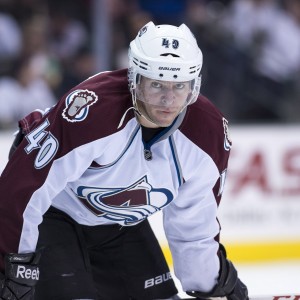 Vermette's Revival
Like Tanguay, Vermette has also struggled for most of this year. In his first 58 games this season, Vermette had just 10 goals and 14 assists while collecting an uncharacteristically high 54 PIM. It has definitely been a disappointing campaign from the veteran center in his return to the desert following a brief stint with the Chicago Blackhawks after the trade deadline last season. The addition of Tanguay has given Vermette a lift offensively as he had recorded five goals and five assists in his last six games. Vermette had a four-point game against the Panthers on March 5 and has scored a goal in all three of Arizona's wins during their current streak.
Duclair's Impact
Some of the success the two veterans have enjoyed has rubbed off on the rookie Duclair. Duclair has picked up three assists since Tanguay's arrival, giving the rookie 37 points on the season and putting him fourth on the team in scoring. In addition, Duclair is getting the opportunity to learn from another experienced veteran in Tanguay. Arizona is still a young team and will be for the next couple of years but players like Duclair and Max Domi are growing with every game. The experience Duclair soaks up now will make the Coyotes stronger as the youth movement progresses.
Charles Woodall-Pike is a journalist who writes about the Arizona Coyotes for The Hockey Writers.