Brett Howden became a member of the New York Rangers back on Feb. 26, 2018, when he was traded from the Tampa Bay Lightning to try and further the rebuild in New York. The trade saw the Rangers part with their top defenseman and captain Ryan McDonagh and J.T. Miller and acquire Vlad Namestnikov, prospects Brett Howden and Libor Hajek and two draft picks. The two picks were a 2018 first-round pick which was used to select defenseman Nils Lundkvist and a 2019 second-round pick which was used to select center Karl Henriksson.
This trade showed that the Rangers were committed to the rebuild and that they were expecting the two prospects to play a role in it. Howden has seen two full seasons of NHL duty so far in his career but has struggled for most of it. He will be heading into the final year of his entry-level contract and this will be a very important season for the young center's NHL career. 
Howden As a Ranger
Howden made the Rangers' roster right out of camp for the 2018-19 season and he got his career off to a very good start. He had four goals and eight assists in his first 20 games. After that Howden went ice cold with just three assists in 28 games before suffering an injury. He came back for the final 18 games of the season and played fairly well overall. Upon returning, the young pivot scored two goals and had seven assists. His 23 points in 66 games were solid production from a rookie but the concern with him is shown in the advanced stats. 
During his long slump, Howden did not look very good and his possession stats showed it. He finished with an even-strength Corsi for (CF%) of only 42.39%, a Fenwick for (FF%) of 42.04%, a shot for (SF%) of 41.68% and a goals for (GF%) of 39.76%. These stats highlight Howden's defensive deficiencies as he really struggled for a good portion of his rookie year. There was a concern with his play but no need to panic as it was only his first season and he was bound to improve.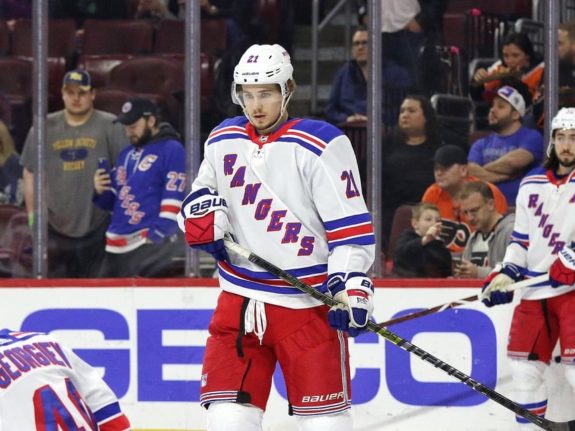 This last season showed additional reasons for concern as Howden regressed despite the Rangers being a much better team overall. Howden did set a new career-high in goals with nine but only had 10 assists, compared to his 17 as a rookie. Howden struggled in the same areas he did in his first season, namely defensive play. Howden would often look lost in his own zone and blow his defensive coverages.
His possession numbers once again correlated with poor play. His possession stats also dropped from his rookie season with his CF% dropping to 40.35%, his FF% to 40.46% and his GF% to 39.39%. The only stat to show a slight improvement was his shot share ticking up to 41.94%. All of these numbers were in the bottom five of Blueshirts who appeared in at least 20 games this season. They also ranked at the bottom of the entire league among players who played at least 700 minutes. 
Howden drew much criticism for his poor play but always seemed to be getting chances in the lineup. Head coach David Quinn clearly still likes what he sees as he was never benched this season, playing in all 70 games. He did however also see his average ice time go from 14:56 to 13:09, starting off as the third line center but falling to the fourth line when Filip Chytil solidified his place in the lineup.
Howden did find himself at left wing from time to time back up on the third line. He also logged some time on the penalty kill, showing his coach had faith in his defensive play. He showed a few flashes of being a decent energy player but it was largely overshadowed by his struggles.
Why It Will Be An Important Season
There is still some hope for Howden, so wait before chalking him up as a bust just yet. He is only 22 and did only play his second NHL season, after all. With only one year left on his ELC, he is still a very cheap roster spot but has a lot to prove.
Howden does possess some desired traits out of a player. He has good size and plays with a lot of determination. He plays physical and he has shown he has the skill set to be successful in the early days of his career. He was a highly-touted prospect when he was drafted 26th overall back in 2016, As it stands right now, Howden is in the Rangers bottom six. Whether or not he remains as the fourth center or moves up in the depth chart relies primarily on what the Rangers decide to do with Ryan Strome. 
There will be competition for the role as the bottom line center between him, newly signed Kevin Rooney and prospect Morgan Barron but the job seems to be Howden's to lose. He will need to improve his play as Quinn has had little problem benching players or changing the lineup when things are not going well. While Barron is expected to play the season in the AHL, there is always the chance he surprises in training camp just like Howden did two seasons ago.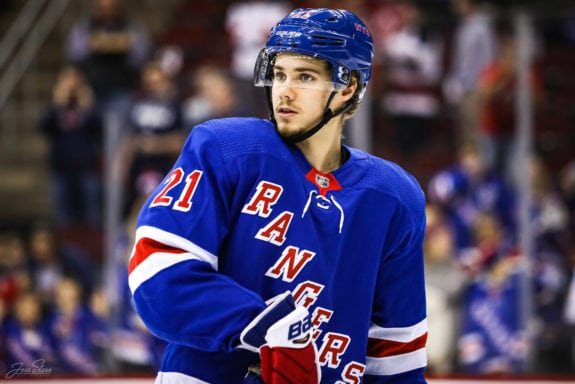 If Howden continues at his current pace, it would stand to reason the Rangers move on from him whether it be through trade, expansion exposure or demoting him to the minors. His trade value would be very low right now and there is no guarantee of him being taken in the expansion draft. Luckily for the Rangers, there is still a window of hope for Howden to carve out some sort of role for himself. If he does, he will need a big season before coming off his contract.
---
---