It's likely, perhaps even probable, that the New York Rangers will attempt to stave off an inevitable roster rebuild for at least another year and instead will retool in an effort to take another crack at winning an elusive Stanley Cup. With that goal in mind it's also clear management must make improvements to its lineup. But given their cap situation, any improvements will likely be of the marginal variety and not via a significant trade or free agent acquisition. One spot the club anticipates changing over is the 4th line pivot position, which has been capably filled by Dominic Moore for much of the previous three seasons.
This isn't to suggest Moore, who will be a free agent this summer, can't still be a valuable contributor at the NHL level but the reality is he turns 36 in August and his play regressed this season. With the Rangers looking to get quicker and younger, it's difficult to envision a scenario the club brings Moore back at this point. Barring a surprise trade, it would appear a vast majority of the club's forwards will return leaving few openings for a needed infusion of youth and speed. Expect the Rangers to fill this spot with a player on the rise as opposed to one who is on the decline.
The Downside
Moore's performance tailed off in several areas as the stats demonstrate. He recorded the lowest points-per-game average of his decade long career, posting a scoring rate of 0.19. The previous season he tallied 0.33 points-per-game and his career average is 0.32. That's a steep drop.
Corsi also did not reflect particularly well on Moore's contributions this year. His CF% of 42.69 was better than just 11 NHL forwards who saw 500 or more minutes at 5v5. Of course that might also have something to do with lining up next to possession anchors Jarrett Stoll and Tanner Glass much of last last season. Stoll placed dead last out of 353 forwards in CF% while Glass ranked 346th. Playing with linemates other than Glass and Stoll, Moore's CF% was approximately two and four points better, respectively than his cumulative total.
Moore has also been a regular contributor on what had been one of the league's top penalty killing units. After placing 6th and 3rd in each of Moore's first two campaigns with the club (in his second tour of duty with the Blue Shirts), the team dropped to 26th overall in killing off shorthanded situations. While it may be unfair to single out Moore as a reason for the penalty killing unit's nose dive, he was part of the club's primary shorthanded forward duo with Jesper Fast. The pair saw better than 172 minutes each killing infractions while the next closest forward, Derek Stepan, finishing with nearly 50 fewer minutes.
The Upside
On a positive note, Moore continued to be among the league's best faceoff artists. Only 15 forwards with a minimum of 500 regular season draws finished with a winning percentage higher than the 11-year veteran's mark of 55.3%.
Moore has unquestionably carved out a nice career for himself. The 2000, 3rd round draft choice has played in 765 regular season and 93 postseason contests, appearing with nine different NHL clubs over his 11 seasons. He's a hard worker, a great teammate and will be missed both on and off the ice. Yet the team has a self-imposed mandate to get younger and quicker. The Rangers need to improve where they can and filling Moore's spot with someone else is the route the Rangers must take.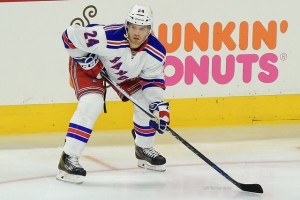 The obvious move would have been handing Moore's spot to Oscar Lindberg, the rookie forward who tallied 13 goals and 28 points in 68 games this season. But Lindberg recently had surgery to repair a hip labral and is set to miss up to six months. The news certainly complicates matters as the club wouldn't appear to have a ready-made substitute in the organization assuming Moore is not re-signed. But that can't deter the team from moving on. Lindberg will likely miss the first six-to-eight weeks of the season and while depth is never a bad thing, Moore probably warrants and will look for a full-time role.
Generally, there is a time when either a player must walk away from an organization for a better opportunity or a team needs to move on from a player. In this case, the Rangers have decided to move on from the player. Even though Dominic Moore still has something left to offer an NHL club, it isn't reason enough for him to remain with the Blue Shirts. They can and must do better at the position.
Native Southern Californian who somehow adopted the New York Rangers as my favorite team. I've written for quite a few websites during my days as a blogger including: Inside Hockey, Ranger Nation and SNY.tv. By day, I work as an operations manager.