Right now, the smallest player on the Rangers is providing the team with its biggest spark. Diminutive winger Mats Zuccarello, once exiled from the Blueshirts – first to the AHL and later to Metallurg Magnitogorsk of the KHL – rejoined the team on March 28th.  It couldn't have happened at a better time.
Prior to Zuccarello's return, the team was struggling offensively. The team was scoring a league-low 2.27 goals per game. They'd just suffered a 3-0 shutout at the hands of the Ottawa Senators, and their record (16-14-3) had them barely hanging on to the final playoff spot in the Eastern Conference.
With Zuccarello in the lineup, things turned around.  The team went on to post a 9-4-1 record with a league-best 3.43 goals per game. They've also secured a spot in the playoffs for the seventh time in eight seasons.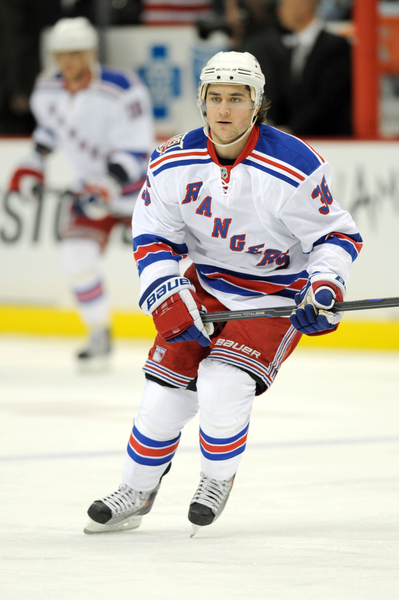 The Comeback Kid
Zuccarello jumped right back in to the NHL, picking up 18:16 of ice time his first day in the lineup but failing to make the scoresheet in a 3-0 loss to the Habs. Surprisingly, he did lead all players with a career-high six hits in the contest.
In his next game, Zuccarello's season-debut at Madison Square Garden, he added an assist on Ryan Callahan's shorthanded game-tying goal en route to a key 4-2 victory over the Winnipeg Jets. While it was nice to find the scoresheet, Zuccarello was still trying to find his game.
With only two assists in his first eight games, Zuccarello wasn't delivering  offensively. He was, however, adding to his stats in the hit column, throwing the body and heading towards the front of the net.
Little Guy, Big Battles
Zuccarello's time in the AHL and KHL, however frustrating it may have been, allowed him to work on some other components of his game. He's become a more dynamic presence on the ice, both by backchecking and in his willingness to drive through traffic and create havoc in front of the opposing net.
Not the fastest skater, Zuccarello uses hockey sense and smart positioning to find his way into the action. Like a mini-Callahan, he's often the hardest working player on the ice, battling for the puck and fighting for scoring chances. "It seems like he's faster than I remember him," Brad Richards told the NY Post. "He's on the forecheck, always trying to create something. Obviously, he has great hockey sense."  He just wasn't scoring consistently.
Zuccarello, rarely seen without a smile, wasn't worried – especially given the fact that he's averaging a career-high 16:32 per game. "I feel more confident and am playing with good players and getting big minutes, I just have to keep creating chances and work hard, and it's going to come," said Zuccarello.  Both player and team hoped it would, in time, but even coach John Tortorella acknowledged the Norwegian's solid efforts, saying, "Zucc is a different player than last year. I feel very comfortable putting him in [various] situations."
Shootout Specialist
One of those situations very comfortable for the winger is the shootout. Zuccarello was 5-for-10 in the post-game skills competition coming into the season, and the Rangers were hoping his talents would help pick up a few points during the stretch drive.  Tortorella, never shy in addressing players, called the then-goalless Zuccarello out before the team met up with the Toronto Maple Leafs in New York on April 10. "He's gotta score. He's gotta score in the shootout. It's nice that we've seen it before. We need it now," a surprisingly prescient Tortorella told the Daily News.
Sixty-five minutes of hockey later, Tortorella's comments would be ringing in Zuccarello's ears as he glided at center ice. Those words were quickly drowned out by the roar of the home crowd at Madison Square Garden when he scored the lone goal in the shootout to give the Rangers a 4-3 victory and a much-needed two points in the standings. "Seeing it go in was a good feeling," said Zuccarello after the game. "It's about time. I'm just happy I could help my team get two points."
Hobbit Highlights
Zuccarello, nicknamed 'The Hobbit' due to his small stature (and arguably Baggins-like appearance) kept up his feisty play, battling hard and creating chances. He posted a season-high two goals against Florida – only his second career two-goal game and the fourth multi-point game of his career.
He also kept creating havoc in the opposing crease. While he wasn't credited with an assist on the play, his presence in front led to the scoring opportunity that Derick Brassard was able to convert in a must-win 4-3 overtime victory at Carolina.
http://youtu.be/dxUnaRd7I64?t=30s
Now with five points in his last six games, Zuccarello just needs to keep on rolling. He's having an impact on the ice, both with and without the puck, and finally looks to be playing the type of game Tortorella expects from his players in New York.  It also sounds like Zuccarello is up for the challenge of being back in the Big Apple.
"I had some newspaper ask me earlier this year if I wanted to come back, and which team I wanted to come back to," Zuccarello said, as reported by NJ.com. "And I told them, this is the team I wanted to come back to.  It's a great feeling."
The Rangers team he joined in March is better than the one that started the season back in January, and he's a big part of why they've been even better in April. Let's hope the Blueshirts keep up their strong play, and that the smallest guy on their roster can keep making big contributions.
---
Follow Josh on Twitter – @joshsmith29
---