Tonight, Jan. 19, 2021, is essential worker's night at Madison Square Garden. The Rangers will be honoring those in the medical field and other essential workers for their dedication, sacrifice and hard work during the COVID-19 pandemic. The Rangers will be teaming up with long-time partner Northwell Health to shine the spotlight on essential workers throughout the Tri-State area.
During tonight's game against the New Jersey Devils, those in fields such as first responders and healthcare personnel, MTS workers, nursing home attendants and sanitation workers, among others, will be thanked for the care they've given to New Yorkers over the past 10 months during these trying times.
The squad will wear customized warm-up jerseys that are to be auctioned off over the next week. They'll also be auctioning off special patches that are inspired by Northwell Health's first responders. All proceeds will benefit Northwell Health and its crew.
DeAngelo Benched, Trouba Shines
After the 4-0 loss to crosstown rival NY Islanders last Thursday, head coach David Quinn was already looking to shake things up. The day after the Rangers were shutout by the Isles, Tony DeAngelo found himself practicing with the taxi squad. Why? Well, DeAngelo took a holding penalty and then proceeded to slam the door of the penalty box for an extra two minutes for unsportsmanlike conduct. Plus, he didn't play well otherwise.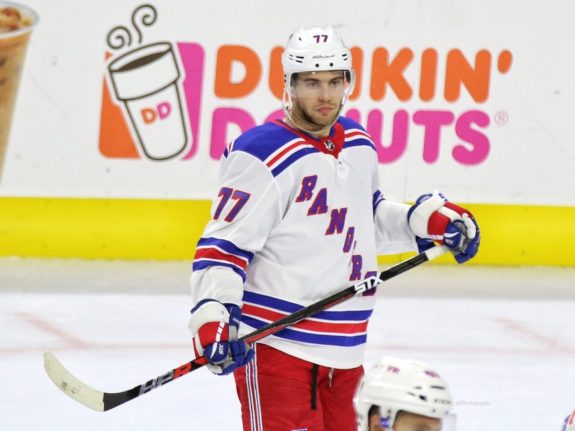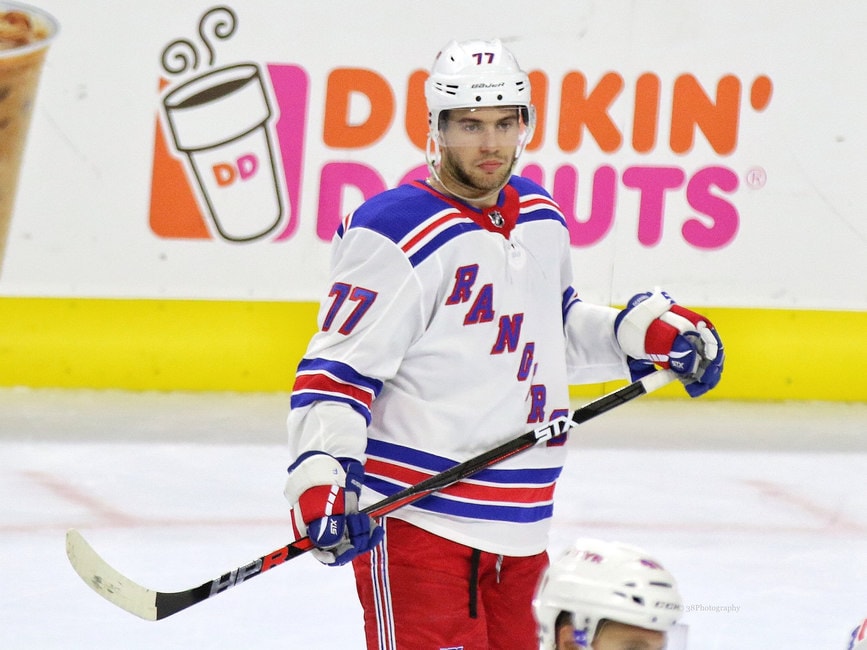 Brendan Smith, who replaced DeAngelo in Saturday's rematch with the Islanders, sent Artemi Panarin in for a breakaway goal with a nice stretch pass. Panarin and Pavel Buchnevich each had two goals in the Rangers' 5-0 payback win over the Islanders.
Alexandar Georgiev only had to make 23 saves to preserve his shutout, but that speaks to the Rangers tightening up their defense after the opening-night loss. Another bright spot was Alexis Lafreniere being plus-two and K'Andre Miller being plus-three for the night.
Jacob Trouba received heavy praise from coach Quinn after the game. Quinn said, "I was 100 percent sure we weren't going to be as bad as we were the other night, that's for sure… I have to give a bunch of our leaders a ton of credit. Jacob Trouba stood tall tonight, played one of his best games as a Ranger, but the stuff he did in between the last game and tonight went a long way in putting us in the right mindset. Mika [Zibanejad], [Chris] Kreider, [Panarin], all these guys."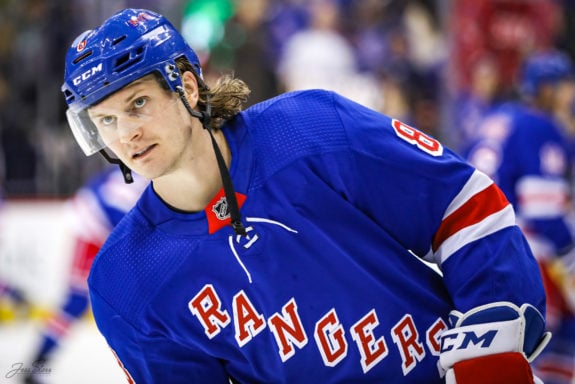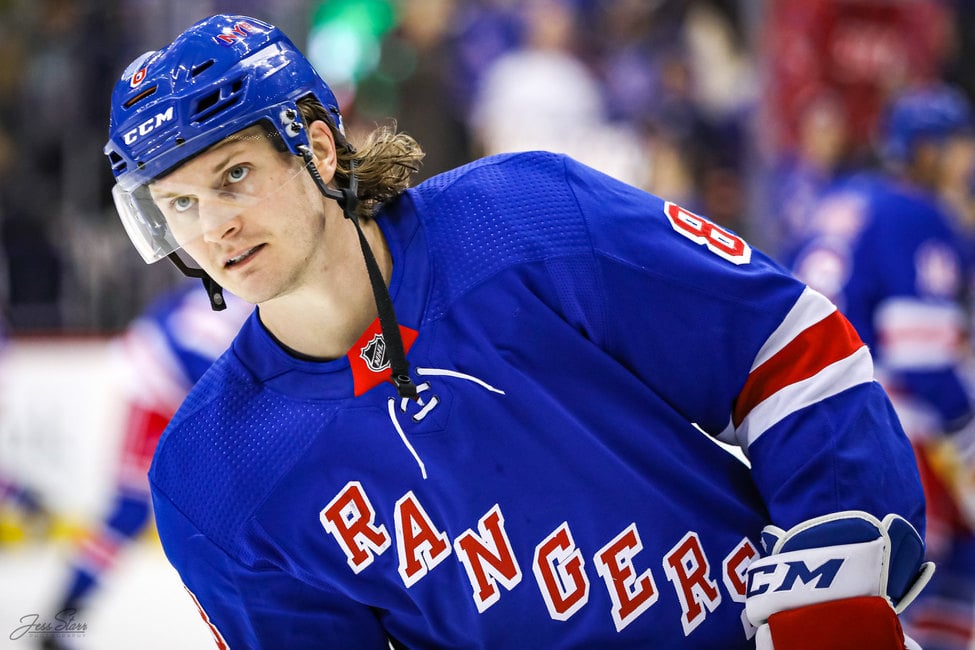 Quinn also said, "Nobody was happy with what happened the other night. It was an embarrassing performance, but it's all about how you respond to that. I'm hoping everybody is off the George Washington Bridge by now and everything is righted after tonight."
Quinn did say he might be switching up the power-play units after they went one-for-eight on Saturday. He also told Larry Brooks of the NY Post he expects Filip Chytil will be back on the power play once he starts winning more faceoffs. His absence won't be a long-term thing, Quinn iterated. As for tonight's game, he said the lineup will be the same in Monday's post-practice presser.
Henrik's Heart
Yes, Henrik Lundqvist is no longer with the Rangers, but it does warrant some print to say that his open-heart surgery was successful. Doctors were able to replace his aortic valve. Lundqvist was able to leave the Cleveland Clinic the same day the Rangers opened the 2020-21 season. It was six days after his surgery.
He tweeted that he'd be staying in Cleveland for a few days before returning to New York to continue his recovery process. Let's hope his recovery is speedy and complete and we see him facing shots from Panarin, Trouba and the rest of the Rangers crew sooner rather than later. It's no question that no matter what happens, he'll always have a spot in Rangers fans' and the organizations' hearts.
---
---