In recent seasons the Calgary Flames have seen the graduation of several homegrown prospects with the likes of Dillon Dube, Andrew Mangiapane, Rasmus Andersson, and now Juuso Valimaki this season. There are still some intriguing prospects in the system, but trading away draft picks and graduations to the big club have left the prospect pipeline a little dry.
The Flames have been able to add to their organization through the signings of European prospects with the likes of Johannes Kinvall and Carl-Johan Lerby both from the SHL. Training camp for the Stockton Heat is just around the corner and the team should think about adding Slovakian forward Oliver Okuliar to the list of invitees.
Who is Oliver Okuliar?
Okuliar is a 2000-born left-winger who has had a bit of an interesting career to date bouncing around several different leagues in the last few years. In his true draft year in 2018, he played in Slovakia's U20 league where he scored 64 points in 37 games while also racking up 137 penalty minutes. At the end of the season, he was selected by Sherbrooke in the CHL Import Draft and would make his way to North America that following season.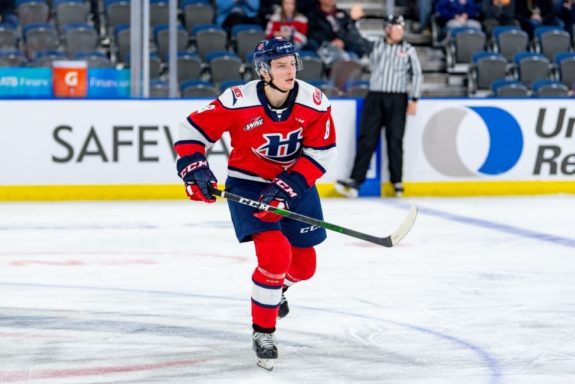 In his first season across the pond in 2018-19, he managed 14 goals and 42 points with the Sherbrooke Phoenix of the QMJHL, he finished eighth in team scoring. He also added four points in 10 playoff games before Sherbrooke was eliminated in the second round. Once again at the end of the season, he was selected in the import draft and he would move on to play with the Lethbridge Hurricanes.
In 55 games, he scored 33 goals and added 35 assists in his lone season in the WHL. Playing alongside league standout Dylan Cozens on the first line, the pair finished as the top two scorers on the team. He was noted by scouts as a good skater who played a physical game and had a great hockey IQ. He had an incredible 19% shooting percentage in his time in the WHL and 11 of his goals came on the power play.
Okuliar is currently playing in the Tipos Extraliga, the top flight Slovakian league where he is third in scoring with 40 points in 33 games. He started the season with HK 32 Liptovsky Mikulas, the worst team in the league, before then being traded to HK Dukla Trencin after eight games. In the one non-grainy stream I could find of a game, my assessment was that he was a good skater and showed good flashes of skill while creating chances.
Among the top 80 scorers in the league, Okuliar is one of two 2000-born players, the other being Martin Fasko-Rudas, who has managed just 14 points in 27 games. Slovakia's top league is not as good as leagues like the KHL or the SHL, but it should not be glanced over at the fact that a 20-year-old is nearly leading a European men's league in scoring. He has a long way to progress to really be considered an exciting NHL prospect, but it would be worth extending him a contract.
The Flames Should Take a Flyer on Okuliar
David Rittich comes to mind as the last successful European free agent signing that Flames management has made, as he has turned into an NHL-calibre goalie. They should extend an offer to Okuliar with Stockton Heat training camp coming up as the AHL season is set to start on Feb. 5. It would give him the chance to showcase his abilities in a much better professional league and to see if there is something to his game.
Fellow countryman Martin Pospisil was loaned to HC Kosice during the past few months and scored nine goals and 17 points in 22 games while racking up 102 penalty minutes. Like Pospisil, Okuliar has a bit of a bite to his game as well as he currently sits sixth in the Tipos Extraliga in penalty minutes with 74. Adam Ruzicka is another Slovak playing in Stockton and could benefit from playing on a line with another skilled player like Okluliar who has good hockey sense.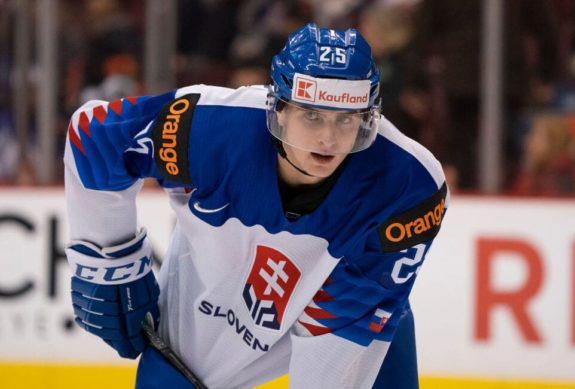 After the successful development of prospects and trading away draft picks to contend for the playoffs, the Flames need to use other opportunities to add more depth to their prospect system. Calgary has just three contracts left that they can hand out before hitting the 50 contract limit and it wouldn't be such a bad idea to use one to give Okuliar a shot in the AHL.
---
---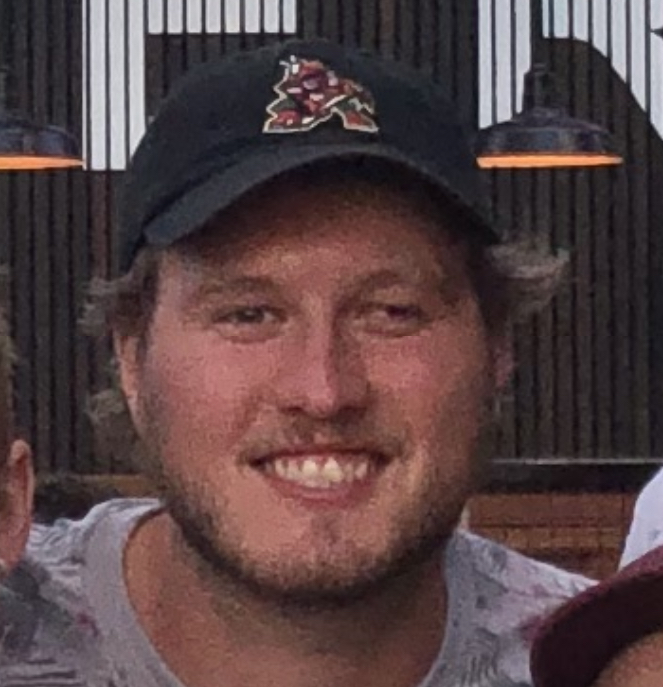 Brett is a freelance writer covering the Calgary Flames here at The Hockey Writers. He is an enthusiast of hockey stats and continues to learn every day about the sports analytics movement. Brett enjoys using both statistical analysis and the old-fashioned eye test in his writing to create the best content for readers. His work at THW has been featured on the Calgary Flames' news feed for The Score and on Yardbarker. Brett is also part of THW's Flames Faceoff YouTube/podcast show where he brings his opinions each week on the team's current state of affairs.