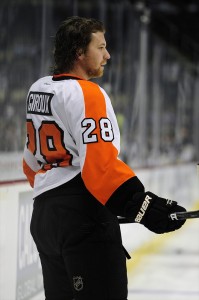 Fans of the Philadelphia Flyers love Claude Giroux. There's no denying his intensity on the ice and the skill he brings to the City of Brotherly Love. But just how good is Giroux? Is he one of the ten best players in the NHL?
On first glance, many people will anoint Giroux a top ten forward. Entering the season last year, TSN ranked him as the third best player in the league right behind Evgeni Malkin and Sidney Crosby. One season removed from his third place ranking, a lot has changed.
First, a handful of players have made tremendous strides, such as New York's John Taveres. The rise of Tavares as well as a few more makes the top ten list a little more jumbled.
In my opinion, Crosby remains at the forefront of the rankings.  After that, it's hard to pass up Steven Stamkos, Alex Ovechkin and Malkin. Honestly, these four players all have a case for being declared the game's most talented player.
That leaves six spots remaining in the top ten.
Between No. 6 and No. 10, I'll place a pair of defending Stanley Cup Champions, Patrick Kane and Jonathan Toews.
Three vacancies remain within the top ten.
The aforementioned Islander, Tavares, had a breakout season and has a strong case to be made in ranking within the top ten. Likewise, Carolina's Eric Staal and Detroit's Pavel Datsyuk all are decorated candidates for the top ten honor.
So how do I rank the top ten forwards:
1. Sidney Crosby, Pittsburgh
There's no debate here. When he's healthy, his ability to distribute the puck and dangle his way around defenders is second to none. Had he played the entire 48-game season, he easily would have led the league in points en route to what would have been his second Hart Memorial Trophy.
2. Alex Ovechkin, Washington
After a down year in 2011-12, the Russian forward topped the charts with 32 goals and tied for third in the NHL with 56 points. Give him an open look and watch how easily he hits the corner over the goalie's shoulder. There may not be a better pure scorer in the league then Ovi.
3. Steven Stamkos, Tampa Bay
If anyone has a case against Ovechkin as the game's best scorer, it's Stamkos. Ever since his debut a few years ago, the Canadian centerman has made a living lighting the lamp. If not for his teammate Martin St Louis, he would have been the top point producer in the NHL. With 29 goals and 28 assists, he could have easily been named the league's MVP.
4. Evgeni Malkin, Pittsburgh
A physical specimen, Malkin couldn't stay healthy in the lockout shortened-season playing in just 31 games. Nonetheless, he's one of the best offensive players in the league, averaging over a point per game this year.
5. Patrick Kane, Chicago
His talent was put on display during the Blackhawks' championship run, as he continually scored clutch goals throughout the playoffs. His 55 points ranked fifth in the NHL. When he's in a zone, as he was in the postseason, defenses have very little chance of keeping Kane out of shooting lanes.
6. Jonathan Toews, Chicago
Another Blackhawk, Toews netted 23 goals and dished 25 assists. One of the best two-way forwards in the game, the Canadian won the Selke Trophy (awarded to the best defensive forward)  in addition to being named to the postseason All-Star 2nd team.
7. John Tavares, New York Islanders
What a season it was for the former No. 1 overall pick. Throughout the season, Tavares battled Ovechkin and Stamkos for the scoring title, falling a few goals short at 28. For the past two seasons, he has fell just one point shy of averaging a point per game throughout the season (2011-12: 81 pts in 82 games).
8. Pavel Datsyuk, Detroit
This guy does it all. He finished 10th in points with 49 while distributing 34 assists. If not for Toews' phenomenal season, he would have won his fourth Selke trophy. He may be getting up there in years but there's no denying the fact that he will continue to be a pivotal player for the Red Wings for the next few seasons.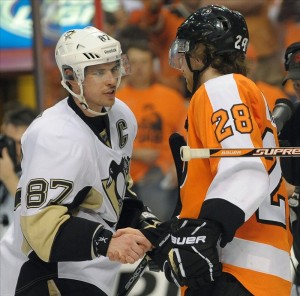 9. Claude Giroux, Philadelphia
Flyers fans, here's your guy. A first-year captain, Giroux was top 15 in points with 35 assists and 13 goals. The undoubted leader on the ice for Philadelphia averaged exactly one point per game while becoming one of the best special team players in the league. He registered six goals and 15 assists while on the powerplay and scored one shorthanded goal. With Vinny Lecavaliar in town, some of the pressure will be lifted of his shoulders as he teams up with one of the best playmakers in the game.
10. Eric Staal, Carolina
He has a case to be made for being ranked higher in the top ten, but in what was a disappointing season in Carolina, Staal's performance went unnoticed. He placed sixth with 53 points and sixth with 35 assists. He's not flashy, but he was in the midst of one of his best seasons since his 100-point campaign in the 2005-06 season.
A journalism student at Rowan University, Kyle is a Big Ten Reporter for Scout.com (owned by Fox Sports) and spent the 2013 season interning with the Philadelphia Flyers.