When he was drafted 10th overall in 2009, Magnus Paajarvi came with a lot of expectations. His size and raw talent suggested he would be an impact player at the NHL level. If that does indeed happen though, it won't be in Edmonton. News broke on Wednesday that the Oilers had dealt the 22 year-old to the St. Louis Blues along with a second round pick for winger David Perron. Perron is a highly skilled player, but some wonder if the Oilers have given up on Paajarvi far too soon.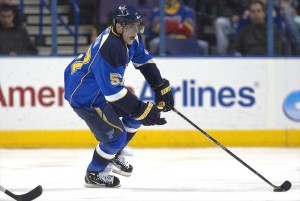 Paajarvi is a fantastic skater. He can kill penalties. He's fast, he's got great hands around the net and he has perhaps the greatest untapped potential in the league. But from the moment he got to Edmonton, it just didn't seem like a fit. It wasn't an issue with the coach, because he's been through more than one. It was an organisational issue. Paajarvi spent most of his pro moving up and down from the KHL, and spent the majority of his time in the NHL in a third line role.
Is Paajarvi a third line player? His skill suggests he shouldn't be, but the more talented the Oilers got, the less likely Paajarvi would discover his niche in a top-six role. He was one of the bigger players on the team, leading some to believe he should not be traded, but his stature wasn't going to be enough to keep him around. In a salary cap world, you can't keep everyone, and there's only so much playing time available.
Paajarvi might end up being a star. He may end up being a first round bust. The Oilers never seemed like the right place for him, and now he has the chance to start fresh in a new city.
David Perron is just 25 years old. He's a 20 goal scorer in the NHL, and could probably bump that to 30 if he stays healthy. Perron has dealt with some concussion issues in his career, but he seems as though it's all behind him now. He's 6 foot. Not the biggest, but certainly not the smallest. He's a feisty player. He's not afraid to mix it up. And that's one of the reasons Craig MacTavish wanted him.
"He'll go to the areas necessary to score goals. The skill level is tough to ignore." – Craig MacTavish (Oilers Twitter)
It's a good pick-up for the Oilers. They gave up an unknown commodity for a known commodity. Perron is signed until 2016 at a very reasonable $3.8 million a year cap hit. The Oilers look a lot tougher and grittier than they did last season, there's no doubt about that. Said Perron today upon being traded:
"I'm excited to be joining such a young team with a lot of skill. I think my game is going to fit in Edmonton." (Oilers Twitter)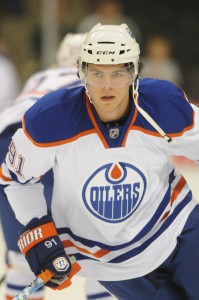 The only question now is what will happen with Sam Gagner. He filed for salary arbitration today, but the Oilers are still optimistic a deal can be worked out. If he doesn't stay, though, the Oilers will certainly have a hole at center. Ryan Nugent-Hopkins is still recovering from surgery, and the next option is Boyd Gordon, which suggests perhaps the Oilers aren't done wheeling and dealing. Edmonton still has a tradeable asset in Ales Hemsky. MacTavish promised to be aggressive, and he certainly has been. There's a lot of reason to be optimistic in Edmonton. This is only the beginning.
Marcy, a former hockey player, is a hockey correspondent on CTV News and TSN radio. She began her career as a Sports Journalist in 2009 and has been part of The Hockey Writers since 2010, where she is currently a senior writer and editor.