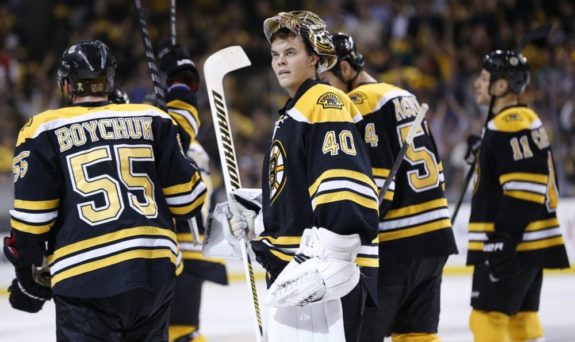 After some wheeling and dealing last week, Peter Chiarelli and the Boston Bruins found themselves with a little extra cash. Needing to lock up their franchise goaltender, Tuukka Rask, the Bruins promptly used said cash on Rask for eight years, $56 million.
Locking up goaltenders for long deals and lucrative deals almost never work (See: Rick DiPietro and Roberto Luongo), but this is a deal that the Boston Bruins absolutely had to complete. It may be a lot of money, but as I'll point out, it is a deal that will work for the Bruins and their future.
Stability
Tuukka Rask has emerged as one of the best goaltenders in the league over the past couple of seasons. He was a very good backup to Tim Thomas and finally got his chance this season without Thomas in the shadows. Rask did not disappoint this season either as the Bruins goaltending was definitely one of the stronger points for the team last season.
http://youtu.be/O6yHtT6mp04
This new deal with Rask sets up the Bruins with eight years of stability between the pipes where so many teams struggle to find an everyday netminder. Rask is the future of this Bruins team and Chiarelli and the front office saw this and rewarded Rask.
Tuukka Rask has already proven that he can be the guy in net for Boston. Not many teams can say what the Bruins can in that they have their already great goaltending in place for years and years to come.
Perfect Timing
This deal couldn't have been timed more perfectly for the Bruins. Rask is only 26 years old and is at a time in which many goaltenders hit their prime.
At the conclusion of his new eight year deal, Rask will be only 34 years old and could still very well be productive. Chiarelli made a smart move to lock in Rask to a big deal at the time where Rask is playing his best. I mentioned before about Rick DiPietro and his big deal being pretty much a bust, but the difference between DiPietro's deal and Rask's deal is that Rask is more battle tested and, frankly, a more talented goaltender.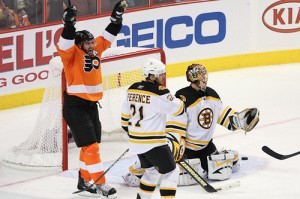 Rask had a great regular season and an even better postseason, which made it perfect timing for Rask as well. Rask recorded three shutouts, had a .940 save percentage, and would have been the Conn Smythe winner had the Bruins actually won the Cup. Rask proved to the Bruins that he could perform in pressure situations in the playoffs after the team's 2010 collapse against the Philadelphia Flyers.
There's nothing like a great postseason before becoming a restricted free agent to earn some more dollars on a new contract.
Asserts the Bruins as Kings of the East
The Boston Bruins are the reigning champions of the Eastern Conference and with Rask in town for the next eight seasons, the Bruins are going to contend for years.
A team can only go so far with their goaltender, just take a look at this past season and the Pittsburgh Penguins. The Penguins had an explosive offense and had a roster full of stars and former captains. They were destined to win the Stanley Cup, but with erratic goaltending from Marc-Andre Fleury and Tomas Vokoun, the Penguins shockingly flamed out to the Boston Bruins in a four game sweep.
With Rask locked up for eight seasons, it asserts the Bruins as one of the elite teams in the East. The Bruins have a good corp of players and some very good talent in the minors, with the long term goaltending situation resolved, the Bruins are in line to win multiple Prince of Wales trophies and possibly multiple Stanley Cups.
Rask is Absolutely Deserving
Let's just face it, Tuukka Rask is completely deserving of his new deal. It may be an expensive deal, but given other goalies' deals, this could have been a lot worse.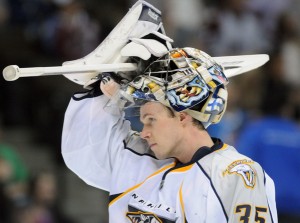 Rask played his way to a lucrative deal and it is pretty lucrative, but you didn't want to have an upset Tuukka Rask once he became an unrestricted free agent. If the Bruins offered Rask a contract that he felt was less than what he deserved, he could have either requested a trade or signed else where.
The other goaltenders within the Bruins farm system aren't ready for NHL action yet, namely Malcolm Subban, and the Bruins would have been left high and dry with an irate Rask bolted.
Also, the monetary value could have been a lot worse. Rask has a big cap hit next season at $7 million, according to CapGeek. That ties him with Nashville's Pekka Rinne with the highest cap hit next season. Rask's total salary ranks third behind Vancouver's Roberto Luongo and Los Angeles's Jonathan Quick at $56 million.
Rask could have asked for more. A lot more. Pekka Rinne is a good goaltender, but nowhere in the same realm as Tuukka Rask. Rinne is three years old and has a losing playoff record. Compare that to Rask, who is younger and was oh so close to winning the Cup for the Bruins this season, the second in three years.
Like I said, Rinne is a very good goalie, but Rask is better and the Bruins should be happy that Rask didn't ask for more.
What do you think of Rask's new deal? Comment below or send me a Tweet, @MarkWGraham