The Washington Capitals locked one of their two remaining restricted free agents on Wednesday, re-signing defenseman Karl Alzner to a four year contract. The 24 year old reliable blue liner will earn 2.8 million each season, as Washington will keep Alzner in a Washington Capitals uniform through the 2016-2017 season.
"We are very pleased to sign Karl Alzner to a contract extension," Capitals General Manager George McPhee said in a statement. "Karl is just entering his prime and has been a model of consistency for our organization since he entered the League. He plays tough and valuable minutes against some of the NHL's top players every game."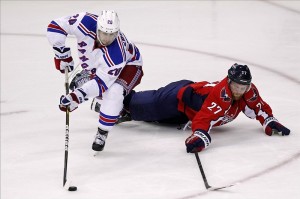 Alzner played every single game of the 2012-2013 shortened season, notching nine points, and registering 85 blocked shots (2nd on team) along with an average ice time of 20:57 per night. The British Columbian Native has been a part of 263 career NHL contests, collecting five goals and 39 assists. He was drafted fifth overall by Washington in the 2007 NHL entry draft following a few years in the Western Hockey League (WHL).
"Being able to stay in one place, hopefully stay in one place…. is something that we were really interested in," Alzner told the Washington Post. "Another thing for me is looking at the team, thinking that we have a legitimate chance of doing something good here. I think everybody wants to be on a winning team. The longer of an opportunity I have to be with this team the better I think it's going to be."
With the signing, the Capitals have retained two of their most talented young defenseman for the future in Alzner and John Carlson. Both are signed through the 2016-2017 season for less than six million per season cap wise. Carlson is signed through the 2017-2018 season.
"We don't want to do too many long term deals and four years is a long time," McPhee said. "We can go back to Karl in three years and start again. He's the kind of player coaches love, managers love, really reliable player, great teammate. I thought it was a real good pick when we made it [in 2007], thought he could play here for 15 years and it looks like that could happen."
Marcus Johansson is the only remaining restricted free agent that will make the opening night roster and should get a small raise from his entry level contract. Forward Nicolas Deschamps is also an RFA, but is expected to spend next year in the AHL for the Hershey Bears. The Capitals re-signed forward Peter LeBlanc to a one year, two way contract for next season. Washington has about 5.5 million left in cap space for this offseason, with three roster spots left to be filled.
You can follow Matthew on twitter @m_speck and email him at mspeck21@yahoo.com with any questions or comments.
Matthew Speck covers the Washington Capitals organization for The Hockey Writers. He provides coverage of both Washington at the NHL level and prospect related content. Matthew also covers local sports for the Lebanon Daily News in Central Pennsylvania. You can email him at mspeck21@yahoo.com with any questions or comments.