Oh how things change.
Heading into the 2013 NHL off-season, the Toronto Maple Leafs had just made their first playoff appearance for the first time since 2004. That team was backstopped by James Reimer, who looked like he finally had cemented the starting goalie role for Toronto. Even with the meltdown in Game 7 of the first round, it didn't look like the Leafs needed to replace him.
Well, they did.
Jonathan Bernier had been waiting for a shot to be a starting goalie in the NHL. The 11th pick in the 2006 NHL Draft, he had shown a lot of potential and was performing well as a back-up for the Los Angeles Kings. However, with Jonathan Quick in front of him, it didn't look like he was going to get the chance to be the starter in LA. That of course led to rumors that he would be traded.
On June 23, 2013, the Kings would trade Bernier to the Leafs in exchange for Ben Scrivens, Matt Frattin and what eventually became a 2015 second-round pick. More than two years later, the Leafs have yet to see Bernier reach the potential everyone was talking about. The Kings did have success but because of a by-product of that trade.
In March of 2014, the Kings would send Frattin and the second-rounder to the Columbus Blue Jackets for Marian Gaborik. They had already traded Scrivens to the Edmonton Oilers in January. So, in essence, the Kings swapped Bernier for Gaborik. Not a bad trade considering the Kings won the Stanley Cup in 2014.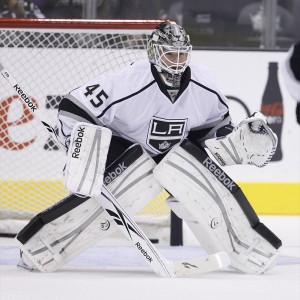 Everything Old Is New Again
What makes the Bernier trade interesting is that two of three pieces sent to LA have found their way back to Toronto. The Leafs sent prospect Jerry D'Amigo to the Blue Jackets in exchange for Frattin on July 1, 2014. The 2015 second-rounder found it's way back to Toronto as the Leafs were on a mission to acquire more draft picks for Mark Hunter to use. They used that selection to take defenseman Travis Dermott of the Erie Otters.
So other than Scrivens, who is currently playing for the Oilers' AHL team in Bakersfield, the Leafs haven't lost anything other than the chance to see if James Reimer could have built upon that playoff experience. Whether Frattin can stick in the NHL remains to be seen, but Dermott could turn out to be a real good pick.
Now, there are supposedly rumors going around that teams might be interested in acquiring Bernier. If that is indeed true, will the Leafs pull the trigger on a deal and give up on the Jonathan Bernier experiment. That remains to be seen, but hopefully he can get his career back on track, whether its in Toronto or elsewhere.