We're a day behind schedule, but we're still checking in on the players whose ownership has changed the most over the last week to help you identify steals, busts, must adds and the droppable in your fantasy hockey pools.1
RISERS
Anisimov has been centering what is probably the hottest line in the league, so we'll call this the Patrick Kane effect. Kane is on a career-best 15-game point streak. That's trickling down to both Anisimov and rookie winger Artemi Panarin.
Anisimov is on a four-game point streak himself, scoring three goals and four assists over his last six games. His eight goals and six assists in 20 games is the best point per game pace of his career.
If we break that down a bit, we see that he's getting the second most power play time of his career and has the best points per 60 minutes of play rate of his career on the power play. Is that power play time going to be reliable? That's the big question. He's playing on a team that features Kane, Panarin, Jonathan Toews, Marian Hossa, Teuvo Teravainen, Brent Seabrook, Marko Dano, Duncan Keith, Trevor Daley… there are options if he falters.
Part of that power play rise is that the team's top power play unit in recent games has just been Anisimov's line with two defensemen. That trio has played 50% of the team's power play time over the last three games. That's a new development and certainly related to their hot streak. But with Toews and Hossa on the second unit, it's not a sure thing that this sticks.
When this line cools down — if it cools down — the power play units may shift and that could shift expectations for Anismiov. His 5-on-5 scoring rate is tied for the lowest of his career (though that's a four-way tie). His ability to perform above expectations is driven by power play performance.
The 22-year-old Jenner entered the season with high expectations. His rise isn't so much driven by a hot streak but being noticed for the increased production he's consistently bringing to Columbus. He's on the best point per game pace of his career with 10 goals (tied for fifth in the NHL) and five assists in 21 games.
At 2.7 shots per game, he's delivering a career-high pace there as well, but it's not so wildly off from what he did last year in limited time that it should be unsustainable. Though Jenner probably doesn't finish the year fifth in scoring, with his 17.5% shooting percentage probably just a little above where he's likely to wind up for the season.
Jenner is a good buy and the Blue Jackets appear to be done with that nasty early-season slump. They're performing well (err… well enough) and Jenner is on the team's best line with center Ryan Johansen and winger Brandon Saad while Brandon Dubinsky is out of the lineup. But even when Dubinsky's healthy, the Saad-Dubinsky-Jenner combo is formidable and isn't too much of a downgrade for Jenner.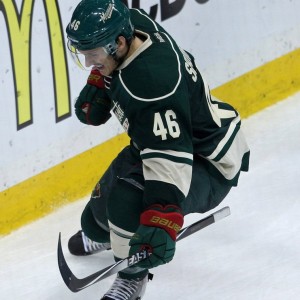 The 5-foot-9 defender brings a well-rounded game to the Wild, and is one of the league's more underrated defensemen. But his rise is streak-driven, with a six-game point streak just coming to a close. His hot stretch has extended outside of that streak, with three goals and five assists over his last nine games.
A nice piece of that production is Spurgeon stepping up on the power play, grabbing three points on the man advantage during those nine games. He's consistently been a part of the team's second unit.
There's been some inconsistency in the Wild roster lately though, with Zach Parise out and the team needing a weak side winger set up for the one-timer on the power play. They've tried both forward Jason Zucker and defenseman Marco Scandella there. But Scandella is out of the lineup with an injury after missing time for a personal matter. To boot illness is running through the team and has put guys like Jonas Brodin out of the lineup, again changing the roster and changing Spurgeon's workload.
In the absence of any of the team's top five defenders, Sprugeon is shouldering a extra load, which can't hurt his production. It remains to be seen if some portion of his torrid pace remains once the blue line stablizes.
FALLERS
The rookie possesses incredible talent, but he's a rookie and his scoring pace to start the year wasn't likely to last. He put up four goals and four assists in the season's first 10 games, a considerably better pace than the no goals and one assist he has in the last eight games.
He's clearly subject to streakiness and with the Jets struggling, it's no wonder that he's fallen off.
He's not going to keep up this slump, but he's also not an elite or consistent fantasy option. With his ice time falling as low as 11:24 in recent games, moving away from Ehlers is entirely justified. What's encouraging is that even in that performance he managed four shots. He's a talent, but he's just 19.
Yakupov was among the early season risers, largely because he was an unstoppable force on the ice with Connor McDavid and Benoit Pouliot. Owners were left to hope that Yakupov's production wasn't too heavily influenced by McDavid when McDavid went out with a broken clavicle on November 3.
Since McDavid went out, Yakupov has just a single assist through seven games and has gone six straight games without a point while the rest of the team put up 18 goals in that stretch. There's no reason to trust him right now, but once McDavid is back, he might be worth taking a chance on, hoping he can rekindle that .83 points per game pace he had going with McDavid.
Notable Faller: Dale Weise (-23.8%)
It was just last week that Weise was the top riser, with a 59% ownership increase. That was driven by a crazy run that has the 27-year-old forward one goal and eight points from tying career-high marks only 21 games into the season.
After that huge rise, he went four straight games without a point. Yet, he hasn't dropped as far as he rose, with a goal and an assist in his last two games, but there are still questions about whether or not this new offensively productive Weise is for real.
1 Ownership levels are tracked via ESPN fantasy hockey leagues, though that is taken to be representative of trends across platforms.