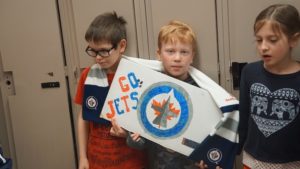 Right in the middle of a long stretch of games against Central Division opponents, the Winnipeg Jets took a break from their playoff push to join schools across the city for 'I Love to Read Month.' Twelve different schools across the city welcomed players, including RF Morrison, who had Mark Scheifele and Josh Morrissey stop by and read to the kids.
Reading Takes Flight, presented by Esdale Printing, is a program that positively encourages children to develop an interest in reading. During the annual event, players visit schools and read from the team's official children's storybook, "The Home Team" to students from kindergarten to grade six.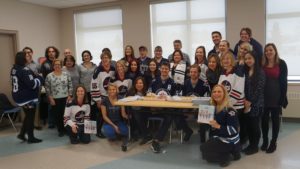 Schools were chosen based on a submitted list of the top five reasons why the Jets should read to them. Carol Sawka, the principal at RF Morrison School, said that they entered other years but this year they added a different twist. "We are very fortunate to have such wonderful students and staff," Sawka said.
"We decided to put together a video, so we gathered in the gym," Brittany Lasko, the school's physical education teacher explained. "We had five students come up and say why the Winnipeg Jets should come read to us. Then at the end, we had three [boys] come and beg the Jets to come read to us."
"Four hours after submitting the video, we got the call that said we were chosen."
Scheifele and Morrissey entered to a very loud 'Go Jets Go' chant as kids lined the hallway to welcome them. Kids had made signs showing their support for the team and wore their favorite Jets apparel.
"They might have been louder than the MTS Centre," Scheifele said about the kids. "This school definitely has our fans running for their money."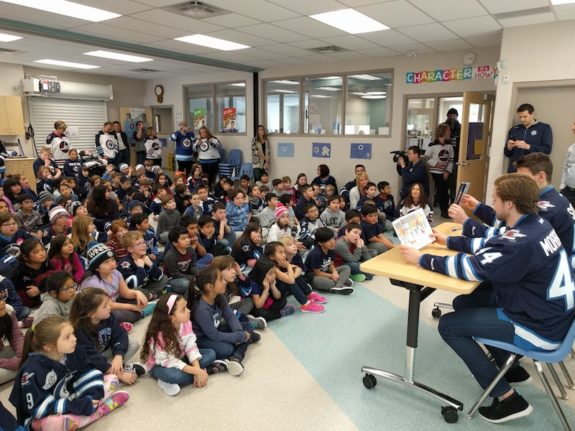 The players headed to the multi-purpose room to another group of kids eagerly awaiting them. Scheifele and Morrissey alternated reading their book, before opening the room up for questions. The questions varied, many of them just being statements instead. One kid caught Scheifele off guard, asking him if he had been to the Olympics. "I haven't, but my girlfriend has," he responded. That got a jeer from the young kids and a laugh from the staff.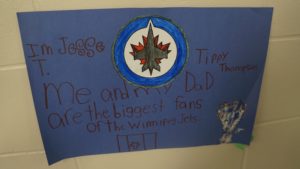 "It's a lot of fun, the kids are super cute, and just really honest," Morrissey said after the kids left. "A lot of big Jets fans. It's great to see that kind of support from the fans, and the young fans."
An event like this always makes you remember the past. Scheifele said that his favorite books growing up were the 'Berenstein Bears' books. Morrissey liked Dr. Seuss, but was also a fan of the 'Hockey Sweater'.
As the kids left they all received a copy of the book, which was signed by Scheifele and Morrissey. They also had a chance to have their jerseys, hats and even shoes signed by the two young players. On the players way out, they were sent off with a lovely rendition of the 'Go Jets Go' chant, with the addition of guitars from the music class.
Rough Schedule Ahead
Today was a relaxing day for the Jets. There may not be too many in the near future for them, though, as they have a tough schedule ahead. The Jets have three games left of a four-game home stand. Two of them are against Central Division opponents, starting with the Chicago Blackhawks on Friday. After that, they head out to the east coast for a four-game road trip.
The Jets are 25-27-4 and only five points behind the Calgary Flames and St. Louis Blues for the second wildcard spot. Scheifele and Morrissey won't be able to take a breather either. Scheifele sits seventh in NHL points, while Morrissey is playing almost 19 minutes a night and will be relied on more with Tyler Myers out for another six to eight weeks.
Judson Rempel was born and raised in the Great White North, skating on ponds and watching hockey every Saturday night in small town Manitoba. When he's not watching hockey, he's playing hockey with his son and daughter, and trying to convince his wife to let him watch more hockey.