Defenseman Conor Timmins has seemingly come from nowhere and exploded onto the scene since being acquired in a trade from the Arizona Coyotes on Nov. 23, 2022. After scoring the first goal of his NHL career, and adding an assist, in the Toronto Maple Leafs' 6-2 victory over the Philadelphia Flyers on Sunday night, he has scored 10 points in just 12 games since joining the team.
It has led a lot of people to ask, is Timmins the real deal? Or, is this just a hot streak by a player who can't sustain it?
Timmins' History Before the Maple Leafs
Before being acquired by the Maple Leafs, Timmins had only played 41 NHL games over three seasons. In those 41 games, he had scored a total of seven points. To put that a different way, he had scored an average of only 0.17 points per game.
In 12 games with the Maple Leafs, he has scored an average of 0.83 points per game. That's an increase of 488 percent or almost five times his career output. 
Those numbers would seem to indicate that Timmins' present scoring pace is unsustainable. That makes sense when you consider that the highest-scoring defenseman in Maple Leafs' history is the recently departed Borje Salming. 
Related: Remembering Borje Salming: "King" of Maple Leafs' Defensemen
In his career, Salming collected 768 points in 1,099 games for an average of 0.70 points per game. Defenseman Morgan Rielly, who is presently fifth in scoring all-time for the Maple Leafs, has averaged 0.58 points per game in his career. 
So no, Timmins' present scoring pace is probably not sustainable.
Is Timmins a Flash-in-the-Pan?
Does that mean Timmins is a flash-in-the-pan player who'll soon fade back into the obscurity he came from? A deeper dive into his past may seem to indicate otherwise.
Looking back at Timmins' junior career, in his last two seasons with the Soo Greyhounds he scored 15 goals and added 87 assists for a total of 102 points in 103 games. That's just one point shy of a point-a-game pace. 
Timmins was then drafted just outside of the first round, 32nd overall in the 2017 NHL Entry Draft by the Colorado Avalanche. He was sent back to the Soo Greyhounds for the 2017-18 season. At the end of that season he suffered a concussion that was serious enough to keep him out for the entire 2018-19 campaign.
Related: 15 Craziest Things Ever Thrown on the Ice
---
Latest News & Highlights
---
During the 2019-20 and 2020-21 seasons, Timmins played 33 games for the Avalanche registering seven points. In those two seasons, he also played 46 games for the Colorado Eagles in the American Hockey League (AHL). In that stretch, he scored four goals and added 24 assists for a total of 31 points. His point pace per game in the AHL was 0.67.
On July 29, 2021, Timmins was traded, along with a first-round pick, and a conditional third-round pick to the Arizona Coyotes for goaltender Darcy Kuemper.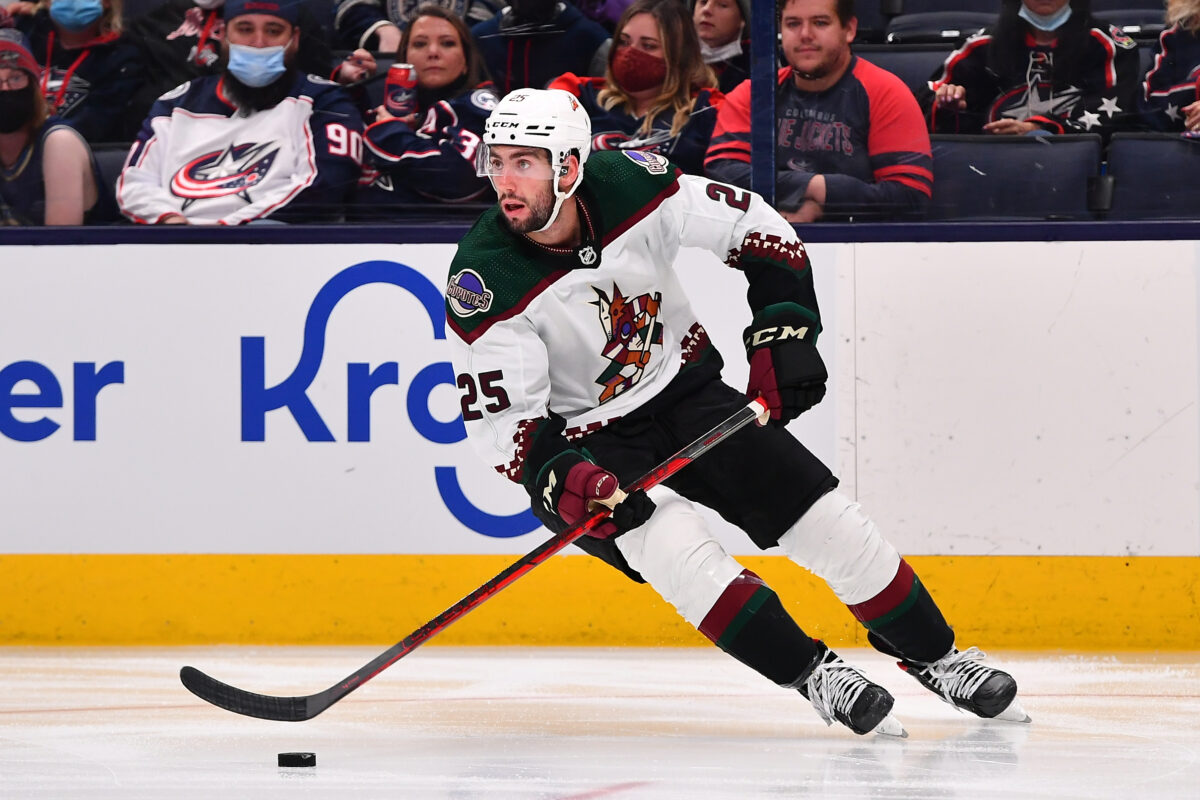 In Timmins' sixth game with the Coyotes in the 2021-22 season, he suffered a season-ending knee injury that required surgery. Then, in only his second game of the 2022-23 season, he suffered an upper-body injury. Upon his return to health on Nov. 8, he was sent to the Tucson Roadrunners for a conditioning stint. There he scored three assists in six games. Two weeks later, he was traded to the Maple Leafs.
Three Reasons Timmins' History Suggests He'll Score in the NHL
Three points come to mind in regard to Timmins' history:
Reason #1: Timmins Scored Throughout His Junior Career
Timmins is not a stranger to scoring. He scored 102 points in 103 games during his junior career.
Related: Maple Leafs' 2022-23 Scoring Predictions for the Core Players
There was an extensive in-depth post on the website Behindthenet.ca that projected scoring from the Canadian junior leagues to the AHL and ultimately to the NHL. That article estimated that the average junior-to-NHL scoring ratio was 30 percent. The average junior player would be expected to score in the NHL at 30 percent of the rate he scored in juniors. Based on that statistic, Timmins' .99 point-per-game pace in his last two seasons of juniors would equate to a .30 point-per-game pace in the NHL. Over an 82-game NHL season, that would translate to 25 points.
Reason #2: Timmins Scored in His AHL Career
In 52 games in the AHL, Timmins scored 34 points, a .65 point-per-game pace. That same Behindthenet.ca website estimated that the average AHL player would be expected to score at about a 68 percent pace in the NHL. His .65 point-per-game pace would then translate to a .44 point-per-game pace in the NHL. In an 82-game season that would amount to 36 points.
Reason #3: Timmins' Career Has Been Set Back by Injuries
Timmins' NHL career and his development have been stalled by three separate injuries, two of them major enough to force him to miss two complete seasons. 
The conclusion supports the belief that Timmins will score at the NHL level. Using either the Canadian-juniors-to-NHL metric or the AHL-to-NHL metric, he would be expected to score between 25 and 32 points per season in the NHL.
Maple Leafs' Defensemen's Current Point Production
Here are the average points-per-season for the other existing Maple Leafs' defensemen during their careers.
| | |
| --- | --- |
| Defenseman | Seasonal Points Average |
| Morgan Rielly | 47 |
| Mark Giordano  | 42 |
| TJ Brodie | 32 |
| Rasmus Sandin | 28 |
| Timothy Liljegren | 25 |
| Justin Holl | 24 |
If Timmins scores in the 25 to 36-point range, it puts him right in the thick of the Maple Leafs' defensemen for point production. It might not be the .83 point-per-game pace he has scored in his first dozen games with the Maple Leafs, but it is still pretty decent.
Related: Ex-Maple Leafs Goalie Michael Hutchinson: Where's He Now?
Then, it is a matter of his ability to play the defensive part of the game. That is a very teachable part of the sport. Although head coach Sheldon Keefe has noted how well Timmins has played, there's still room for him to grow defensively. At 24 years of age and with only 53 games played to this point of his career, he still has the potential and the runway to improve that part of his game.
However, in focusing on his offensive production only, it does appear that Timmins does at least have the potential to become a solid point-producing NHL defenseman.
[Note: I want to thank long-time Maple Leafs fan Stan Smith for collaborating with me on this post. Stan's Facebook profile can be found here.]