Rebuilding through the Draft is a trend we're seeing a lot of these days and this strategy is being used not just by the Toronto Maple Leafs, but the Carolina Hurricanes as well.
Taking a look back to the beginning of the Leafs' rebuild, you'll see that they are currently a couple months into their third year. Toronto's 'Shana-plan' may be the most publicized rebuild in the National Hockey League, but they're not the only ones going through the process. The Carolina Hurricanes began rebuilding 17 days after Toronto did; Hurricane's General Manager Ron Francis was hired on April 28, 2014, and Toronto Maple Leafs' President and Alternate Governor, Brendan Shanahan was hired on April 11, 2014.
Leafs Aren't Exclusive to the Draft
The two rebuilding plans are completely different, yet both focus their efforts on the draft, as well as trading for younger players. Shanahan explains it in this statement at a press conference at the Air Canada Centre in Toronto on April 10, 2016:
Building through the draft has to be a staple, especially at this time. The successful teams have shown, especially in a salary-cap world, you have to build through drafting and developing, but that's not to say we're going to build exclusively that way… We have to be ready to also build through astute drafts and signings, but the draft has to really be the backbone of your build. – Shanahan
When it comes to trading players, teams in rebuild mode are often trading for youngsters and that's exactly what the Hurricanes and Maple Leafs have been doing since Francis and Shanahan took office. In the chart below, we'll see the number of players both the Maple Leafs and Hurricanes traded for AND obtained between February 2015 and today: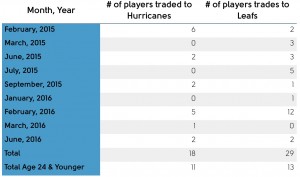 The Maple Leafs traded for 11 more players than the Hurricanes, but if you look at the players aged 24 and younger, you'll see they're more evenly matched. What they do with these youngsters is one of the ways we can see their differences.
The 2016 NHL Trade Deadline was on February 29 and, as you can see, Toronto was very active during the month of February 2016:
February 2016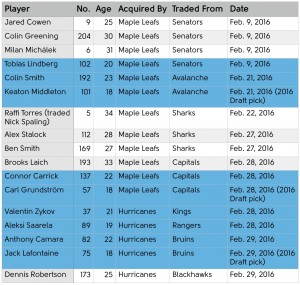 In the same month, Leafs' Head Coach Mike Babcock promoted nine youngsters to play in the NHL for the very first time in the 2015-16 regular season, three of which were promoted on February 29, 2016: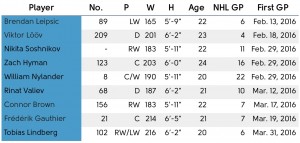 At first glance, it appears they have nothing in common, other than they're all between the ages of 20 and 24, and started playing in the NHL for the first time within two months of each other. They were drafted anywhere from No. 8 to No. 209, weigh anywhere from 165 pounds to 216 pounds, and played between four and 22 games during the 2015-16 regular season.
Here's something that's interesting, though; Brendan Leipsic is 5'-9", and weighs 165 pounds, and played in four games with the Leafs during this season. Mitch Marner is only two pounds lighter (and two inches taller), but didn't play in any Leafs games that season. Why do you think this is? Leipsic played in a total of 139 AHL games, and Marner hasn't played in any, and Marner's also three years younger. If we reorganize these nine players in order of number overall drafted and compare their ages, we'll start to see some commonalities that suggest a reason as to why Leipsic played in the NHL, and Marner didn't.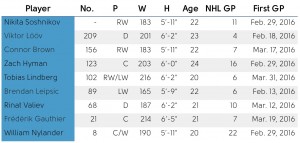 Younger players drafted in the first, second and third rounds of any given Draft had an opportunity to play for the Leafs in the 2015-16 season. Older players drafted in later rounds were also given the same opportunity. Whether or not the Leafs were indifferent to losing, or if their goal was to lose, these nine players were given an opportunity that may never be given to anyone else in upcoming years.
My conclusion regarding Leipsic is since he was drafted at the tail end of the third round at No. 89, he was given the opportunity to play for the Leafs in an effort to increase his overall value. Although Marner weighs nearly as much as Leipsic, his value is already very high and the risk of injury outweighs the risk of increasing his value even further.
Hurricanes Prospects Advance to NHL

The Carolina Hurricanes only promoted four players to the NHL in the 2015-16 regular season for the first time, but it doesn't appear that their entry dates had anything to do with the 2016 NHL trade deadline. It seems that with Carolina when a player is ready to play in the NHL, he plays in the NHL. With Toronto, on the other hand, a number of different factors are taken into consideration when players are promoted to the NHL rankings.
In fact, Noah Hanifin was a first round 2015 NHL Entry Draft pick who went No. 5, and Toronto had the opportunity to pick him first. Toronto had the No. 4 draft spot that year and Carolina had the No. 5 spot, yet Toronto strategically chose Marner. In an article published by the National Post early this year, writer Mike Zeisberger said,
…there was a school of thought among some within the [Leafs] organization that defenceman Noah Hanifin might be a better building block [than Mitchell Marner] — Leafs officials even hosted Hanifin and his family just one day before the first round — Hunter had the final call, using it to take a talented playmaker in Marner who played for him in London…
Hanifin played in 79 regular season games with the Carolina Hurricanes during the 2015-16 season. He was a draft pick who was ready to play in the NHL immediately after being drafted. Toronto had put serious consideration into drafting him, but decided against a short-term impact.
Noah Hanifin: Making an Impact
The Rebuilding Verdict: Hurricanes & Maple Leafs
It's really too soon to say if either team has proven success in their differing strategies of rebuilding a team, but there's a whole lot of educated opinions already. Some experts say the Carolina Hurricanes are doing great at building for the future (Real Sport), they're quickly rebuilding the prospect pipeline with picks (Hockey's Future), are ahead of the rebuild game with smart trades (Yahoo! Sports), and their rebuild is better than anybody expected (Vice Sports).
When it comes to the 'Shana-plan', experts are saying they're putting their rebuild into overdrive with draft picks (Toronto Sun), their rebuild is getting a big boost from the Marlies' playoff success (The Hockey News), it's taking a bite out of Rogers' bottom line (National Post), but their dry, calculated rebuild is long overdue (Sportsnet).