Facing Off is a weekly column debating five of hockey's hottest topics each and every Monday. From current events like trades and hat tricks, to bigger-picture stuff like scandals and expansion — you name it, we're debating it. Albeit, not always with a serious tone. We're keeping this column light, so keep that in mind when reading, and feel free to join in on the fun by leaving a comment. Facing Off also has its own Twitter handle now (), so follow us there and get in on the debate.

Eric Lindros, Steven Stamkos and Auston Matthews.
All No. 1 draft picks, and all newsmakers this week.
Eric Lindros finally got his call to the Hockey Hall of Fame on Monday, along with the late Pat Quinn, goaltender Rogie Vachon and Russian great Sergei Makarov. It was great to see Lindros and Quinn get in, I was a big proponent for the inclusion of both, but the other two not as much. Theo Fleury deserves his day too, but the selection committee probably wanted to avoid two controversial inductees in the same class.
With a Hall of Fame induction, the great Eric Lindros debate is over, writes @SportsnetSpec. https://t.co/EBMdK8IcUB pic.twitter.com/7XbUXSkpoh

— Sportsnet (@Sportsnet) June 28, 2016
All eyes are now on Stamkos, the big fish in this year's free-agent pond. Some intriguing minnows got thrown back on Monday, with the likes of Brett Connolly, Joe Colborne and Devante Smith-Pelly surprisingly not receiving qualifying offers. That list also includes fellow forwards Beau Bennett, Brandon Pirri, Quinton Howden and Landon Ferraro, defencemen Justin Schultz, Patrick Wiercioch, Kevin Connauton, Jon Merrill, Brandon Gormley and Adam Clendening, plus goaltenders Joni Ortio, Sami Aittokallio, Kevin Poulin, Nathan Lieuwen, Andrey Makarov and Joel Rumpel.
Toronto could still add some interesting names to that mix as one of only three teams to not disclose their qualifying offers on Monday, along with Vancouver and Chicago.
https://twitter.com/generalfanager/status/747766242048675840
Some of those cut-loose players might still re-sign with their current teams before reaching the open market on Friday, but their agents may be advising a wait-and-see approach. There will be interest in most those guys, from several teams in some cases.
However, it'll pale in comparison to the attention that Stamkos is already attracting. And it wouldn't be surprising to see Tampa Bay strike a sign-and-trade deal between now and Friday to recoup an asset and to get Stamkos an extra year with the team of his choosing. That's the catch right now, the Lightning can offer eight years, while everybody else is limited to seven. Time will tell, but expect that decision to come sooner than later.
Why the Steven Stamkos situation could be resolved before Friday: https://t.co/jntkiaBfrv pic.twitter.com/JktnOyFUaF

— Chris Johnston (@reporterchris) June 28, 2016
There was no real suspense for Auston Matthews, who barely batted an eye when the Leafs announced his name as the first overall pick on the weekend. It took Matthews quite a while to crack a smile, with his body language initially reminiscent of Connor McDavid's when it was revealed that Edmonton had won last year's draft lottery.
Rest assured, both those franchise players are proud to represent their respective teams. No worries there. Neither of them are pulling a Lindros any time soon.
For this week's Facing Off, I've recruited a couple of draft junkies in Chris Wassel, a former prospects writer for THW, and Dennis Schellenberg, a Swiss-based scout who is back after a successful debut last week. Together, we'll recap the draft and set the stage for free agency.
So, it's been a few days, let's declare some winners and losers from this year's draft? Which teams made out the best in your mind? Or which teams maybe didn't make the most of their picks?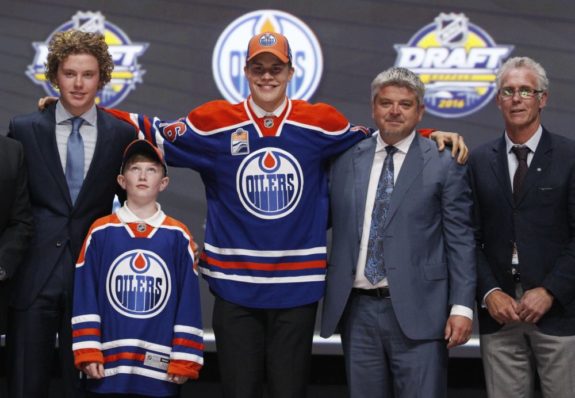 WASSEL: After Matthews, one had to wonder what Toronto was doing. Yes, trying to find ready to plug in talent is a great idea, but if it does not pan out, then potential protection for your top players is gone and so are those picks. If it works, this looks like genius though.
New Jersey had a surprisingly good draft, taking Michael McLeod in the first and then acquiring the aforementioned Bennett, while picking Joey Anderson and a few Russians for good measure. There is always risk, but New Jersey went for speed and offense.
Vancouver seemed like a lost puppy for a bit after Columbus took Pierre-Luc Dubois. The Canucks stabilized just enough with OK picks but surprisingly passed over Ty Ronning (son of Cliff Ronning).
Edmonton had Jesse Puljujarvi and Tyler Benson fall into its lap. One is a star and the other was easily a middle first-round pick if not for injuries.
Many teams were a mixed bag. Arizona made some bold moves on Day 1 and early on Day 2 to bolster its defensive core. Toronto made a late, sneaky trade with Columbus for Kerby Rychel, who has 50-plus point upside in the not-so-distant future. Columbus is a team that just has a reputation for not making the most of their picks and Rychel reinforced that!
St. Louis is another team that better hope to have a Plan B. The Blues' draft was OK but losing Brian Elliott leaves a void that cannot easily be patched. It is more than just the on-ice performance that resonates here. The leadership in the Blues' locker room takes a hit.
Chicago is a surprise on the positive side, thanks to a trade with Montreal to relieve itself of Andrew Shaw's cap hit, plus the pick of Alex DeBrincat and a few other value players. The Blackhawks fortified a bit for next year along with this year. Chicago now has 10 picks for the 2017 draft and managed to replenish its prospect pool while getting mostly out of cap purgatory.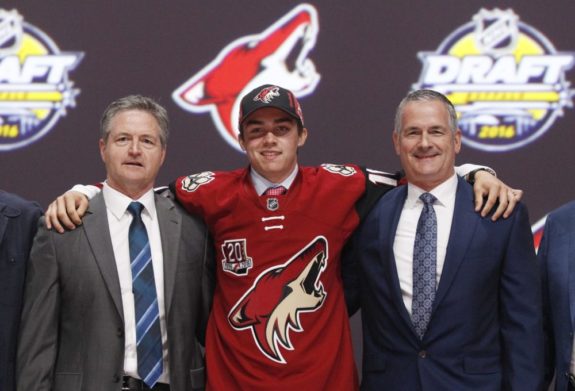 SCHELLENBERG: At a first glance, I would say the winners are Arizona, Calgary, Edmonton and Philadelphia. I really liked the Coyotes' move at 16th overall to move up and secure Jakob Chychrun. They got Clayton Keller and him in the first round, that is fantastic news for the Coyotes' fan base. Keller and Chychrun are both high-end prospects and will help the Coyotes build an even more impressive prospect pool.
The Oilers lost the lottery but were still lucky enough to catch Puljujarvi at fourth overall. I also loved their additions in the second round (Benson), third round (Markus Niemelainen), fifth round (Graham McPhee) and sixth round (Aapeli Rasanen). They might be the ultimate draft winner for me.
Flyers general manager Ron Hextall also made some nice moves at the draft. He traded down and still managed to secure center German Rubtsov at 22nd overall, one of the most intelligent prospects in the draft. Philadelphia also got three very nice additions in the second round.
Furthermore, I also liked some of the Calgary Flames' picks, especially Adam Fox in the third round, Linus Lindstrom in the fourth round and also big defender Stepan Falkovsky with their final pick.
I also liked what Nashville, New Jersey, Tampa Bay and Toronto did. The Leafs rolled the dice a bit with Egor Korshkov (31st overall) that early, but Carl Grundstrom late in the second round could be a nice addition.
It's always tough to declare losers so shortly after the draft but, in my eyes, the San Jose Sharks and Washington Capitals could be considered teams in this category. I am not very impressed with any of the picks by those two teams.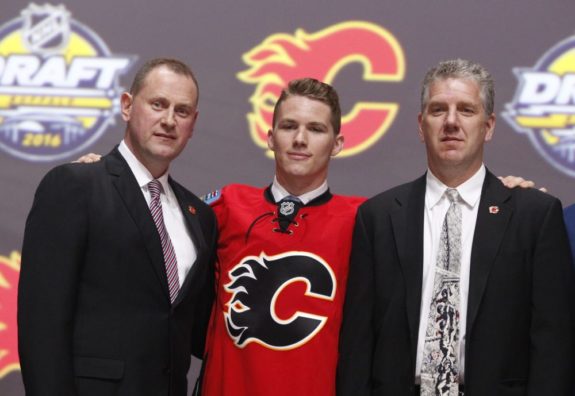 FISHER: I tend to agree that the Alberta clubs emerged among the draft winners, with both Edmonton and Calgary coming away with impressive hauls. As much as Puljujarvi fell to Edmonton, so did Matthew Tkachuk to Calgary. After his Memorial Cup performance, most had Tkachuk pegged as this year's fourth-best prospect and yet he slipped to sixth. I can't say a bad thing about any of Calgary's nine selections, which also included a couple undersized local boys in Dillon Dube and Matthew Phillips, both of whom I've grown fond of from covering the WHL.
Edmonton grabbed a hometown talent too in Benson but repeatedly passed on another in small defenceman David Quenneville, who was still available in the seventh round and could turn out to be a better prospect for the New York Islanders than Vincent Desharnais for the Oilers. What Quenneville lacks in size, he more than makes up for in skill as a Sami Vatanen type, which Edmonton sorely needs in its system. That's nitpicking, though, as the Oilers knocked it out of the park on the majority of their nine picks as well.
Arizona's first three picks were off the charts — Keller, Chychrun and Cam Dineen in the third round — and acquiring Anthony DeAngelo pushed the Coyotes further into the winners' circle. The old guard was giving a lot of credit to Ken Holland for ditching Datsyuk's contract, but the new kid on the block, John Chayka, made a terrific first impression on me. Let's wait and see how Chychrun and Dennis Cholowski pan out, the latter being the defence prospect that Detroit picked after moving down four spots to get rid of Datsyuk's cap hit. Arizona had room to take it on and I see that as a win-win trade.
The Winnipeg Jets had another strong showing, picking up where they left off in last year's draft, and I'd be willing to hand out honourable mentions to Philadelphia, New Jersey, Chicago, Nashville, Ottawa, St. Louis, Minnesota and the Islanders too. I felt several other teams really started strong but seemed to fade in the later rounds.
I also agree that it's not fair to single out losers so soon, but Columbus passing on Puljujarvi for Dubois was puzzling to say the least and the Blue Jackets seemed to reach for Andrew Peeke early in the second round as well, though they saved some face by selecting Vitaly Abramov in the third round. I would also have Washington, Vancouver, Florida, Pittsburgh and the New York Rangers trending toward loser status. For all the grief that Boston gets, I didn't mind most of Don Sweeney's picks this year.
The real losers might actually be the Russians who came over to play in the CHL. That extra exposure to scouts seemed to work against most of them, including Abramov, but especially Dmitry Sokolov, who went from projected first-rounder and potential top-10 pick to barely getting drafted in the seventh-and-final round. Vladimir Kuznetsov and Daniil Miromanov weren't as fortunate, getting passed over completely, along with Simon Stransky of the Czech Republic, which sparks the debate of whether those Europeans are better off staying home in the future.
Of all 211 picks, which selection(s) surprised you the most? What didn't you see coming on draft weekend? Be honest here . . .
WASSEL: The Rangers picking Sean Day at No. 81. It is not to say that Day will be a bust, but the Rangers have their work cut out as far as developing him. One or two years of extra time and maybe no one is having this conversation, but here we are. Day has a strong, lower-body center of gravity and can skate with power. His two-way game is first-round talent, but he must better possess that stamina to give it 100 per cent all the time in the NHL. Hockey sense and maturity are also obvious question marks, but this project has potential to be a huge hit or a bust.
Sean Day thinks his best hockey is ahead of him. https://t.co/iqP2WmKtAA #NHLDraft pic.twitter.com/nSwgjsDBYs

— NHL (@NHL) June 27, 2016
Abramov going 65th to Columbus was quite a surprise. The prospect played for Gatineau and put up first-round caliber numbers everywhere he went. He just kept falling and falling. That was not the only Russian to do so and one has to wonder sometime if general managers still have a predisposition as they say.
The lack of trades was not a surprise, at least in the player-for-player sense. A lot of seeds were planted much like last year. So expect a bit more activity in the coming days and then some frenzy for the July 4th long weekend (July 1st is on Friday).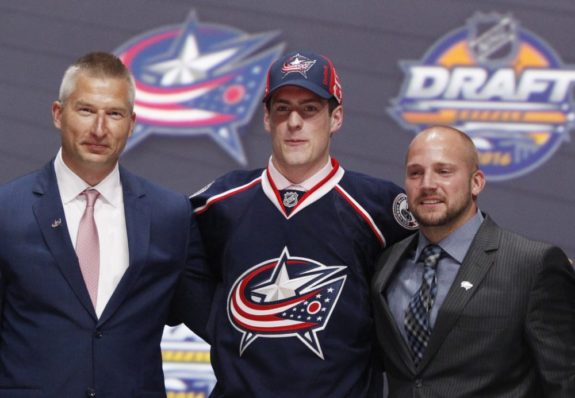 SCHELLENBERG: Anyone saying they saw it coming that the Blue Jackets would select Dubois over Puljujarvi is probably not telling the truth. The top three were a lock to me, really surprised Puljujarvi did not end up at third overall. With that said, I wouldn't say it was the wrong move by Columbus GM Jarmo Kekalainen — the Blue Jackets needed a center and think that Dubois can excel best in this position for them. If it doesn't work out for Columbus, then that selection is going to bite them big time.
There were a couple of minor surprises, players who have been dropping a bit more than expected such as Abramov, Will Bitten, Victor Mete and Jacob Moverare. Two of them, Bitten and Mete, were picked up by the Habs. I liked what Montreal did with its top three picks.
I have also identified some highly interesting players who were picked in the last two rounds. There is a good chance that we will talk about players from that last round in a couple of years and call them steals of the 2016 NHL Draft. The biggest surprise for now remains Puljujarvi at fourth overall, though.
FISHER: There were plenty of surprises as per usual. Henrik Borgstrom and Trent Frederic cracking the first round was a bit shocking to me. As was Korshkov, with the first pick of the second day, and the fact that no goaltenders went inside the top 40.
Like most, I was surprised by Toronto's strategy to draft primarily over-age prospects, which could backfire or become a trendsetter. Beyond that, there were about a dozen names that were foreign to me, including one of the draft's best names in Hardy Haman Aktell, who Nashville took in the fourth round (108th overall).
Not easy to comprehend for a kid who went undrafted, but plenty of undrafted players reach the NHL — & plenty of this yr's picks will bust.

— PATRICK WILLIAMS (@pwilliamsNHL) June 25, 2016
The biggest surprise for me was some of the non-picks. I never imagined that WHL scoring leader Brayden Burke or top-end goalie Zach Sawchenko would go undrafted. Igor Svyrev, Maxime Fortier and Alan Lyszczarczyk were among the others who got overlooked for reasons unknown.
Perhaps the talent pool is deep enough to expand the draft to eight or nine rounds again? With Las Vegas coming on board, that might not be a bad idea, but most teams are already bumping up against the 50-contract limit, so it may not be needed either.
This is your chance to say "I told you so . . . " Who's going to be the steal of the 2016 draft in a few years' time? Which prospect outside the top 10, or even the top 30, is going to emerge as a top-10 talent from this draft class? Looking into the later rounds, which picks are you really high on? Be bold here . . .
WASSEL: DeBrincat is going to be one of the steals because of who he plays for. He will have a chance to make a pretty quick impact if he impresses in camp. McLeod was drafted 12th by New Jersey and has a real chance to be one of the 10 best from this draft because literally all he has to learn is to slow down a little and let the game come to him. Imagine saying that about a Devils prospect.
Blackhawks take Alex DeBrincat, who many had as a late first-rounder. Scored 51 goals at OHL Erie with Connor McDavid and 51 without him.

— Eric Stephens (@icemancometh) June 25, 2016
Sokolov is a really bold risk here, but the seventh-round pick probably should have been a middle-round pick at worst. Sokolov has top-flight talent but, again, just needs to learn to slow things down a bit and gain a little composure while on the ice. The Minnesota Wild really stumbled onto a potential steal the way we speak of a Henrik Lundqvist or Datsyuk.
Wade Allison (52nd overall by Philadelphia) has a lot of upside and a chance to fit right in with what Hextall is building with the Flyers. His ability to keep defenders at bay and set up or shoot is just what will endear him to his teammates and fans. He could put up a lot of points for a rookie in that setup.
SCHELLENBERG: Well, as mentioned above, there is big potential for steals in the seventh round. I am thinking of Quenneville, Ronning, Otto Somppi, and also Rasanen from the sixth round.
I also think that Benson is one of the better players from this draft and should have slipped into the first round. The Oilers are going to have fun with him.
With the 20th selection in the 2016 @CHLHockey #ImportDraft, the Steelheads select Swedish d-man, Jacob Moverare. pic.twitter.com/ZLxPl8h8xk

— Mississauga Steelheads (@OHLSteelheads) June 28, 2016
However, let's define THE steal of this draft: For me, it is Moverare, the Kings' fourth-round pick. He is a big, mobile defender who has smooth hands and can move the puck around very well. He needs to become more physical and has to use his big frame more effective along the boards, but he has a lot of upside and I am surprised he was not picked earlier. Moverare is also one of the youngest prospects in this draft. It is really hard to project how good he is going to be, he definitely is a project, but one that could pay off well for the Kings in a few years.
FISHER: I'm really intrigued by Anatoli Golyshev, the little Russian late-bloomer who scored 25 goals in the KHL this past season. The Islanders got him in the fourth round and some reports suggest he's NHL-ready right now if he were to come overseas.
#Isles scouting director Velli-Pekka Kautonen on 4th rder Anatoli Golyshev: "The Russian papers call him the best unknown player in Russia."

— Arthur Staple (@StapeAthletic) June 25, 2016
The seventh round is certainly a good place to look for steals, with most those prospects of the high-risk, high-reward variety. There is definite upside to a lot of this year's seventh-rounders, with guys like Sokolov, Quenneville and Ronning now determined to make the other teams look bad for passing on them.
There was plenty of promising Scandinavian talent snatched up in the later rounds too, so it wouldn't be surprising if a few Finns and/or Swedes outside the top 150 turned into steals down the road. Rasanen probably tops that list in terms of potential, but Somppi, Jesper Bratt, Markus Nurmi, Oskar Steen, Joachim Blichfeld and the Danish-born Nikolaj Krag Christensen all have nice upside as forwards, along with defenceman David Bernhardt and some other lesser-known offensive blue-liners.
Russian goaltender Mikhail Berdin in the sixth round also stands out as a good get for the Winnipeg Jets, not that they needed another netminder.
Lastly, I'm not sure what the deal is with Conner Bleackley — there must be baggage considering the first-round pick from 2014 wasn't signed and then fell all the way to the fifth round as a re-entry — but if and when he matures, the St. Louis Blues could have a steal there too.
We're jumping the gun there, but we can weigh in on which team(s) improved their roster the most over the last week, both through drafting and trading? In other words, who are the biggest winners and losers for next season?
WASSEL: Taking a snapshot of this is tough, given the fact that the UFA window is open for interviews. A lot can happen between now and Friday. On the other hand, Calgary has itself a goaltender in Elliott who can play 50-plus games and give solid results at last.
Flames acquire G Brian Elliott from St. Louis for the 35th overall pick & a conditional 3rd-round pick in 2018. pic.twitter.com/1TVDv7wzrw

— SportsCenter (@SportsCenter) June 25, 2016
Toronto picking Matthews makes some strides almost by default but trades and free agency will be the truest judge of that. Many teams will be judged on the next 10 days or so.
Detroit has put itself in position to be a player in free agency and so have teams like Florida, Buffalo, Toronto, etc. Unfortunately, some teams like St. Louis and Vancouver took a significant step back.
The Blues may have hurt themselves more with their uncertain free agents and pinning all of their hopes on Jake Allen and what amounts to be a lame-duck coach in Ken Hitchcock. Winning it for the old coach does not work when the pieces are jumping ship.
As for Vancouver, it is a total mystery as to what the Canucks are doing, and if anyone has this figured out, then good luck. The Sedin twins are arguably just wasting away there.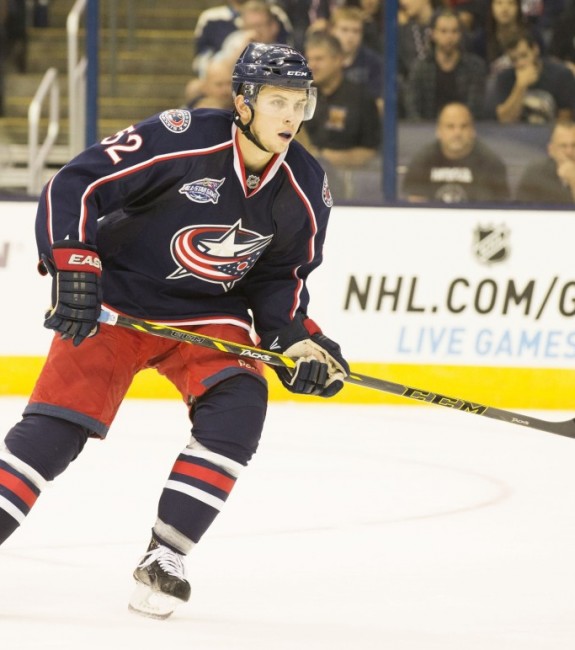 FISHER: Toronto is going to improve with or without Stamkos next season. Adding Matthews and Rychel to a top-nine forward group that will likely also include William Nylander and Mitch Marner makes the Leafs much more potent offensively. At the other end, Toronto landed Frederik Andersen from Anaheim and locked him up long-term, so the goaltending should be better going forward too. I like how the Leafs have retooled and I doubt they are done yet.
I'm not as high on Elliott in Calgary, but he came at a bargain in comparison to the cost of Ben Bishop or Marc-Andre Fleury. Those two would have been bigger upgrades in net, but they would have required much more than a second-round pick and Bishop was believed to be asking for a seven-year extension worth $7 million annually. So the Flames went with a cheaper alternative, and we'll see how that pans out. Personally, I wouldn't rank Elliott ahead of Edmonton's Cam Talbot. They are both middle-of-the-pack starters, but Calgary boasts the better defence as of today, so that should help Elliott settle in.
There weren't nearly as many player-for-player trades as I anticipated, and that could be due in part to the expansion announcement and who would or wouldn't need to be protected for that draft. Teams aren't going to overpay, or even pay market value, for a player that they won't be able to protect and may lose for nothing after the coming season.
In saying that, there was a lot of smoke, just not much fire at the draft, so some of those bigger deals could be delayed until later this week or after the first wave of free agents have signed. Teams are still trying to figure out, if the expansion draft was tomorrow, who would they have to expose and what could they get in return for those players? It's all about asset management between now and next June.
Let's make some predictions: Where do you see the biggest names signing? Give us your top 10. Another chance to say "I told you so . . . " and sooner than later this time!
WASSEL: This time of year always gets iffy, but let's roll the dice here. Where will some of the top free agents wind up?
Steven Stamkos — Toronto
Milan Lucic — Vancouver
Loui Eriksson — New Jersey
Kyle Okposo — Buffalo
Mikkel Boedker — Colorado
David Backes — Edmonton
James Reimer — St. Louis
Jason Demers — Montreal
Troy Brouwer — St. Louis
Frans Nielsen — Minnesota
Ten seems like enough for now. Some other notables may need a little time as this frenzy may be more about trades than big-name signings. There is Stamkos and then there is everyone else. It is again like waiting for the big domino to fall, then the second tier, and so on. There is a possibility that Florida tries to swoop in with an offer for the Tampa Bay center but hardly any attention will be paid to it. Needless to say, a lot of teams are gauging interest and the New York Rangers are too — even if it does not address their defense.
That is the kind of summer it is. The one piece of relatively good news is the $73-million salary cap. This will aid in signings and the usual overpays (whether it be by term, dollars, or both). It is going to be a bumpy ride. Get ready for a lot of head-scratching, criticism, anger, and ecstasy. Just wait for the fantasy impact charts and more! The best is yet to come.
FISHER: This is going to be an interesting free-agent period. Expansion changes everything and I'm expecting a lot of one-year contracts, even for some of the bigger names — excluding Stamkos, of course — as teams try to avoid losing their pending additions to Las Vegas. You see, at least 20 of the 30 players picked by Las Vegas need to be under contract for 2017-18, so that leaves only 10 on expiring deals, and it seems unlikely the newest franchise would target a bunch of pending free agents. Granted, players would probably be very open to the idea of calling Sin City home, but I could see general managers and agents figuring out a way around that. Perhaps with under-the-table promises for longer extensions next summer. This summer really isn't a great time to be a free agent, unless your name is Stamkos.
I doubt we will see many no-move clauses handed out either, knowing those players must automatically be protected for any future expansion drafts should Quebec City or Seattle or somewhere else get a team. Stamkos will be the exception again — he'll basically get whatever he wants — but I don't see someone like Demers getting a no-move even though he might be a better signing than say Andrej Sekera, who got one from Edmonton last summer.
Nevertheless, here's my take on Chris's list of top free agents and where they will end up signing:
Steven Stamkos — Toronto
Milan Lucic — Edmonton
Loui Eriksson — Florida
Kyle Okposo — Minnesota
Mikkel Boedker — Vancouver
David Backes — Buffalo
James Reimer — St. Louis
Jason Demers — Edmonton
Troy Brouwer — Vancouver
Frans Nielsen — Detroit
And here's the next five on my list, for good measure:
Andrew Ladd — Carolina
Eric Staal — New Jersey
Brian Campbell — Chicago
Dan Hamhuis — Detroit
Thomas Vanek — New York Islanders
Of the teams not mentioned above, Boston will be in the mix for the majority of those wingers and it wouldn't be surprising to see at least one sign with the Bruins. I do expect most these players to be locked up by Monday morning, considering the advanced negotiation window, so we'll have plenty to debate in next week's Facing Off!
---
Who won this round of Facing Off? Feel free to weigh-in with your opinions in the comments below. We will be checking in periodically to both defend and expand on our initial answers. If you want to see us face-off over a topic, we're open to suggestions as well.