Facing Off is a weekly column debating five of hockey's hottest topics each and every Monday. From current events like trades and hat tricks, to bigger-picture stuff like scandals and expansion — you name it, we're debating it. Albeit, not always with a serious tone. We're keeping this column light, so keep that in mind when reading, and feel free to join in on the fun by leaving a comment. Facing Off also has its own Twitter handle now (), so follow us there and get in on the debate.

Vegas, baby, it's happening. The Black Knights are becoming a thing.
The official announcement will take place this week prior to the NHL's annual awards banquet in Las Vegas, and the big news will just keep coming in the build-up to the draft and as it plays out over the weekend.
The insiders are anticipating several blockbuster trades, even more than usual, and the Steven Stamkos watch will intensify with every passing day. None of that will overshadow Auston Matthews' big day, not unless his hometown Arizona Coyotes manage to acquire the first overall pick from the Toronto Maple Leafs. That would turn the hockey world upside down.
This is the calm before the storm and the next few weeks will be a whirlwind for Facing Off. I'm joined today by Sebastian Hedley-Noble, who covers the Colorado Avalanche and Florida Panthers for THW, to help set the stage for those shenanigans.
Before we get into all that good stuff, I just want to revisit the Conn Smythe debate. In case you missed it, Phil Kessel was recently named THW's playoff MVP, though my vote went to the real winner, Sidney Crosby. And I rest my case . . .
Did Sidney Crosby deserve to win the Conn Smythe Trophy? #StanleyCup #NHL #THW

— Facing Off (@FacingOff_THW) June 13, 2016
Moving on, what excites you the most about expansion — the jersey unveiling, the draft and protected lists, the GM and coach announcements, something else? Any worries about expansion or Las Vegas as a market?
HEDLEY-NOBLE: I would say all of the above excite my hockey senses really. Jersey unveilings are always fun for me as I am a bit of a collector (so let's hope they're not ugly). The draft and protected lists are also extremely exciting/nerve-wracking to think about all of the different scenarios, it can drive a man . . . somewhere, good or bad. I'm not as giddy about any GM or coach announcements as some may be, that's the boring part. Unless you get a group of guys together in that front office that you can cheer for, which is pretty hard to do nowadays.
The only worry I have, which I am sure many feel the same way, is the list of protected players each team must submit. I don't like the numbers — seven forwards, three defensemen and a goaltender (11 total), or simply just eight skaters and a goalie (nine) if "preferred". That's going to hurt many teams who will no doubt lose key pieces from their rosters, whether they came from great drafting or great trades. It's unfair in my eyes to undo the hard work of many organizations because another one wants in! Use the old rules!
As far as Las Vegas goes as a market, I don't see a big problem here. I think they'll pack that arena eventually, if not right away. If Tampa Bay, South Florida, Arizona, etc., can attract fans, Vegas surely can as well. The one concern for me, however, is the players' (both young and old) abilities to handle traveling there however many times a season — it could be a real distraction. It usually serves as a place to go after the season, we shall see! Exciting times nonetheless.
FISHER: Concern for the players, what about the media? Missed deadlines and grammatical errors — err, slurring for our radio and TV cohorts — could be a common occurrence when the road trips swing through Sin City. In all seriousness, the NHL landing in Las Vegas is going to be celebrated by everybody outside Quebec City. I have no doubts that T-Mobile Arena will be packed from Day 1 and stay that way — thanks in part to Canadian tourists — even if the team struggles. Las Vegas has always been a great getaway place, particularly when the dollar is closer to on par, and this is just another reason to go there year-round.
https://twitter.com/generalfanager/status/743123401762557952
As for the serious stuff, starting with the expansion draft, which excites me most, I'm all for the new, limited protection lists as a means of ensuring this Las Vegas franchise ices a competitive roster from the outset. Bill Foley is shelling out $500 million to join the league, so he deserves that much in return. The NHL wants to succeed in Las Vegas and has set up the draft rules to stack the odds in its favour, rather than filling the roster with fringe players and journeymen. That was the case with past expansion clubs and one of the reasons the Thrashers didn't last in Atlanta.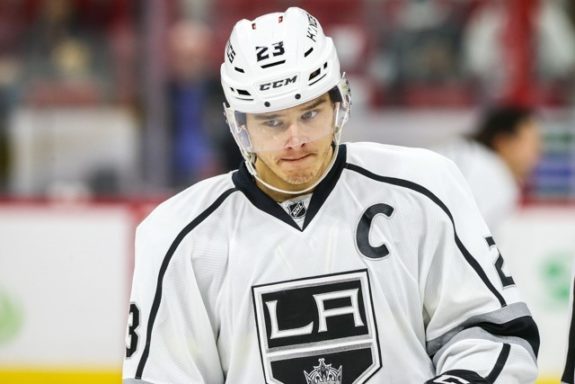 The draft is still going to be fair for the 30 current teams, only losing one player each and not one of their top nine or 11. Essentially half the roster will be protected, so I don't think Sebastian or anybody else can complain that much. Yes, that still leaves a lot of talent and potentially young talent unprotected, but that will give us plenty to debate in terms of who Las Vegas could/should pick. It's going to be so much more intriguing and suspenseful than the draft that formed initial (and awful) rosters for Minnesota and Columbus at the turn of the century. Social media wasn't really a thing back in 2000, so this is going to be huge for Las Vegas and the league in general.
The jersey unveiling will be cool too, and could happen this week already. The team is almost certainly going to be called the Black Knights and there have been some wicked concepts showing up online, though nothing official has leaked as of yet. The only question is whether Dustin Brown will be in attendance to model the new uniforms. That may be a bit of a low blow, but I'm betting on Brown becoming the first captain of the Black Knights. And that's not a bad gig for him, just a short jaunt over from his home in Los Angeles. It'll make for more drama on The Hockey Wives reality show, but it sure beats Quebec City.
Thoughts on the latest coaching hires — Glen Gulutzan in Calgary, Randy Carlyle in Anaheim, Mike Yeo in St. Louis and Kirk Muller in Montreal? Do you see those guys being good fits or were there better options out there? Including Bruce Boudreau in Minnesota and Guy Boucher in Ottawa, which coach will make the biggest impact on their new team next season?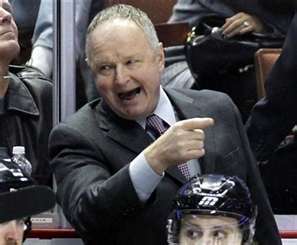 HEDLEY-NOBLE: Well, everyone is wondering why on earth Carlyle is back with Anaheim, I'd be a little concerned if I were a Ducks fan about that. Besides Carlyle, I see the rest of the hires as OK, some better than others. I don't get why a coach such as Bob Hartley wasn't hired ahead of someone like Mike Yeo or even Guy Boucher.
Having said that, I do think the Ottawa Senators will benefit the most from their coaching change. They have a lot of raw talent that Boucher can work with. Same can be said with Muller and the Canadiens.
FISHER: What about Boudreau? He was the marquee free agent among coaches, and Minnesota is going to reap the benefits of having him behind the bench. Boudreau's regular-season winning percentage of .659 is the highest among active NHL coaches, and he was the fastest in history to 400 wins (663 games). Granted, Minnesota doesn't have nearly the firepower of his former teams in Washington and Anaheim, but the Wild got the best guy out there and that deserves mention here. I can't wait to see what Boudreau can do with that team, although he'll have his work cut out for him in the stacked Central Division. This is, by far, his biggest challenge to date, but I expect Minnesota's roster to undergo an offseason makeover, with Boudreau getting the most out of the new-look group and getting the Wild into the playoff mix next spring.
Carlyle going back to Anaheim was a head-scratcher, I agree, and Gulutzan was a surprising hire for Calgary too. Obviously Brad Treliving didn't endorse Hartley's demanding approach and decided to go with a stark contrast. Gulutzan is going to be able to better relate to today's generation of players — he's been called a "players' coach", a term that doesn't apply to Hartley — but Gulutzan will have to guard against getting walked over. He'll have to establish a happy medium, but there will be difficult days ahead in that rapidly improving Pacific Division, which Gulutzan is familiar with in coming over from Vancouver. The bigger hire for the Flames might be the assistant or associate coach to round out next season's staff.
That's where Ottawa, St. Louis and Montreal really made wise decisions by hiring Marc Crawford, Yeo and Muller, respectively. Sebastian could be right about the Senators seeing the most improvement from their Boucher-Crawford coaching tandem. The Blues brought in Yeo as Ken Hitchcock's successor in a unique transition that could turn out terrific or terrible. For St. Louis' sake, you hope they can avoid a power struggle as the season progresses for better or worse. Muller is going to get Montreal's power play firing on all cylinders and, providing Carey Price is healthy to start the season, that should be enough to get the Canadiens back into the playoffs.
I was a little surprised that we didn't see any rookie head coaches get hired, especially given the success of Dave Hakstol in Philadelphia and John Hynes in New Jersey. I really thought Travis Green was a worthy candidate for his work with Vancouver's farm team in Utica, and I thought Calgary might have promoted Ryan Huska or brought Dave Lowry back into the fold. Todd Reirden, an assistant in Washington who develops defencemen as well as anybody else, was a finalist for the Flames and it's only a matter of time until he gets a head-coaching gig. Yet, the old dogs like Hartley, Ron Wilson and Jacques Martin would like another chance too.
It's draft week and all kinds of wild trade rumours are surfacing. Your Avs are debunking (or disputing) the availability of Tyson Barrie, but are they bluffing? Do you see him or any of their core getting moved? Got any other trade predictions that you'd like to throw out — for Colorado, Florida or just in general?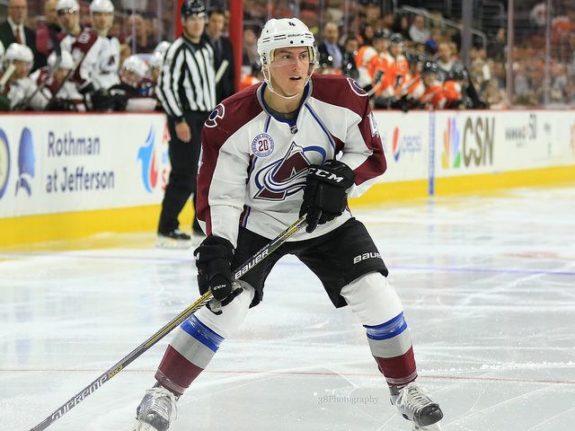 HEDLEY-NOBLE: Joe Sakic did come out and state he's expecting Barrie to be re-signed, along with saying he is looking for the Avalanche core to keep growing together and take that next step. I don't think he's bluffing, however I don't think he's shut off his phone either. Barrie, while a great offensive-minded defender — one of the best in fact — has some improvements needed in his own end. I can see the Avs being a little hesitant to hand out the cash for just his offensive prowess. That said, you need players like Barrie on your back-end, so hopefully both parties come to a reasonable deal.
As for anyone else from Colorado's core who may be involved, first let's say this, forget the name Matt Duchene — he's staying unless Sakic gets a massive overpayment. The one player I could see moved is Semyon Varlamov or Calvin Pickard. They have two great goalies and with the expansion draft coming, they might not be able to keep them both.
On trade predictions, for the Avalanche, they'll most likely be trading for a defenseman and forward, depending on whether Mikkel Boedker and Shawn Matthias stay. Those two are going to test the market, but have offers in place from Colorado if they don't like what they see come July 1.
The Florida Panthers need to go after a scoring winger, which won't be easy, and may have to overpay someone. I'll also say Marc-Andre Fleury gets traded, as it makes too much sense, for me anyway. Jacob Trouba has been a name put out there, along with some Edmonton Oilers forwards, including Jordan Eberle and Ryan Nugent-Hopkins. I won't throw any more predictions out though, things can change extremely fast in this league.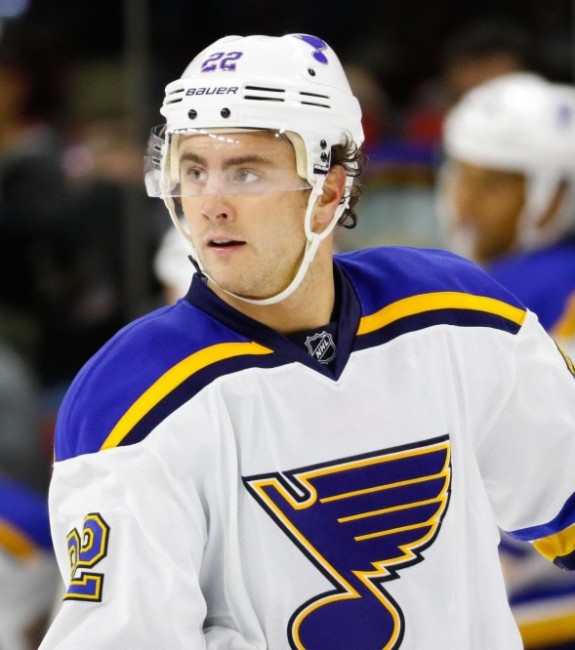 FISHER: Fine, I'll throw out a couple more predictions. How about Kevin Shattenkirk to Boston for the 14th overall pick? Shattenkirk is an unrestricted free agent after next season and St. Louis probably can't afford to sign him to an extension. Even if the Blues could come up with the money, it's believed that Shattenkirk would rather sign in the Eastern Conference. The Bruins are wanting to add a puck-moving defenceman, so it seems like the perfect fit. In return, St. Louis could draft the hometown kid Luke Kunin at No. 14, a forward drawing comparisons to Dylan Larkin but also to Robby Fabbri and Jaden Schwartz. If Boston was able to negotiate an extension with Shattenkirk's agent in advance of the deal, to lock him up long-term, then the Bruins would probably have to send another pick or prospect to St. Louis — say this year's second-rounder (No. 49, from the Islanders) or a kid like Jeremy Lauzon. Would that be enough for Shattenkirk? Or would St. Louis demand both of Boston's first-round picks this year, the other being No. 29 from San Jose?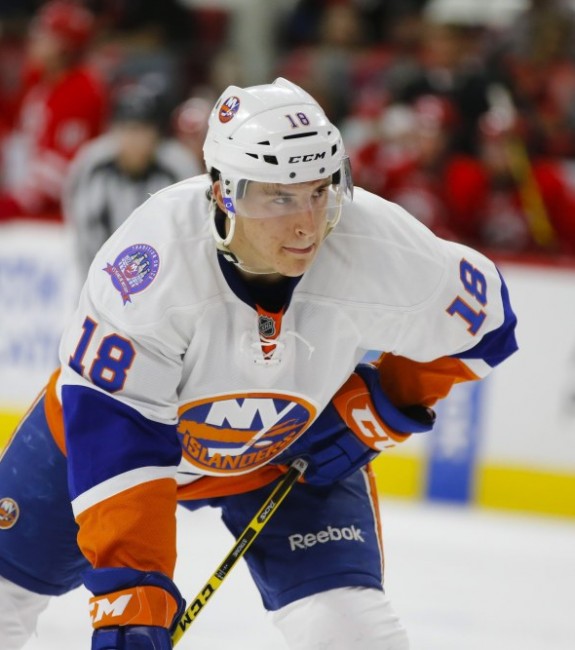 Here's another trade idea. Ryan Strome to Arizona for picks 20 and 68, giving the Islanders back-to-back selections in the first round at Nos. 19 and 20. As it stands, the Islanders pick 19th and then not again until 110th, with only five picks over the seven rounds. Strome, the fifth overall pick from 2011, has spent time in Jack Capuano's doghouse and was even a healthy scratch in this year's playoffs. He hasn't been a great fit alongside John Tavares, and it's tough to tell whether the Islanders see Strome as a winger or a centre going forward — or where he fits in Brooklyn in general. Arizona drafted Strome's younger brother, Dylan, third overall in 2015, so the Coyotes would seemingly be interested and could part with a couple picks, considering Arizona also selects at Nos. 7, 37 and 53. I doubt the Coyotes would contemplate No. 7 for Ryan Strome straight up. Yet I wonder, if Arizona pulled off this deal to unite the Strome brothers, would the Coyotes try flipping them both to Toronto for the first overall pick to take homegrown centre Auston Matthews? Is that potential blockbuster appealing to the Maple Leafs, Dylan and Ryan Strome for the right to pick Matthews? Or do the Coyotes still need to add a pick, either No. 7 or 37?
Avalanche NOT trading D Tyson Barrie, GM Joe Sakic tells me. LT deal preferred for RFA, or arbitration. "Either way, he'll be here" – Sakic

— Mike Chambers (@MikeChambers) June 16, 2016
As for the Avs, I do think Sakic is bluffing to some degree. Sakic said something very similar about Ryan O'Reilly around this time last year and he was dealt to Buffalo at the draft. Worth noting, Barrie and O'Reilly share the same agent (Pat Morris), so I could see this situation playing out in similar fashion. Edmonton is certainly interested in Barrie, perhaps more so now that Anaheim's Sami Vatanen, another potential target, has signed to a four-year extension. I have a feeling that Sakic and Peter Chiarelli will be staying in touch as the draft approaches.
What about Marc-Andre Fleury? Are you expecting him to get traded this week or this offseason? Calgary, Toronto, which teams make the most sense? Or do you see Fleury staying in Pittsburgh?
HEDLEY-NOBLE: Yes, I expect him to be traded. I don't know when, though it just makes good hockey sense to do so for the Pittsburgh Penguins. Matt Murray is 22 years old, took control of the crease, and was arguably the Penguins' playoff MVP. By trading Fleury, Pittsburgh can add pieces elsewhere for the future while at the same time clearing up a nice chunk of cap space.
It's a no-brainer for me — Murray showed he can handle the pressure and then some.
Preferably you'd want Fleury in the Western Conference, but really all the Penguins should care about is which team can offer the best assets.
If Marc-Andre Fleury is traded by the #Penguins this offseason, what team makes the most sense for him? #NHL #THW

— Facing Off (@FacingOff_THW) June 19, 2016
FISHER: Jim Rutherford is doing his best Sakic impression by downplaying Fleury's availability and suggesting his preference is to start next season with a Murray-Fleury tandem in Pittsburgh. It would be a similar arrangement to Petr Mrazek and Jimmy Howard in Detroit, but the Red Wings are trying to move Howard for a reason. You don't want to be employing a $5-million backup.
Fleury makes $5.75 million for three more seasons through 2018-19, and he has a limited no-trade clause that can block a move to 12 teams (more than a third of the league). Toronto is probably among the places he'd be willing to go, but Calgary may not be. However, if Fleury wants to resume his career as a starter in the NHL, then Calgary might offer the best opportunity. It would also be a move to the Western Conference, which Pittsburgh would prefer as Sebastian alluded to.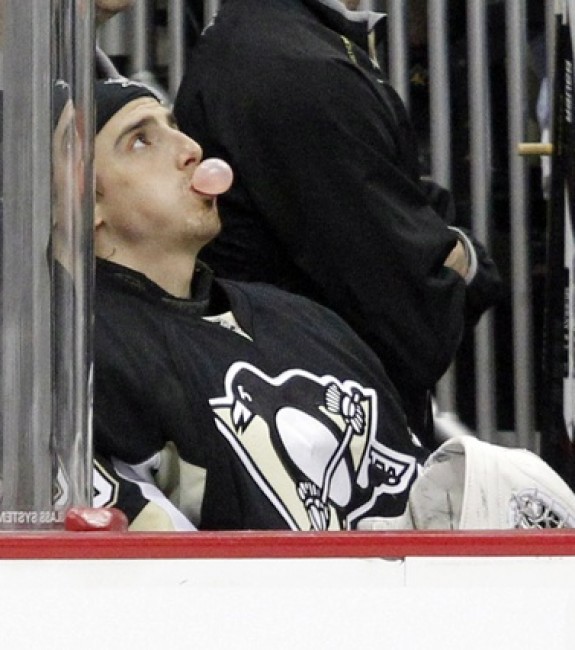 There isn't a great market for goalies right now, especially with teams only able to protect one in next year's expansion draft. If the Penguins were to keep Fleury, they would likely lose him for nothing to Las Vegas. So I definitely think he's available, but it would be a short list of teams interested in acquiring Fleury for the same reason. Teams with a promising young backup, with three years of pro experience, may want to protect that asset over Fleury and thus not be willing to give up much of anything in a trade for the veteran, knowing it could be a one-year rental before Las Vegas drafts him anyway.
Calgary and Toronto would both be protecting Fleury, and perhaps pay more for him. Dallas might kick tires, but Pittsburgh would have to take back either Antti Niemi or Kari Lehtonen, though both could be exposed for the expansion draft and perhaps be addition by subtraction for the Penguins. The Stars would have to add something significant obviously, perhaps their first-round pick in this year's entry draft (25th overall).
Ottawa could make some sense for Fleury too. I wouldn't rule out the Senators in those sweepstakes, with Craig Anderson going the other way to mentor Murray. Beyond that, Carolina chose to re-sign Cam Ward rather than take a run at Fleury. I guess the Hurricanes could still flip Ward for Fleury, and Ward would be a more affordable backup to Murray. Buffalo and St. Louis would be the only other long-shots in my opinion, but I do foresee Fleury getting traded sooner than later. I'd be surprised if Fleury showed up to Pittsburgh's training camp.
Speaking of the draft, do you have any targets in mind for the Avalanche at Nos. 10 and 40?
HEDLEY-NOBLE: I have too many targets in mind, Larry. Too many. The Avalanche are in a great position with picks 10 and 40 through the first two rounds. They are going to get someone they really like in both spots. Remember Mikko Rantanen was snatched up by Sakic and company in the same 10th overall slot, and he went on to dominate the AHL at age 19, finishing as the rookie of the year.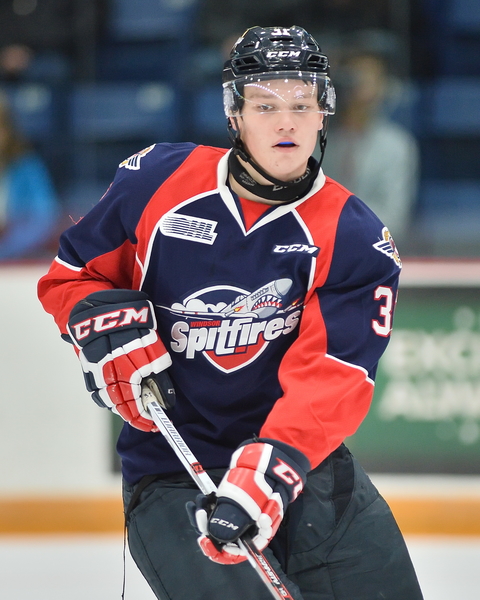 For defensemen, any of the top-three guys in Mikhail Sergachev, Jakob Chychrun or Olli Juolevi would be great at No. 10. Though this first round is forward heavy, so you absolutely have to think about the likes of Pierre-Luc Dubois, Logan Brown, Clayton Keller and Michael McLeod, amongst others. One of those guys will be available and Colorado has drafted well under the new regime, so I trust they make the right pick.
In our THW Writers' Mock Draft, I selected Keller at No. 10 and Samuel Girard at No. 40. So obviously I am hoping for the offensive-minded defender from the QMJHL with their second pick.
FISHER: If the Avs woke up on Sunday morning with Keller and Girard in their prospect pool, I think Sakic and Patrick Roy would have to be over the moon. Well played on those picks, Sebastian, and there's a realistic chance that both could be available in those spots.
In my mock draft, I had Sergachev at No. 10 and Swedish forward Carl Grundstrom at No. 40, the latter plays a similar game to Patric Hornqvist with a bit more natural skill or perhaps a poor man's Gabriel Landeskog. Either way, that could be a dream scenario for Colorado.
It's almost impossible to predict which prospects will be available at No. 40, with little separation among those ranked 25 to 50 or even 15 to 75. There might be some surprising picks in that No. 40 range, and Colorado could come away with a kid that its scouting staff had ranked in the first round (top 30). I had Girard going at No. 30 to Toronto, but he could definitely fall into Colorado's lap and that would be quite the catch.
If the Avs go with a forward in the first round and want an offensive-minded defender in the second round but Girard is off the board, another QMJHL product by the name of Frederic Allard would be a potential target. Of course, I had Allard to Montreal at No. 39, so he might not be available either.
BONUS TOPIC
Thoughts on my mock draft? Winners and losers? Surprises? Anybody way too high or way too low? Any glaring omissions? Do you like the picks for your team? Or who would you take instead if the draft was to play out that way?
HEDLEY-NOBLE: First of all, I want to commend you for doing a mock of all rounds for every single team, that takes some serious patience and time — keep it up Larry! As I look at the first round, from an Avalanche standpoint I'd be thrilled with one of the top defenders in Sergachev, but you can erase that bogus rumor of Duchene for Trouba. The Avs would have to be binge drinking an entire summer if that were to happen. Though you did probably put that there for the sole purpose of getting me riled up!
Moving on, I don't know too much about the prospects in Rounds 2-7, so I don't know if you actually did a good job or not! The first round looks pretty spot on, everyone has a few players shuffled around in their mocks. It's going to be very interesting as it seems no one is really set in stone starting around the fifth pick, as prospects have been sliding all over the place, up and down. Since I am no prospect expert, I'd like to hear what our fellow THW colleague Dennis Schellenberg has to say about it! What say you Dennis?
5th Annual NHL Mock Draft: 2016, Round 1 – https://t.co/4fdhiZoMZE #hockey #THW pic.twitter.com/pQcODwGKMh

— The Hockey Writers (@TheHockeyWriter) June 13, 2016
SCHELLENBERG (also scouts for Future Considerations and Hockey Prospectus): Sebastian mentioned it above, respect for doing a mock draft which is seven rounds deep. That needs a lot of knowledge and courage. I agree with Sebastian, the first round looks pretty OK and similar to most mocks, not much which stands out to me. The only thing is that Larry has Tyler Benson at 17th, that is higher than any mock I have seen so far. I am high on Benson too, but given his injury-prone season, I have him rather late in the first round or even into the second. I see Larry has Brown at No. 7, which I have seen in other mocks before. Only concern to me is his size, there are not many top-six forwards with his huge size.
As a native Swiss, I am happy to see two fellow countrymen in Larry's mock. After a strong class last year, Switzerland does have one of the weaker classes this year. Larry has Calvin Thurkauf and Pius Suter getting drafted. Really like Suter, he had an exceptional season and scouts have seen quite a bit of him playing in Zurich where Matthews played. Smart two-way center. A bit surprised that Larry has Thurkauf higher than a guy like Oskar Steen, though. I don't see that happening.
Some other guys I have higher than Larry are NTDP goalie Joseph Woll, Muskegon defender Mitch Eliot, London's Victor Mete and Trent Frederic, also from the NTDP. Especially Woll and Frederic should be significantly higher. Woll had a great season, has size and looks like a sleeper to me. Frederic is a power forward who has a good work ethic and is often compared to David Backes.
Larry has most of my sleeper candidates included in his mock. Forward Wade Allison is one of those guys — Larry has him 63rd. I know guys who have Allison as a potential first-rounder. Rem Pitlick is another candidate that Larry has ranked as well (141st). Russia's U18 goaltender Vladislav Sukhachyov is 207th in Larry's mock. I am glad that Larry even has him listed, most mocks miss him. I am a fan of Sukhachyov — maybe I am too high on him, but I see him as a potential NHL starter. A team getting him late in the draft might get away with a nice steal. Some other sleeper names I have would be Justin Brazeau (honourable mention in Larry's mock), Ivan Kosorenkov (147), Graham McPhee (192) and Mathias From (151). Lots of my Swedish colleagues are high on forward Jonathan Dahlen, who Larry has ranked 55th. I have a feeling he could be picked early in the second, keep an eye on him.
As for the losers, well, I guess most Russian players are on this list due to the known issues. A potential top 15 for me is center German Rubtsov, who is ranked 25th in Larry's mock. One of my favourite players, highly intelligent. Making a bold statement on him — he has Pavel Datsyuk upside.
Again, deepest respect for doing this deep mock draft. Shows that Larry really knows his prospects and has been in a lot of rinks. My mock would more or less look the same, of course with some small changes and some bigger ones (see above). The only guy I really missed in Larry's mock is Swedish center Tim Wahlgren (another honourable mention), a smart and tall forward who could fit well into a bottom-six role one day.
Third Man In
FISHER: Thanks a ton for the feedback Dennis, and thanks to Sebastian for soliciting your insight. I can't say I disagree with Dennis on too many fronts. We seem to be fairly like-minded about this draft class. That actually isn't the first time I've heard Rubtsov compared to Datsyuk, and it makes me wonder whether Detroit would try to draft the second coming at 16th overall? I'd say that's a very real possibility and would better reflect Dennis' top-15 ranking.
Most mocks won't even have Thurkauf on the radar, but I saw his potential firsthand as a physical force in Kelowna's second-round playoff series against Victoria. Thurkauf was a difference-maker in that round and fittingly scored the overtime winner in Game 7 for the Rockets to advance. He's got good size and good hands around the net, so I'm thinking other scouts will have taken notice of Thurkauf's presence and the strides he made throughout his first season in North America. I probably have Thurkauf a bit high at No. 126, but I do think he'll get drafted at some point. Worth noting, for Dennis, I had a couple other good-sized Swiss forwards near the top of my honourable-mention list in Marco Miranda and Lee Roberts, so I could see either or both of them getting selected in the later rounds too.
If Nashville doesn't pick Benson at No. 17, then I do have my doubts that he'll go in the first round. Maybe Winnipeg, with its second pick of the top 30 at No. 22, or Dallas at No. 25 would be willing to take that chance as well. If not, I could see Benson falling the way fellow WHLers Paul Bittner (38) and Jansen Harkins (47) did last year, though I feel Benson has significantly more upside than those two.
Allison is a real riser, no doubt about that. He was probably outside the top 100 in most people's rankings when the calendar flipped to 2016 and now it's just a matter of how high his second-half surge will take him. Top 30 is still a stretch for Allison, but top 50 is sounding more and more realistic, so chances are good that he goes higher than where I have him (63).
Dennis is likely right about Mete and Frederic being too low as well, and Eliot to a lesser degree. With regards to Woll, it's always difficult to decide on goalies in mocks and that position seems to be the most random on draft day. If one team really likes Woll, he could go as high as the third round.
Generally speaking, in hindsight, I feel I have drafted too many over-agers and not enough goaltenders, possibly too many WHL players — particularly from the B.C. Division — and perhaps not enough from the USHL, or the WHL's U.S. Division for that matter. I might have gone a bit heavy on the Russians too. That's my gut feeling the more I look at my own mock, which had essentially been done since the end of the NHL's conference finals and was just waiting to be posted until the morning after the Stanley Cup was handed out as per usual.
Strangely, despite that unintentional favouritism for the B.C.-based WHLers, I probably ranked two of my top local boys — Kelowna's Lucas Johansen and Dillon Dube — way too low in the second round. That wasn't meant as a slight towards them, I do think they are both quality prospects with good upside, but I kept passing them over to guard against that bias until it was too late.
When I revisit the results after the draft wraps up this weekend, I think my lack of goalies will come back to haunt me, which is funny as a former goalie myself. I didn't have Sebastian's Avs taking a netminder, which was a mistake considering Colorado's lack of depth at that position outside the NHL. Any of my four bolded honourable mentions — Colton Point, Jake Kielly, Jeremy Helvig or Evan Sarthou, in that order — would make sense for the Avs in the mid-to-late rounds. It seems most other teams are pretty well stocked at that position, but at least two of those four will probably end up getting picked.
5th Annual NHL Mock Draft: 2016, Team Results – https://t.co/ou2zazBdYh #hockey #THW pic.twitter.com/mvykP9CAJ0

— The Hockey Writers (@TheHockeyWriter) June 13, 2016
---
Who won this round of Facing Off? Feel free to weigh-in with your opinions in the comments below. We will be checking in periodically to both defend and expand on our initial answers. If you want to see us face-off over a topic, we're open to suggestions as well.