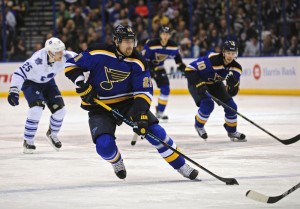 The St. Louis Blues continued to roll under new head coach Mike Yeo on Saturday, right over the struggling Montreal Canadiens, 4-2. Forward Patrik Berglund specifically stayed hot, scoring his first career hat trick and fourth, fifth and sixth goals in the last six games to give him 17 on the year.
It was a similar story for Habs captain Max Pacioretty. He missed the morning skate with the flu, but was up to his old tricks, returning from his illness in time for puck drop. Unfortunately for the Canadiens, he was unable to will his team to victory, in spite of the two points he put up.
First Period
While the Habs carried the play out of the gate, a literal slip-up by backup goalie Al Montoya led to the score-opening goal by the Blues just four minutes in. It initially went to Alex Pietrangelo, but replays showed Berglund getting his stick on it in the crease for the easy goal on a sprawled-out Montoya, who had lost his footing just prior.
The Habs got that one back late when Pacioretty set up Shea Weber for his patented slap shot from the point that Blues starter Jake Allen got a piece of, but not enough. That sent the two teams into the first intermission knotted at one apiece.
Weber's shot goes through another glove. Tie game. pic.twitter.com/JEJG6bSdys

— Marc Dumont (@MarcPDumont) February 12, 2017
Second Period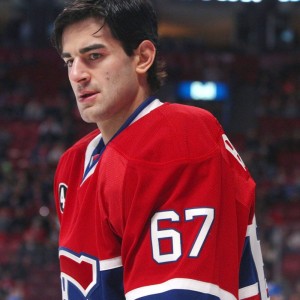 The two teams traded goals again midway through the middle frame. Blues forward David Perron continued to spurn his home-province team by taking a pretty drop pass from Jori Lehtera and beating Montoya from the slot. Soon thereafter, Pacioretty deflected in a Nathan Beaulieu wrist shot for his team-leading 28th goal of the year.
With time winding down, Berglund put the Blues ahead for good, tipping in yet another goal—this time off a Jay Bouwmeester point shot—with just 24 seconds left in the period.
Third Period
The Habs were able to recover well enough, just not to the point of tying up the game. On one shift about five minutes into the third, Radulov and Beaulieu fed Pacioretty on separate chances before Radulov tried to outwait Allen on one of his own. The scoring opportunity resulted in a loose puck, but one on which the Habs couldn't capitalize.
With Montoya pulled for the extra attacker, Habs forward Phillip Danault failed to deliver a crisp pass back to the point, leading to an odd-man rush going the other way.
That allowed Berglund's Blues teammates to get him the puck so he could complete his tip-in trifecta, sending them within one win of a perfect five-game road trip. They face the Red Wings next Wednesday. The Habs, losers of five of their last six, meanwhile find themselves one game away from their bye week, which can't come soon enough.
---
Scoring Summary
FIRST PERIOD
STL – Patrik Berglund (15) assisted by Alex Pietrangelo and Jaden Schwartz
MTL – Shea Weber (13) assisted by Max Pacioretty
SECOND PERIOD
STL – David Perron (12) assisted by Jori Lehtera and Kevin Shattenkirk
MTL – Max Pacioretty (28) assisted by Nathan Beaulieu and Greg Pateryn
STL – Patrik Berglund (16) assisted by Jay Bouwmeester and Alex Pietrangelo
THIRD PERIOD
STL – Patrik Berglund (17) assisted by David Perron and Jaden Schwartz
THW Three Stars
First: Patrik Berglund (3 goals, including GWG)
Second: Max Pacioretty (1 goal, 1 assist)
Third: David Perron (1 goal, 1 assist)
---
NEXT UP
Montreal Canadiens at Boston Bruins
TD Garden – 7:30 p.m. EST on Sunday, Feb. 12
Broadcast channels – SN, NBCSN, RDS
2016-17 Season Series:
Oct. 22: Canadiens 4 – Bruins 2
Nov. 8: Canadiens 3 – Bruins 2
Dec. 12: Bruins 2 – Canadiens 1 (OT)
NEXT UP
St. Louis Blues at Detroit Red Wings
Joe Louis Arena – 7:00 p.m. CST on Wednesday, Feb. 15
Broadcast channels – NBCSN
2016-17 Season Series:
Oct. 27: Red Wings 2 – Blues 1 (SO)