With the ninth and 17th overall picks in the 2023 NHL Draft, the Detroit Red Wings will have a ton of exciting prospects to pick from. The last time they had two picks in roughly these ranges was in 2021 when they selected Simon Edvinsson sixth overall and Sebastian Cossa 15th. Those two players project to be very meaningful pieces in Detroit's future, and they are looking to add two more such pieces in this year's draft, one that is deeper and more talented than average.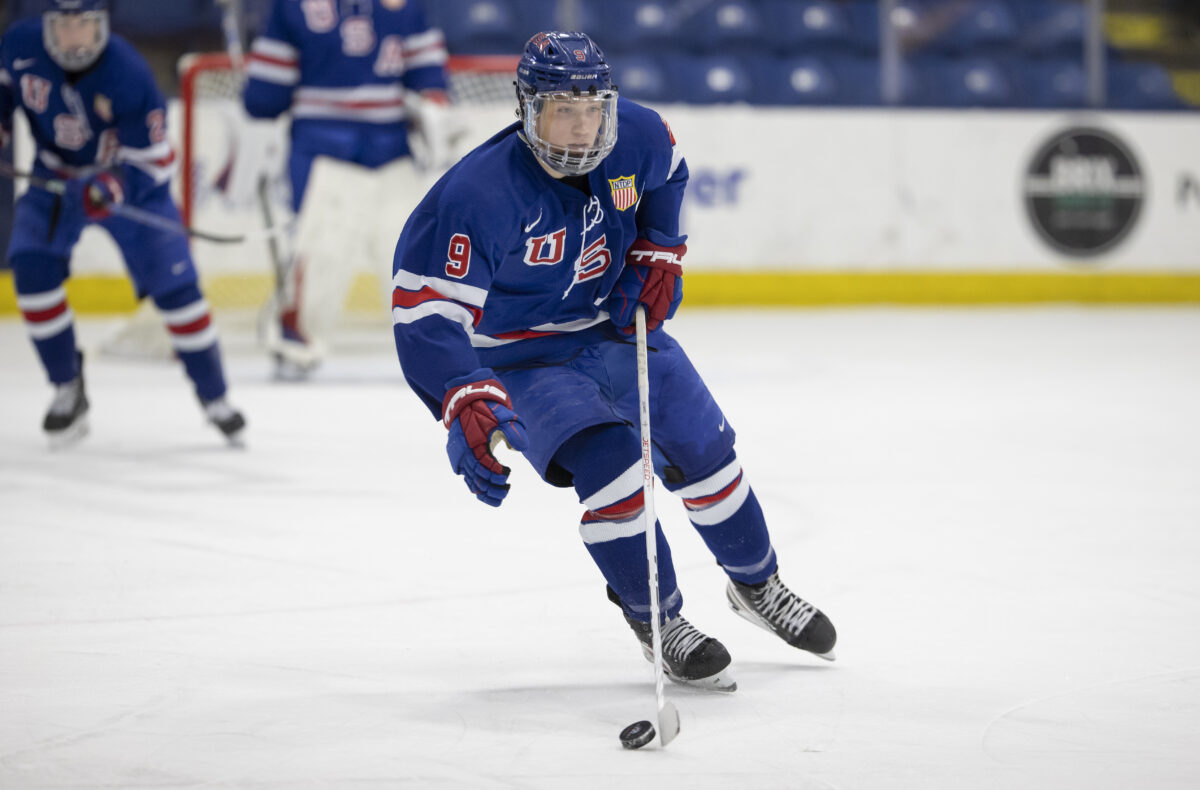 I've spent lots of time poring over the options Detroit will likely have at their picks this year, and even more time trying to decipher which prospects I think the Red Wings would actually try to add. Today I'm going to go over a few of the most fun combinations of players that Detroit could add in the first round this year, graded both on their "fun factor" and then on the likelihood of Steve Yzerman and co. selecting both players. Sports are supposed to be fun (or so I'm told) so let's take a look at five of the most fun combos of prospects that the Red Wings could land in the 2023 Draft
Perfect "Whine" Pairing
9. Tom Willander, RD, Rögle BK J20 (J20 Nationell)
17. Dmitri Simashev, LD, Yaroslavl (KHL)
I call this one the "Perfect Whine Pairing" because of how many Red Wings fans would complain about it immediately upon hearing the picks announced. To be fair, I think there's exactly a 0% chance of Detroit leaving the first round with only two defensemen as the need this team has in the top-six is too urgent.
Related: 2023 NHL Draft Guide
---
Latest News & Highlight
---
Tom Willander at ninth overall will shock some people, but David Reinbacher will almost certainly not be available at nine and I think there's a good chance Willander is the next defender off the board due to his size and skating. Willander would likely slot in on the Red Wings' second-pairing behind Moritz Seider, a very valuable spot to fill. He was an absolute horse this year for his junior team in Sweden as well as for Team Sweden at the U18 World Championship where he played over 30 minutes of their gold medal game against the US.
Dmitri Simashev is a polarizing prospect this year, with some seeing him as a late first to early second candidate, with others seeing him as a top-16 lock. I'm more in the latter camp as I think his size, skating, and mature defensive game will make him a reliable two-way force in an NHL top-four. Obviously, he would have tons of competition for a top-four spot with Simon Edvinsson and William Wallinder likely holding those spots in the near future, but I don't think that's enough to dismiss Simashev immediately. 

It would be fun to watch these two develop in very different ways (Willander is coming to play in the NCAA next year while Simashev is signed in Russia for two more seasons), with the through-line the whole time of them being a solid pairing that can be air-dropped into the lineup in a few years. Ultimately, the unlikely nature of Detroit selecting two defenders in the top-17 lowers their overall score a bit.
Fun Factor: 3/5
Likelihood: 0/5
Total: 3/10
Linemates for Life
9. Ryan Leonard, C/RW, USA U18 (NTDP)
17. Gabe Perreault, LW, USA U18 (NTDP)
After being teammates and linemates for much of the last two seasons with the United States National Training Development Program (NTDP), Ryan Leonard and Gabe Perrault are reunited once more, just a few hours away from where they developed their chemistry at the program in Plymouth, Michigan. The best part is that they will be teammates next year as well at Boston College where they will each spend a year or two honing their games before debuting with the Red Wings.
Leonard is a hardworking, play-driving scorer who scored a ton of points this year with the program, establishing himself as a likely top-10 pick this year. Detroit would need a bit of help from other teams in order for Leonard to be on the board at ninth, but it's not an unreasonable spot for him to land. He has tons of top-six winger potential and could be a true top-line talent if things go well for him over the next few years. 
Perreault is a skilled winger who has some of the best hockey sense of this draft. He produces offense at will in the offensive zone with clever passes, quick dekes, and all kinds of fakes. Perreault's lack of physical strength will likely resolve itself with a year or two at Boston College, but his skating will need some more focus if he wants to unlock his potential as an excellent one-way winger who scores a ton at even strength and on the powerplay.
This pairing is the one that inspired this article as I think it would be a ton of fun to watch these teammates continue to be teammates over the next few years before joining the Red Wings and becoming teammates again. Detroit doesn't have a center quite like Will Smith to carve through defenses with Leonard and Perreault, but one of Marco Kasper and Dylan Larkin should do the trick.
Fun Factor: 4.5/5
Likelihood: 3.5/5 
Total: 8/10
We Have Adam Fantilli at Home
9. Nate Danielson, C, Brandon Wheat Kings (WHL)
17. David Edstrom, C, Frölunda HC J20 (J20 Nationell)
While Detroit didn't get the lottery luck this year, (or last year, or the year before that, or the year befo–) they can still leave the draft with a center who has good NHL size, a high motor, good puck skills and an above average shot, or maybe even two of them. While there's nobody else in this draft class who has the exact combination of tools that Fantilli does, with his elite skill with the puck and his ultra-competitive style, Detroit could fill some of the same holes that Fantilli would with some other great center prospects.
Related: 2023 NHL Draft – 2 Round Mock Draft
Nate Danielson is someone that I'm very high on as a potential top-six center in the NHL. While his stats this year don't blow you away, he has NHL size (6-foot-2), skates very well, has great hands, and has a great motor. He looks like a good two-way NHL center who doesn't fill the score sheet a ton, but provides great value whenever he's on the ice. He reminds me of guys like Dylan Cozens or Elias Lindholm who will likely never be the leading offensive force on their teams but will be counted on in big moments.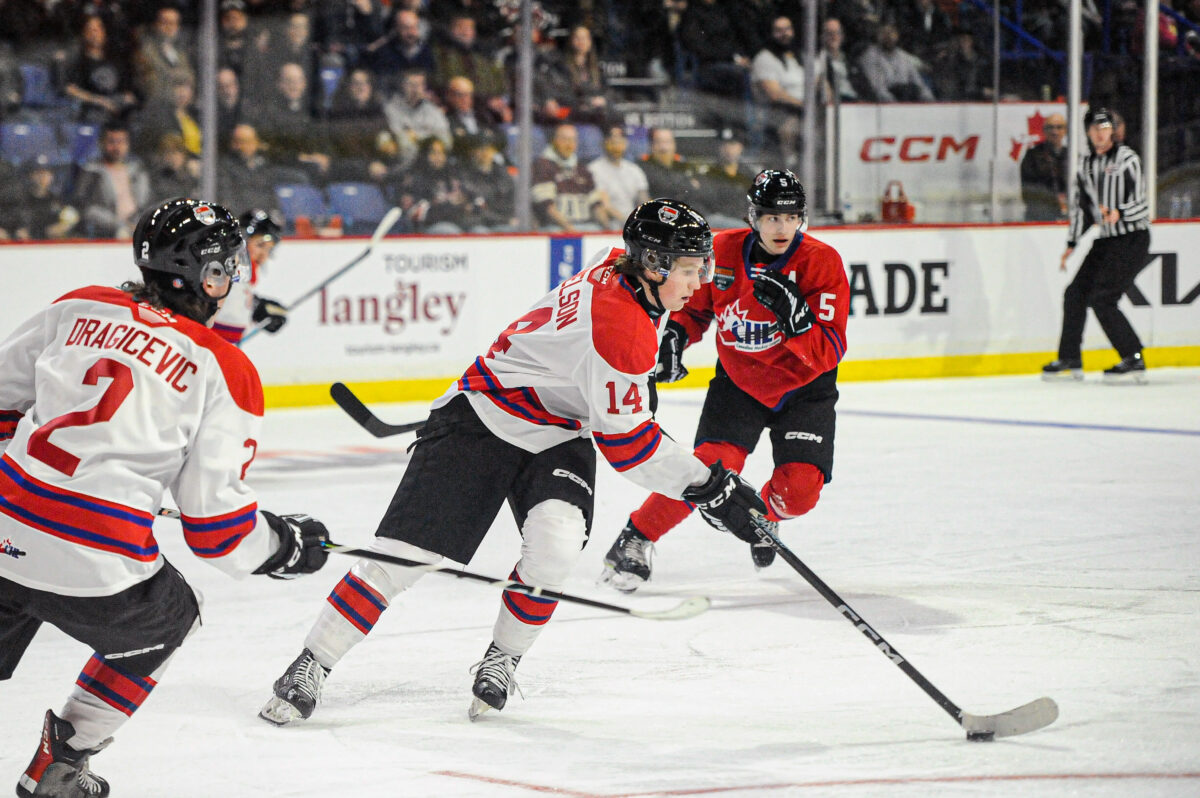 David Edstrom is a late riser in this year's draft, emerging from the shadow of teammate Otto Stenberg as a player with a more pro-ready frame and style. He's 6-foot-3, and competes really hard, especially on defense, though his offensive game is pretty basic at this point. He's skates well enough to be a legit middle-six contributor in the NHL, likely at center, and some further development to his offensive toolkit (especially his hands) could see him turn into a Joel Eriksson-Ek or Roope Hintz type of player (though his offense would need to take a serious step forward to be on Hintz's level). 
My back-up title for this one was "stop complaining about our center depth!" because adding these two gives Detroit a theoretical center group of Larkin/Kasper/Danielson/Edstrom which would be insane. That middle-six center group is especially excellent, but if they really had this group then I think there's a good chance one of Kasper or Danielson plays considerable minutes on the wing in the top-six rather than spreading that wealth throughout the lineup.
Regardless of theoretical deployment issues, I think this would be a pretty fun pair of players for the Red Wings to add, because they would completely wipe out one of Detroit's weaknesses. It also doesn't hurt that it's a relatively likely possibility since both feel very much like Detroit's type in the draft as bigger centers who compete hard. I'd expect Detroit to only take one center this high and address their need on the wing with the other, but we've all learned by now not to expect anything from the Red Wings on draft day.
Fun Factor: 3/5
Likelihood: 3/5 
Total: 6/10
You Need Goals? We Got Goals!
9. Dalibor Dvorsky, C, AIK (HockeyAllsvenskan)
17. Colby Barlow, LW, Owen Sound Attack (OHL)
Lots has been made of Detroit's lack of high-end offensive talent, especially when it comes to goalscorers. After all, Larkin was the only player to break 30 goals last season while David Perron and Dominik Kubalik were the only other players to even crack 20. The Red Wings were 24th in the league when it comes to scoring goals so help is certainly needed. Thankfully, there are a handful of great goalscorers who will be available to Detroit at ninth and 17th overall, giving them many chances to fill that need.
Dalibor Dvorsky is an excellent goalscorer with the shot, hands, and compete level to become a legit top-six goalscorer. I like to think of Dvorsky as Patrik Laine-lite, with many of the same traits, the pro-frame, the wicked shot, the slow footspeed, he just does those things to a slightly lesser extent than Laine. His lack of speed will be the biggest hurdle for him when it comes to being an NHL center, but I think the rest of his game is so excellent that he sticks down the middle, especially his competitiveness.
Related: NHL Draft Rankings – Horn's Top 100
Colby Barlow looks like a typical second-line sniper to me, with a hard, quick shot and good two-way details. He competes well and should provide good value in the NHL on both special teams, so the only thing really holding him back from being a top-line contributor in the NHL is his lack of dynamic skill or speed with the puck. Barlow's shot is good enough to make him a regular 20+ goal scorer in the NHL, but he will need some work if he wants to exceed that expectation by much.
Goalscoring is important to every team (who would've thought?), but Detroit especially is in a position where they need to find a legit scorer near the top of this year's draft to help lead their young core in the goal column. I think both of these players are likely picks for Detroit, with both of them looking like sure-fire NHLers with serious top-six potential.
Fun Factor: 3/5
Likelihood: 3.5/5
Total: 6.5/10
Russian Roulette
9th: Trade up for Michkov (6th overall?), RW, HK Sochi (KHL)
17th: Daniil But, LW, Loko Yaroslavl (MHL)
Detroit will not even get the chance to select Matvei Michkov at ninth overall . . . I think. Which is why they would almost certainly need to trade up in this situation to a pick in the six-eight range in order to land the super-skilled Russian. Daniil But is an absolute wild card in this year's draft, with some people ranking him as high as the ninth best prospect in the class (Corey Pronman, The Athletic) and others having him ranked 52nd (Dobber Prospects). Both are wildcards on draft day, and both are somewhat risky prospects going forward, sounds like fun!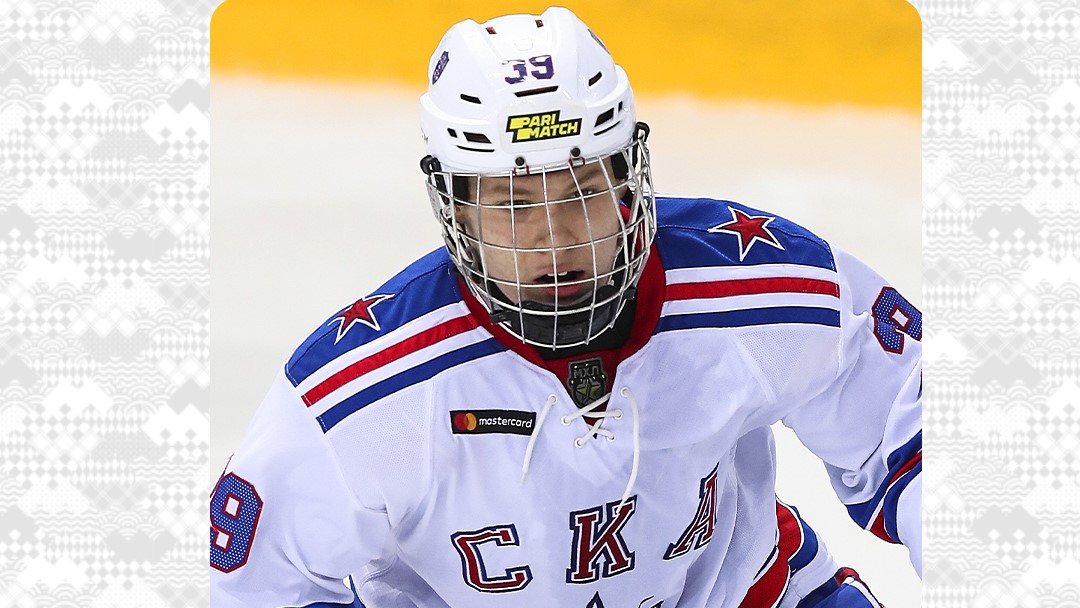 Firstly, I'm not concerned about Michkov's contract or willingness to move to North America at this point, the best players in the world still want to play in the NHL. Second, yes, Michkov is quite small and there haven't been many players who looked and played like him in the NHL so there's risk inherent in that. However, he's such a ridiculously talented player that I believe Detroit would be justified in taking on that risk if it means they could land an elite offensive player.
But is a huge winger with good straight-line speed, and a heavy shot. If he stays on his current trajectory, I see a top-six capable winger with a very unique profile. Aside from his shot and size, But doesn't have a whole lot of stand out tools, though his shot and size are so exciting that he is likely going to be a prospect in play through the 12-24 range in the first round.
Fun Factor: 5/5
Likelihood: 0.5/5
Total: 5.5/10
Final Verdict
At the end of this exercise, the winner is "Linemates for Life" (Leonard & Perreault) with a combined score of 7.5/10. I would be thrilled if Detroit left the first round of the draft with these long-time teammates because it adequately addresses what I deem to be their biggest weaknesses, high end skill (Perreault) and goal scoring (Leonard). Red Wings fans would get a year or two of watching them develop together in the NCAA and then we'd get to make Will Smith jokes for years about whoever plays down the middle between them.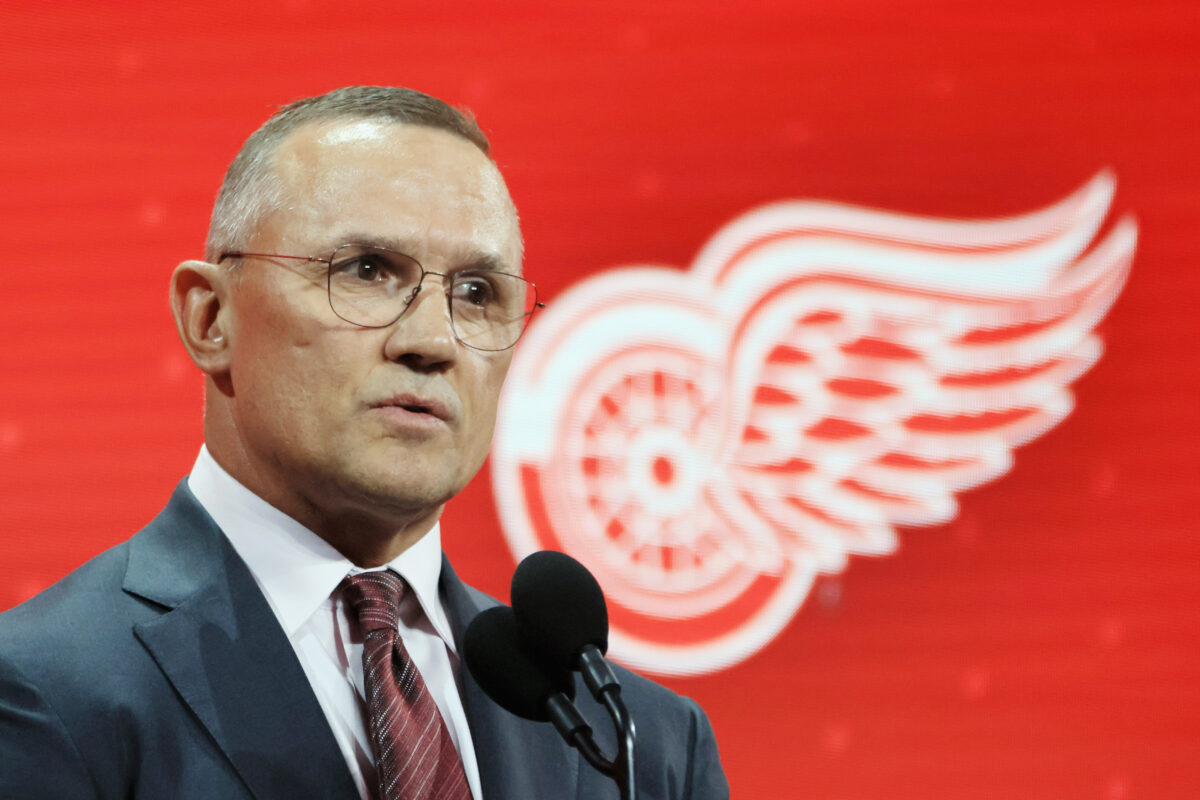 Their skill sets balance each other out very well and their ready-made chemistry will be a valuable tool for them as they begin the transition to professional hockey. Any of these pairs of players would be a ton of fun to follow for years into the future, demonstrating how exciting this year's draft should be for Red Wings fans. There are so many great players and different philosophies for who to select to best set this team up for future success. I, for one, can't wait until Day 1 of the NHL Draft on June 28. 
Which of my pairings do you think would be the best fit for Detroit in this year's draft? Which two players could Detroit realistically select at 9 and 17 that would get you the most excited? Sound off in the comment section below!