What's The Grind Line? Apart from the once-famous line of Kris Draper, Kirk Maltby, and either Joe Kocur or Darren McCarty, The Grind Line is also The Hockey Writers' weekly column about the Detroit Red Wings. This week Tony Wolak, Devin Little, and Logan Horn are the muckers who make up THW's forechecking unit and sound off on Red Wings topics.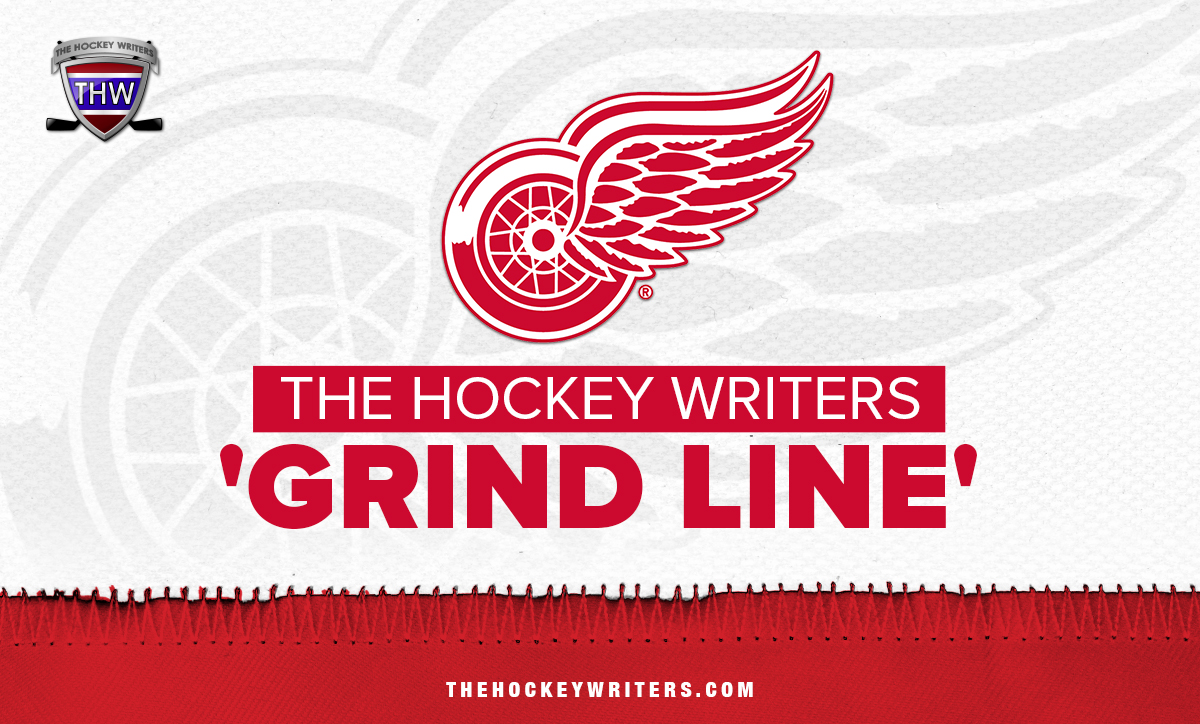 The Detroit Red Wings have reached the end of their 2022-23 season. With another long, playoff-less spring ahead of them, it is now time to take stock of what happened this season and separate the good from the bad. 
If you are familiar with our YouTube show/podcast The Hockey Writers' Grind Line, you know we like to begin the show with a segment called "1 Good/1 Bad" where we identify good and bad things that happened over the week. To conclude this season, our panel of Red Wings writers are here to share one good thing and one bad thing that caught their attention this season. 
1 Good:
Tony Wolak: "Let the Kids Play" – And They Did
The mantra of Steve Yzerman's rebuild is patience. That's typically what we've seen with prospects over the past few years – minus Moritz Seider and Lucas Raymond. This year, though, the kids played. Jonatan Berggren skated in 67 games. Elmer Soderblom got into 21. Simon Edvinsson suited up for the maximum of nine to allow his entry-level contract to slide a year. Even 2022 first-round pick Marco Kasper got into a game. It was great to see the Red Wings give their top prospects an opportunity at the NHL level, not to mention American Hockey League cameos for Carter Mazur, William Wallinder, and Amadeus Lombardi.
Related: Red Wings Mock Draft 1.0: Detroit Adds Impact Forwards
---
Latest News & Highlight
---
Devin Little: Jake Walman Emerges on the Blue Line
When the defensive pairing of Seider and Ben Chiarot did not work out the way the Red Wings had hoped, it left them in a tough position because nobody else on the blue line seemed like a fit alongside Seider. That is until Jake Walman joined the lineup in November and promptly worked his way into that spot next to Seider. While his 18 points in 63 games isn't anything special, his impact on the ice certainly was this season. He and Seider dominated together at 5v5, and that should carry over into next season. That's a huge development for a team that has lacked consistency on the blue line for a very long time.
Logan Horn: Moose on the Loose
One of the biggest under-the-radar wins for the Red Wings this season was the emergence of Michael "Moose" Rasmussen as a legitimate offensive contributor, setting a career high for points in a season with 29. However, he only made it into 56 games after suffering a knee injury in early March which means he scored at a 42-point pace. Rasmussen's all-around impact has taken a massive leap forward in the last 15 months or so, and if he can sustain this level of play, or even take another step forward, then he will factor heavily in the future of this team's middle-six forward group.
1 Bad
Tony: Injuries
All teams deal with injuries through the season, but it felt like the Red Wings had worse luck than most, especially when it came to blocking shots. Tyler Bertuzzi, Rasmussen, and Filip Zadina all missed significant stretches of the campaign due to shot-blocking injuries. Bertuzzi and Rasmussen's presences were sorely missed, too. Walman and Robby Fabbri had extended absences as well.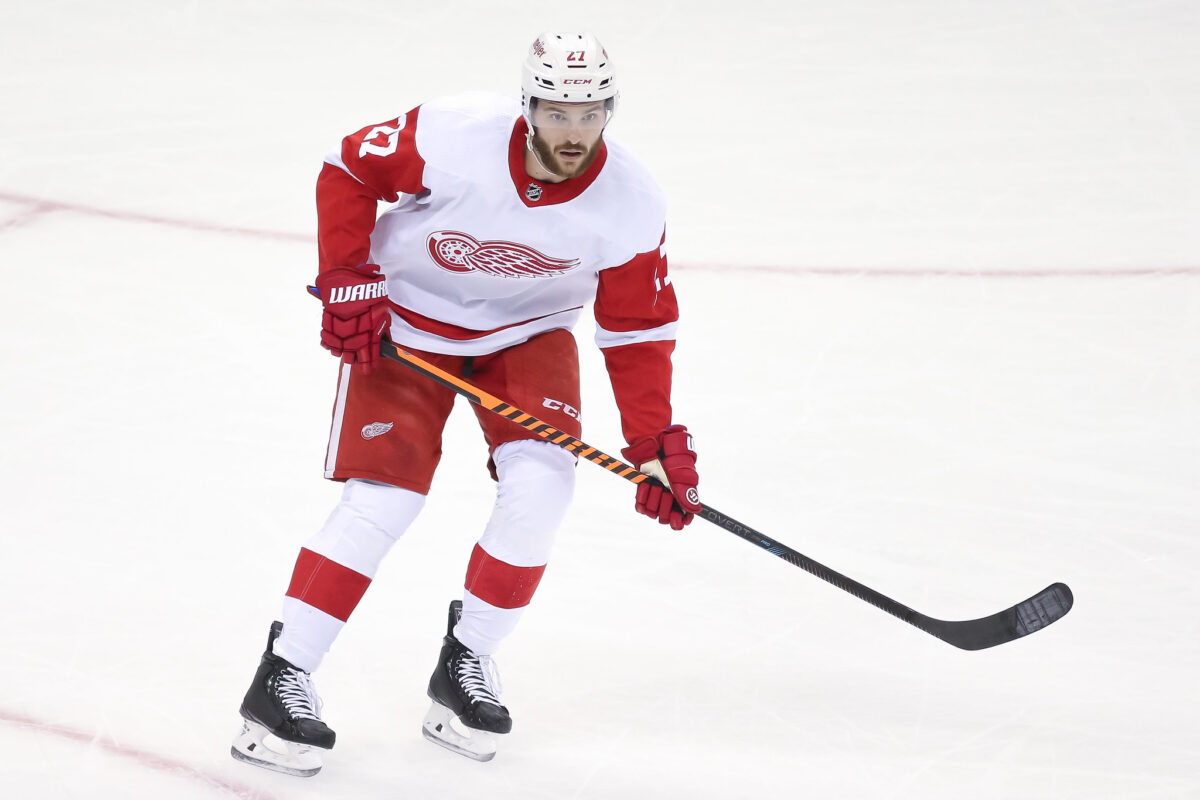 Devin: Falling Behind in the Atlantic Division
The Red Wings missed the playoffs by 12 points this season. Meanwhile, the Ottawa Senators missed by six points, and the Buffalo Sabres missed by a single point. The Sabres, in particular, seem like they could be ready to become a threat in the Eastern Conference starting next season. The Atlantic Division, headlined by the Tampa Bay Lightning, the Boston Bruins, and the Toronto Maple Leafs, was already tough. With the Sabres seemingly ready to join the mix and the Senators not far behind them, assembling a playoff-caliber team may not be enough for the Red Wings to end their playoff drought. This division is going to be brutal for a long time.
Logan Horn: Goaltending Deja Vu
Hopes were high coming into this season for the goaltending tandem of Ville Husso and Alex Nedeljkovic. The two goalies had eerily similar arrivals in Detroit, being acquired in the offseason following a breakthrough season where they earned their first real NHL job, and both had equally similar first years in Detroit. Nedeljkovic's first season (2021-22) showed potential early on, but the results fell off a cliff due to fatigue and usage, and Husso's season followed that pattern exactly. Detroit's goalie situation has been questionable at best for the last few years and there were hopes that this tandem would be the solution, but it's clear that changes still need to be made. At least Sebastian Cossa had a phenomenal season with the Toledo Walleye in the ECHL so the outlook isn't quite as grim.
Now it's your turn! What is your one good and one bad from the Red Wings' 2022-23 season?
---