The 2022-23 regular season was up and down for the Detroit Red Wings. They got off to a decent start by winning six of their first 10 games. But they would finish the year with a 35-37-10 record, good enough for 80 points and 12th place in the Eastern Conference.
Related: Red Wings' Larkin Will Struggle to Top His 2022-23 Performance
To close out the regular season, I will take a look at the forwards and defencemen of the Red Wings. I'll go over their point production, their fantasy hockey impact, and what next year might look like for them. This article will kick things off by looking at the Red Wings captain, Dylan Larkin, who had a great start to the year and seemed to get better as the season wore on.
Larkin Scored a Ton On the Power Play
Larkin tallied 79 points in 80 games, but I'd round that up to a point-per-game pace. Those 79 points consisted of 32 goals and 47 assists, tying his career high in both goals and assists this season. Impressively, he matched that goal total with only a 13.1 shooting percentage. Larkin shot 14.6 percent last year, so it's not out of line to think he could shoot around 13 percent again next year.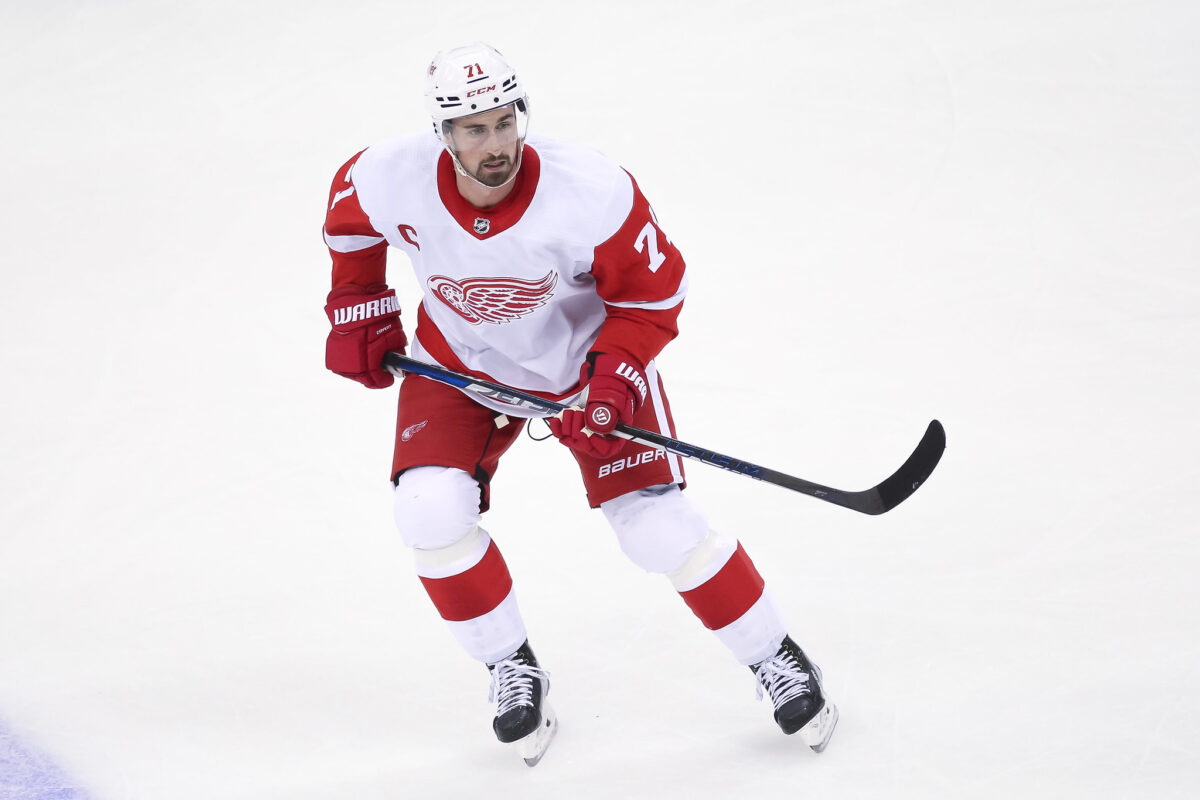 The one area where Larkin leaped forward ahead of previous years was his production on the man advantage. His career high before 2022-23 was 15 power-play points (PPP), but he more than doubled that with 31 PPP this season. Additionally, 16 of those 31 PPPs were goals; Larkin had more power-play goals than his previous career-high in power-play points. It doesn't hurt that Larkin averaged 3:28 of ice time per game with the man advantage, the highest of his career to date.
Larkin Has Friendly Analytics
Larkin was third highest on the team in Corsi For percentage (49.17 %) out of skaters who played at least 25 games. Relatively speaking, that's not bad for a Red Wings team that had a minus-39 goal differential.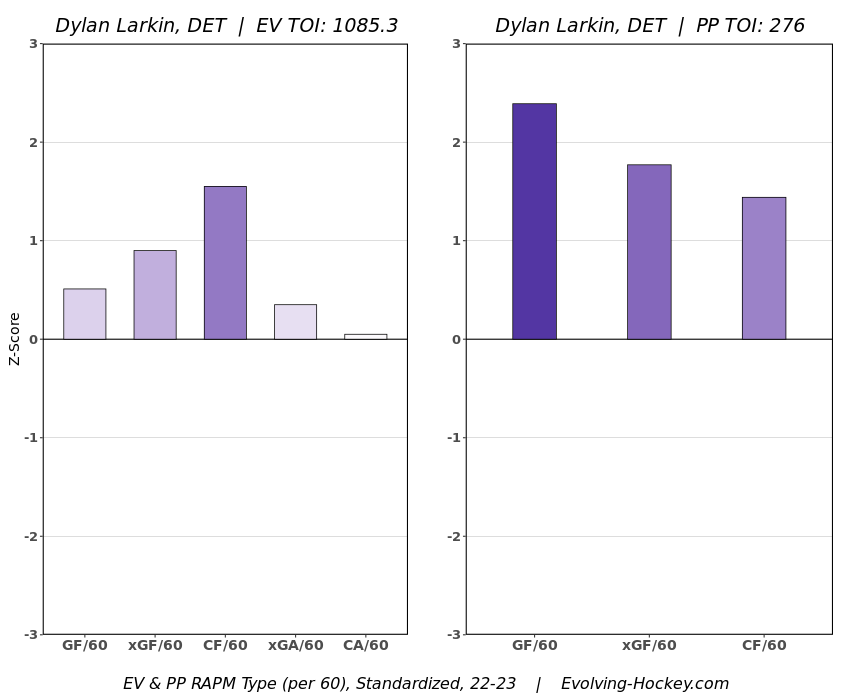 As you can see above, every single metric tracked here by Evolving Hockey had Larkin above league average. The chart on the right is specific to the power play. The first bar in that chart is for goals for per 60 minutes of ice time, and it is the highest. This reflects the 16 power-play goals that Larkin scored this year that I mentioned above. On the left chart, we see the highest is the Corsi for per 60 minutes bar. When Larkin was on the ice, the Corsi battle tipped in favor of the Red Wings.
Larkin Is a Must Own In Fantasy Leagues
As far as Fantasy Hockey leagues go, Larkin is a very dependable asset to own. He consistently gets points and has decent peripheral categories; he had 244 shots on goal, 47 hits and 27 blocks this season. The hits and blocks aren't anything remarkable, but the shots on goal average over three shots per game. That is very valuable to have in both category and points leagues.
---
Latest News & Highlights
---
The power-play points were another great attribute of owning Larkin this year. If your league gives out bonus points for power-play or shorthanded points, Larkin was a great option. If your league doesn't, it's still good to keep tabs on who produces with the man advantage.
What's Next For Larkin?
At 26 years old, Larkin is in the prime of his professional hockey-playing career. Regression is not going to happen, and I think it is safe to project that he will hit a similar point pace next year. I don't know if he can replicate 31 PPP, but 20-25 is a reasonable expectation.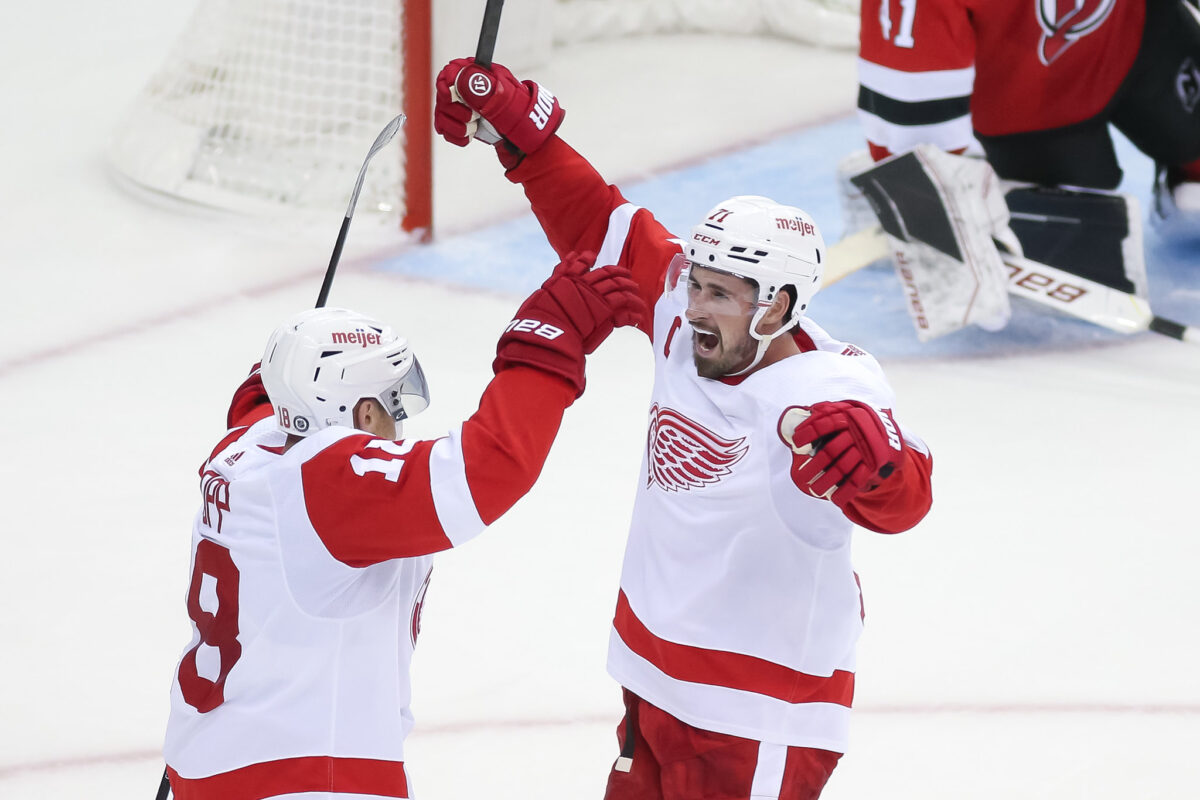 On the fantasy hockey side of things, I predict that Larkin will get more hits and blocks next year. Head coach Derek Lalonde and Larkin mentioned the lack of toughness being a concern in the 2022-23 season, so I'd expect the captain to take matters into his own hands and step up in this way for 2023-24. Even though he isn't one of the most improved players under Lalonde, he will still be the best player on this team going forward.
---
---