Over the next couple weeks, the Detroit Red Wings stand to welcome back several forwards from lengthy absences. Robby Fabbri, Tyler Bertuzzi, and Filip Zadina are set to return and bring the organization up to full strength.
But because these players will rejoin the team at varying points and need time to find their footing, Detroit's lineup could change frequently. To start, the Red Wings deployed the following lines at Tuesday's practice:
The lineup above represents Phase 1, the first of several phases we'll see over the next few weeks:
Phase 1: Fabbri returns
Phase 2: Fabbri up to speed; Bertuzzi & Zadina return
Phase 3: Bertuzzi & Zadina get up to speed
Phase 4: Lineup after the Trade Deadline
Related: Setting Expectations for Vrana, Fabbri & Other Returning Players
With Phase 1 already underway, let's take a look at what the lineup could look like as we progress through the latter stages.
Phase 2: Bertuzzi & Zadina Return
The next wave of returning players features Bertuzzi and Zadina, who both missed significant amounts of time after blocking shots. Here's how the lineup could look with the two back on the active roster:
| | | |
| --- | --- | --- |
| LW | C | RW |
| Michael Rasmussen | Dylan Larkin | David Perron |
| Jonatan Berggren | Andrew Copp | Lucas Raymond |
| Tyler Bertuzzi | Pius Suter | Robby Fabbri |
| Dominik Kubalik | Joe Veleno | Oskar Sundqvist |
| Adam Erne |   | Filip Zadina |
The main takeaway here is that Soderblom is no longer on the active roster. This may be controversial, but it's the right thing to do at this point in time.
Would you rather have Soderblom playing fourth line minutes in the NHL or first line minutes in the AHL? The latter is probably better for his development. Plus, this assignment would only be temporary – more on that later.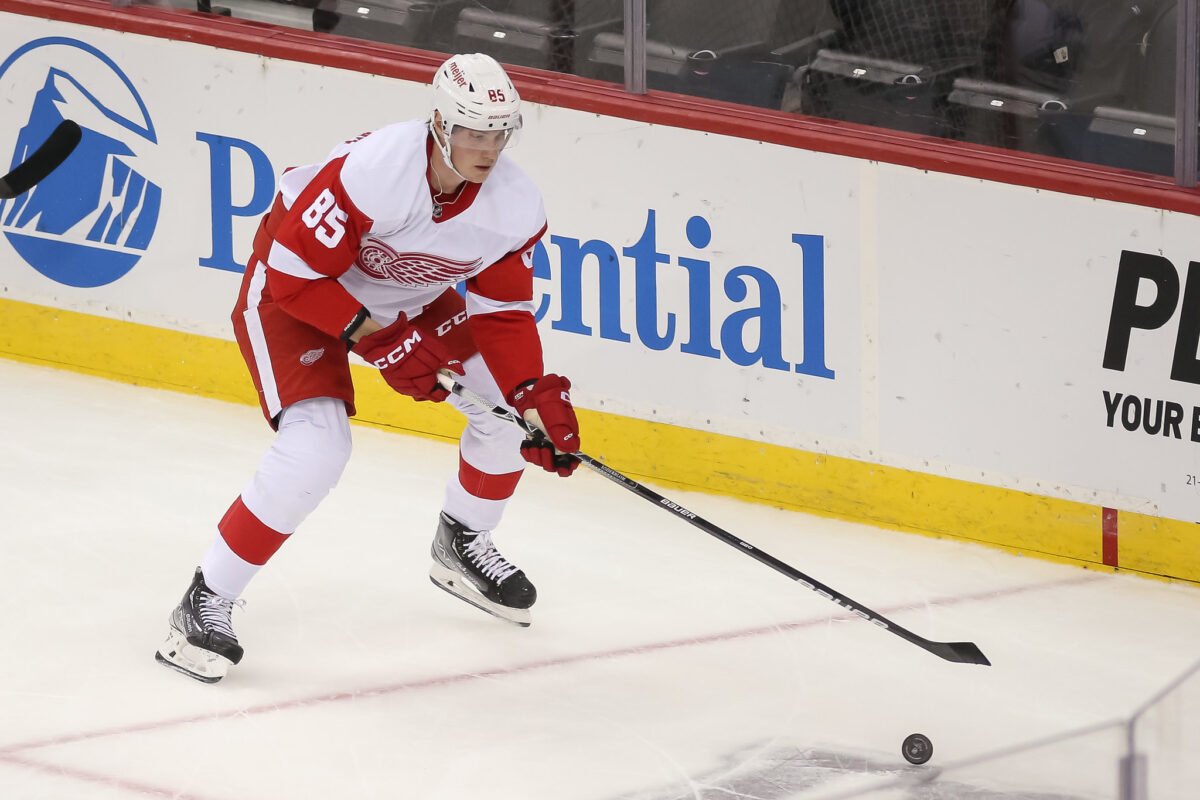 As for the returning players, it would be beneficial for Bertuzzi to start out in the bottom six. He had a rough return after the first broken hand – playing lower in the lineup would allow him to ease back into action more gracefully. 
Related: Red Wings Face Big Lineup Decisions as Injured Players Return
---
Latest News & Highlights
---
It's a similar circumstance for Zadina, who also needs time to get up to speed. Competing for ice time with Berggren, Suter, and Sundqvist will provide him with an environment where he won't be expected to contribute a ton right away.
Phase 3: Bertuzzi & Zadina at Full Strength
Around mid-February, we should see the Red Wings running on all cylinders – provided no other injuries occur. Here's how Lalonde could fill out his roster card with a fully healthy lineup:  
| | | |
| --- | --- | --- |
| LW | C | RW |
| Tyler Bertuzzi | Dylan Larkin | Lucas Raymond |
| Jonatan Berggren | Andrew Copp | David Perron |
| Robby Fabbri | Michael Rasmussen | Oskar Sundqvist |
| Pius Suter | Joe Veleno | Dominik Kubalik |
| Adam Erne |   | Filip Zadina |
If and when the Red Wings are back to full strength, they'll have an intriguing top six. It's been quite awhile since we've seen Larkin, Bertuzzi, and Raymond on the top line. Plus, second-line minutes might be a better fit for Perron.
In addition, there's some flexibility with the bottom six. Rasmussen and Veleno are the two centers, of course. Beyond those two, the seven other forwards vying for ice time could line up in just about any way. Because of this, there will always be competition amongst Detroit's bottom-six forwards – and incentive to maximize their performance when they do suit up.
Jakub Vrana
At this point in time, I do not feel comfortable projecting Vrana anywhere in the lineup. He cleared waivers on Wednesday and was assigned to the Grand Rapids Griffins, where he'll continue to work on his game. Vrana has spent most of the season in the NHL/NHLPA Player Assistance Program and only recently rejoined the organization.
It hasn't been shared why he entered the NHL/NHLPA Player Assistance Program, but if he is doing well from a personal standpoint, that's a win. If he returns to the Red Wings' lineup at all, that's a bonus.
Final Word
I mentioned there is a Phase 4, but that requires Doctor Strange-level foresight that I do not possess. It revolves around the NHL Trade Deadline and Detroit's plans. Will they buy, sell, or a combination of the two?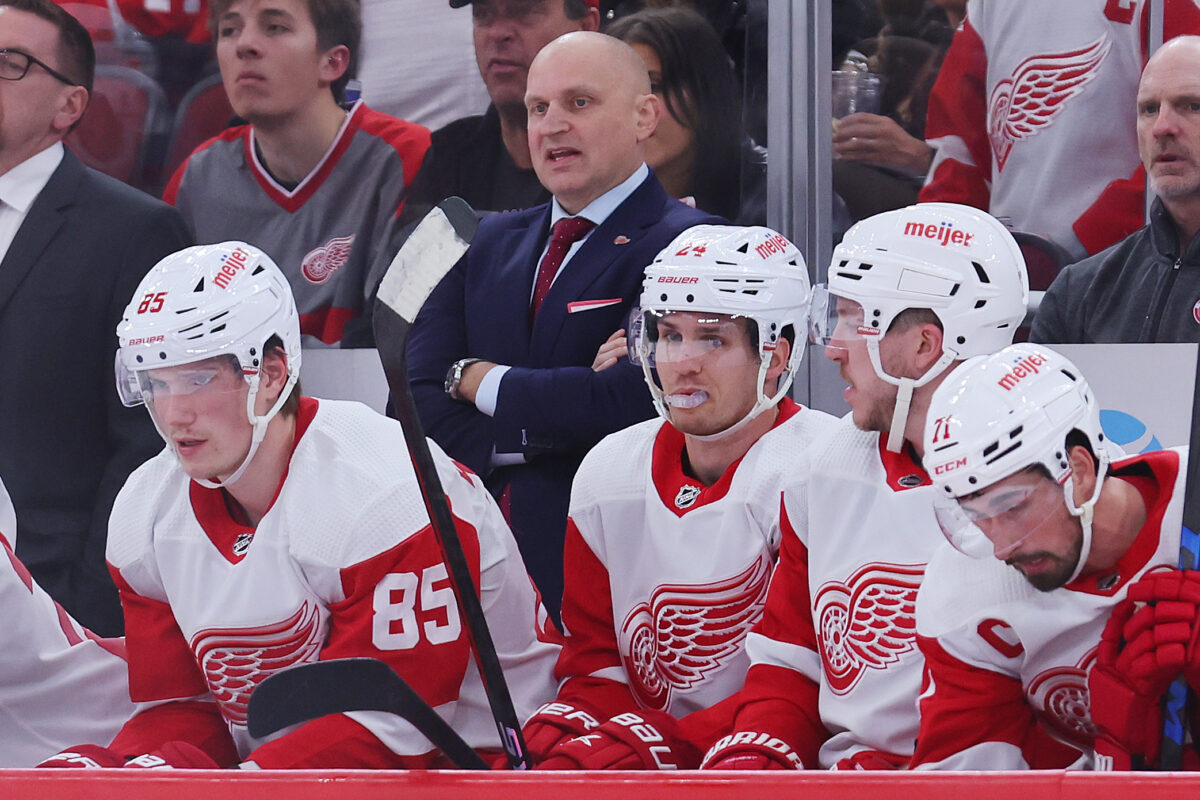 Chances are, we'll see Soderblom back with the Red Wings after the deadline if the team deals some of their pending free agents. Surely, there will be injuries as well. If anything, this examination of Detroit's lineup shows that everything is temporary – lineup spots, roles, demotions, etc.
In Soderblom's case, assigning him to the AHL represents the path of least resistance. He's exempt from waivers and needs ice time to develop. At most, he'll be in Grand Rapids for a month or so. 
Alternatively, the Red Wings could trade or waive the likes of Sundqvist, Suter, or Gustav Lindstrom and risk losing others to injury – thereby turning a surplus into a deficit. Or they can use their roster flexibility to their advantage and move forward knowing nothing is set in stone. The latter seems like the most logical choice – at least in my opinion.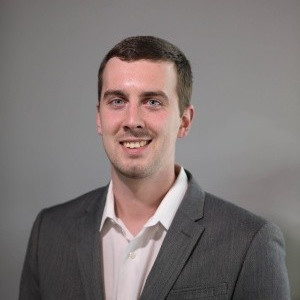 Tony Wolak is based in the Washington D.C. area and covers the Detroit Red Wings for THW. As a former junior and college hockey player, Tony has a unique perspective on Red Wings topics.