It has been a while since our last prospects update. In the time in between, we've seen the World Junior Championship Tournament (WJC) start up, shut down, and ultimately get cancelled (or possibly postponed), and we welcomed in a new year. Meanwhile the Detroit Red Wings' prospects continue to strut their stuff across the many hockey leagues in the world.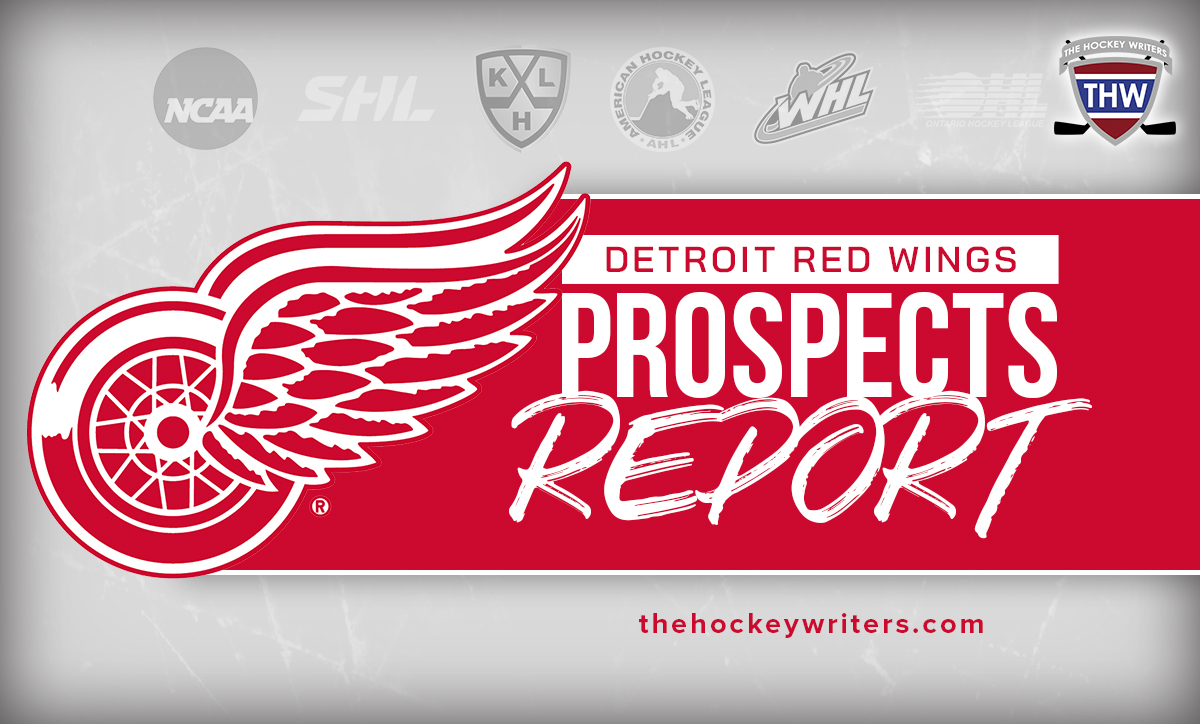 For this update, we're going to go over the bits and pieces that we were able to observe from the WJC, as well as take the opportunity to highlight a couple of players that we haven't been able to cast a spotlight on to this point. Let's dive in.
2022 World Junior Championship Wrap-Up
Simon Edvinsson – Defense
THW Rank: 3
Games Played: 2 (WJC)
Stat Line: 1 Goal (G), 3 Points (P)
Prior to the WJC's cancellation, it looked like the Red Wings' top pick in the 2021 draft was going to put on a tournament performance for the ages. While wearing an "A" on his sweater as an alternate captain, Edvinsson quickly vaulted himself into a top role for Team Sweden. Though it was only two games, he displayed dominance at both ends of the ice, and even though he began the tournament without a role on the power play, he quickly forced Sweden's hand and forced his way into a spot on the power play.
Now back with Frölunda of the Swedish Hockey League, Edvinsson will look to continue his strong season, now armed with the knowledge that Red Wings vice president of hockey operations Nicklas Lidstrom will be watching closely. Edvinsson's game has taken major steps since the Red Wings drafted him, and it will be very interesting to see if he can take a few more steps between now and the beginning of the 2022-23 season.
Carter Mazur – Left Wing
THW Rank: 16
GP: 1
Stat Line: 0 P
Team USA was only able to play one game during the WJC due to a few positive COVID cases. Ultimately we didn't get to see Mazur play enough to really gleam anything meaningful from this tournament, but it is noteworthy that he even attended the event. Drafted 70th overall by the Red Wings in the 2021 draft, the story surrounding him at the time of the pick was his ties to Kris Draper, the head of Detroit's scouting department. Fast forward to today, and Mazur is much more than just a prospect with prior ties to the organization.
Through 18 games with Denver University, Mazur has 18 points and regularly makes an impact for his team as a Freshman. With a sneaky-good skillset and a willingness to play "ugly" hockey, he has all the makings of a solid third line winger. If the WJC does resume in the summer, as has been proposed, that would present him with an opportunity to further announce himself as a prospect to watch over the coming years.
Sebastian Cossa – Goalie
THW Rank: 5
GP: 0
Stat Line: N/A
Perhaps the biggest disappointment from the Red Wings' group of WJC participants was that Cossa, the 15th pick of the 2021 draft, did not factor in for Team Canada during their brief time at the tournament. At one time, it was a fair assumption that the 6-foot-6 netminder was going to take the ball and run with it as Canada's starter at the WJC (From "Sebastian Cossa built to be Team Canada's goalie at world juniors", Edmonton Sun, 12/17/21). Instead, he took a backseat to New York Rangers prospect Dylan Garand, and even the undrafted Brett Brochu saw one game of action before the tournament was scrapped. Perhaps Cossa was going to see a game of action before medals were on the line, but now we may never know.
To add insult to injury, Jesper Wallstedt – the goalie that most people in the scouting community had ranked ahead of Cossa in the 2021 draft – was an absolute wall for Team Sweden in two games of action. Wallstedt, drafted by the Minnesota Wild five spots after the Red Wings took Cossa, had a goals-against average of 1.50 and a save-percentage of .962. In a previous prospects update, I mentioned that the WJC would present an opportunity for Cossa to assert himself as the better goaltender of the two. Well, the early results are not in Cossa's favor.
Donovan Sebrango – Defense
THW Rank: 15
GP: 2
Stat Line: 1 G, 0 A
In Mazur and Sebrango, the Red Wings are proving that there is talent to be found and had outside of the first two rounds in a given draft. Since Sebrango was drafted 63rd overall in 2020, he has done nothing but continue to raise his stock as a prospect in Detroit and the NHL in general. Never has that been more evident than when he was named to Team Canada's WJC team.
With a goal against Czechia during the tournament, Sebrango showed that he can make a difference for his team at both ends of the ice (though I still have reservations about how big of an impact he can make in the offensive end.) He lined up on Canada's bottom pairing and wasn't asked to take on too much during the two games Canada played, but this international scenario may have offered a glimpse into what the future holds for the 20-year-old. With the vast depth of defensemen in the Red Wings' prospect pool, he sticks out as somebody who could carve out a role as a bottom pairing, no frills defenseman that makes an impact where he can. If his short stint with Team Canada is any indication, he could be pushing for a spot in the NHL soon.
THW Releases Midseason Prospect Rankings
Our prospects crew here at THW, led by Peter Baracchini, recently released their midseason prospect rankings. While Los Angeles Kings prospect and 2020 second-overall pick Quinton Byfield landed the top spot, the Red Wings were well-represented on the list. In total, five Detroit prospects made the list (though it's worth noting that the list does not include goaltenders.)
Related: The NHL's Top 100 Prospects – Midseason Rankings
Here are a couple highlights from the list:
William Wallinder (ranked 100th): "He's extremely mobile and a very strong puck carrier. He needs to work on his defensive game and round out his strengths but the offensive instincts make him a very good option for the Detroit Red Wings on defense."
Joe Veleno (ranked 36th): "Highly touted coming out of the QMJHL's Drummondville Voltigeurs where he finished with 104 points in 59 games, he has yet to blow the socks off anyone in the AHL so far. Having said that, he is still a top prospect for the Winged Wheel."
Jonatan Berggren (ranked 27th): "His game is built on speed, as he's got strong movement and great agility. He's got great vision to spot his options and look for the right time to distribute the puck. He's just one of many prospects that's going to make an impact for the Red Wings for years to come."
Ontario Hockey League (OHL) – Windsor Spitfires
Pasquale Zito – Forward
THW Rank: N/A
GP: 24
Stat Line: 10 G, 19 P
Picks made in the sixth round of any draft are essentially a wild guess more often than not. For the Red Wings, that was perhaps never more true than in the 2021 draft when they selected Zito with the 166th pick. With the OHL cancelling their 2020-21 season, there wasn't anything recent for Detroit to go off of in making that pick. Since the start of the 2021-22 OHL season, he has done everything in his power to show the decision-makers in Detroit that they made the right choice in taking a chance on him.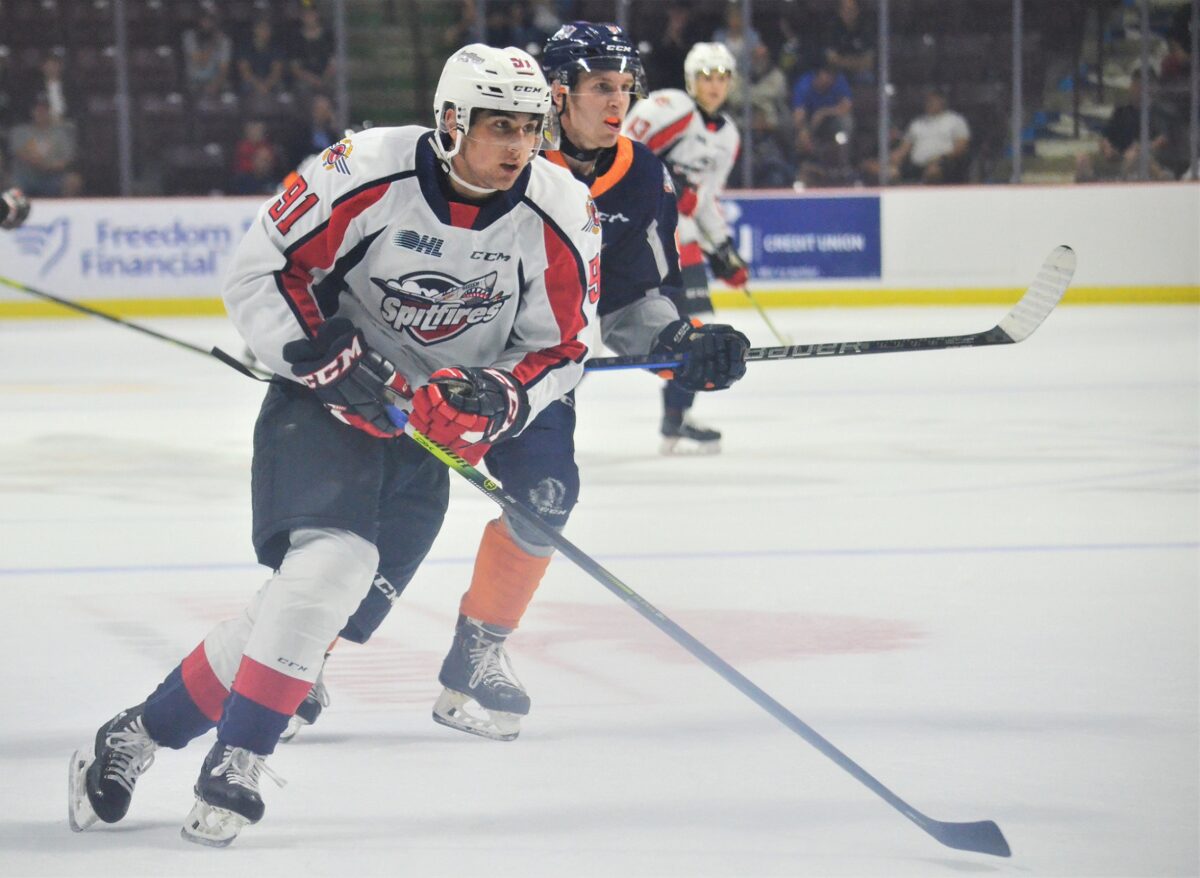 THW's David Jewell covers the Spitfires, so he has had a front row seat to Zito's development this season.
"When the Spitfires drafted Zito in the second round in 2019, they pictured a 200-foot player who could do a little bit of everything. He was excited to show what he can do and there was some hype behind it. Fortunately, he's come as advertised," Jewell said. "While he's only 6-foot-1, 176-pounds, he's more than willing to engage physically and shows no fear on the ice. He's well-liked by his team and the city and it's mutual. The club gave him a well-earned alternate captain's "A" at the start of the season. He's a fan favourite, developing the way everyone had hoped, and will be a fun one to watch as he continues this season and beyond."
Zito looks the part of a future bottom six forward in the NHL. His offense is limited, but he knows how to contribute in ways that lead to momentum and goals. That he also holds a leadership role with his team speaks to his character – an attribute that Red Wings general manager Steve Yzerman clearly targets in his prospects. Zito is still three years away, at least, before he'll be ready to challenge for an NHL roster spot, but his play this season should place him firmly on the Red Wings' radar as a prospect making strides in the right direction.
Red Wings' Prospects Are Making Names for Themselves
Not long after the 2021 draft, we released our updated rankings for the prospects within Detroit's prospect pool. Since then, the 2021-22 season has started to change the complexion of the Red Wings' pool. Moritz Seider and Lucas Raymond have graduated, and Veleno is on the verge of graduating too. With the 2022 draft still months away, the focus now is on which prospects are ready to take the next step and continue the youth takeover of the Red Wings' roster. With the events of the last month or so, it appears that we're starting to see which players are ready to do just that.
Who would you like an update on next week? Is there anybody I missed this week that you would like to highlight? Be sure to leave a comment down below!
---
---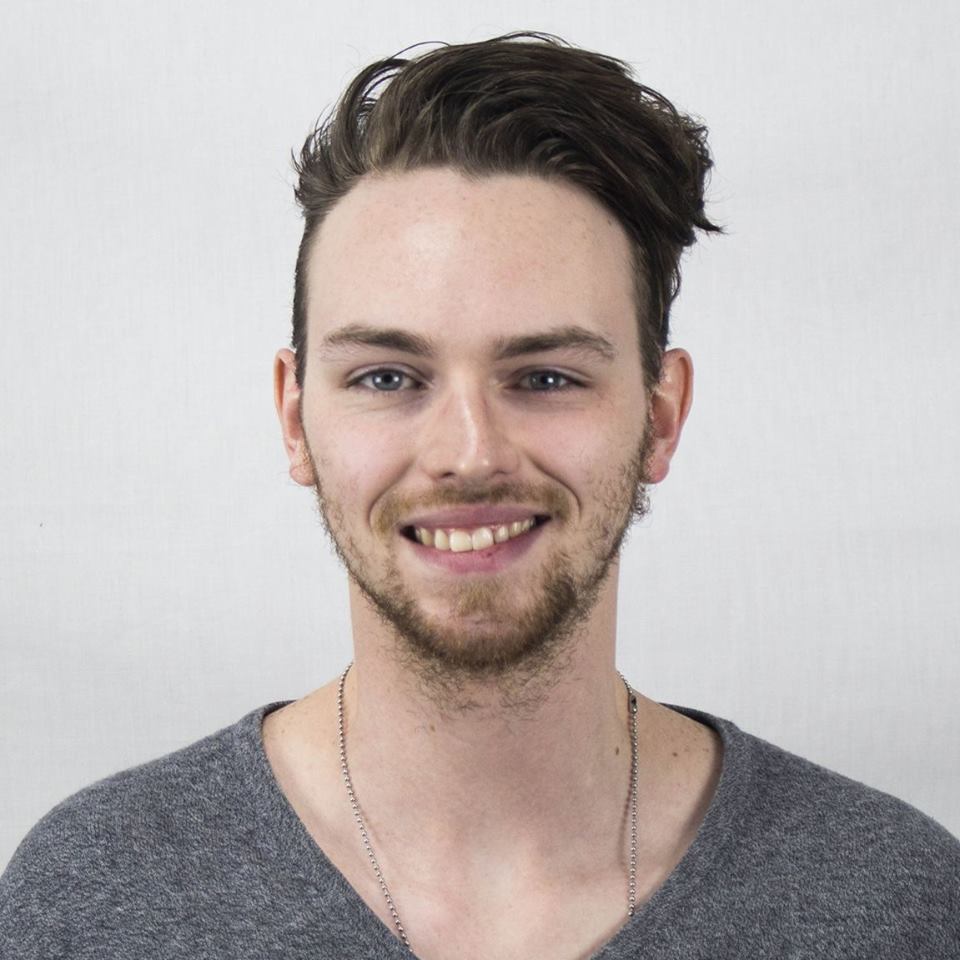 I am a Western Michigan University alum whose passion for hockey knows no limits. Dr. Pepper enthusiast. Catch me and my fellow Red Wings writers' YouTube show "The Hockey Writers Grind Line" which drops every Saturday.