After months of waiting, the Detroit Red Wings are ready to kick off the 2020-21 season.
Steve Yzerman has assembled a competitive team hungry to improve upon last season's paltry 17-49-5 record. And while the rebuild is still ongoing, make no mistake, the Red Wings are ascending.
"The slate is totally clean," Jeff Blashill said in a recent Zoom call with the media. "We've got a clean slate, and let's bring that hunger to the rink every single day."
Let's dive into what the Hockeytown faithful should expect from the Red Wings this season.
Recapping the Offseason
Once the 2020 Playoffs wrapped up, Yzerman got to work revamping Detroit's roster. He cut ties with Jimmy Howard, Jonathan Ericsson, and Trevor Daley, opting not to re-sign the veterans. In addition, Detroit bought out alternate captain Justin Abdelkader, who did not score a goal in 49 games last season.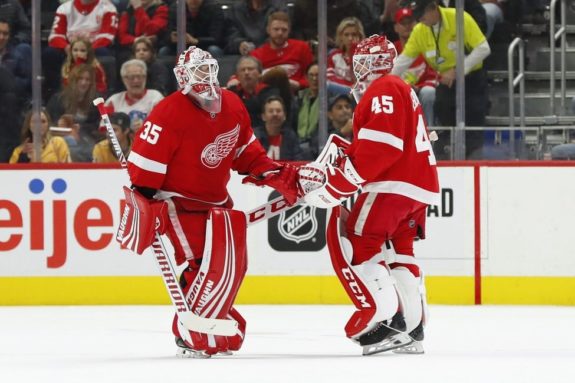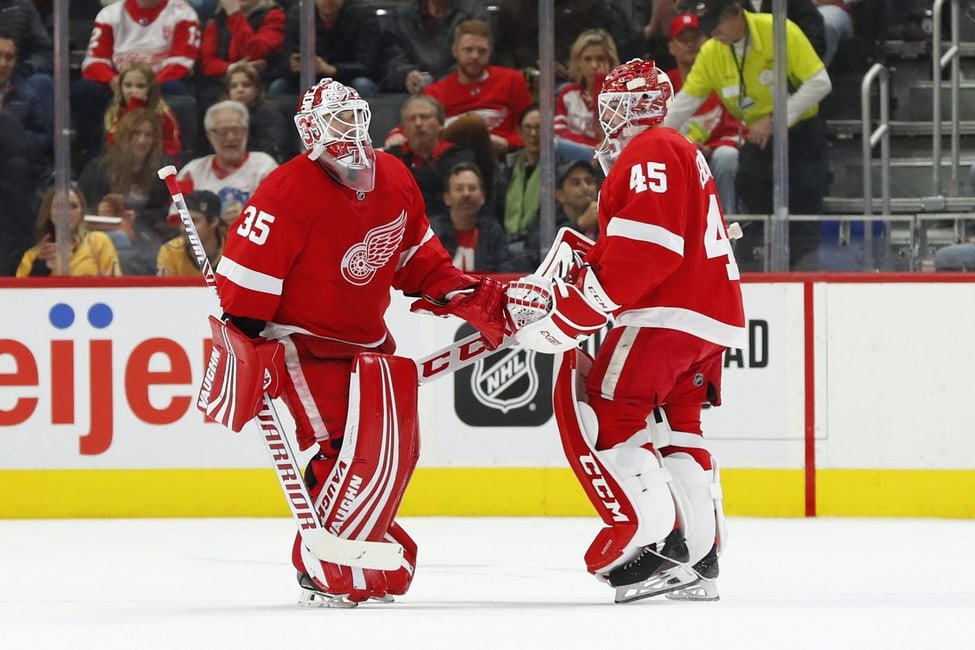 Heading into the 2020 NHL Draft, the Red Wings held the fourth-overall pick as a result of three teams moving past them in the draft lottery. That said, Yzerman and Kris Draper still were able to nab a highly touted prospect in Lucas Raymond at No. 4 as the headliner of an impressive draft class.
Shortly thereafter, the Red Wings signed a collection of intriguing free agents to help reshape the roster. However, none of the newcomers signed on for more than two years, giving Yzerman flexibility now and down the road.
So with all these changes, what will the roster look like? Let's take a look.
2020-21 Red Wings Lineup
In addition to the 23-man lineup, the Red Wings will be allowed to carry a six-man taxi squad to better facilitate player movement while we continue to deal with the COVID-19 pandemic.
Here is the projected lineup when the season kicks off against the Carolina Hurricanes on Jan. 14. 
| | | |
| --- | --- | --- |
| LW | C | RW |
| Anthony Mantha | Dylan Larkin | Tyler Bertuzzi |
| Vladislav Namestnikov | Robby Fabbri | Filip Zadina |
| Mathias Bromé | Valtteri Filppula | Sam Gagner |
| Adam Erne | Luke Glendening | Frans Nielsen |
| | | |
| --- | --- | --- |
| LD | RD | G |
| Patrik Nemeth | Filip Hronek | Jonathan Bernier |
| Danny DeKeyser | Jon Merrill | Thomas Greiss |
| Marc Staal | Troy Stecher |   |
Healthy scratches: RW Bobby Ryan (injured – day-to-day); D Alex Biega.
Taxi squad: C Michael Rasmussen; LW Givani Smith; D Dennis Cholowski; D Gustav Lindstrom; G Calvin Pickard; G Kevin Boyle.
Non-roster: LW Darren Helm; D Christian Djoos.
Before discussing the roster, it's worth noting that a few Red Wings prospects will remain overseas until their European clubs' seasons wrap up. Moritz Seider and Joe Veleno cannot return until their SHL campaigns are over. 
Now, onto the lineup. 
You can pencil in Dylan Larkin, Anthony Mantha, and Tyler Bertuzzi to start the season as Detroit's first line. After that, it gets a little fuzzy.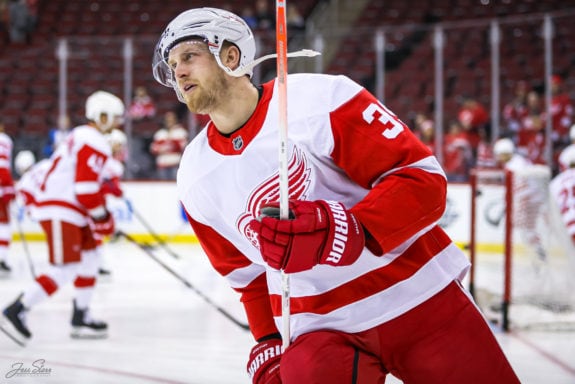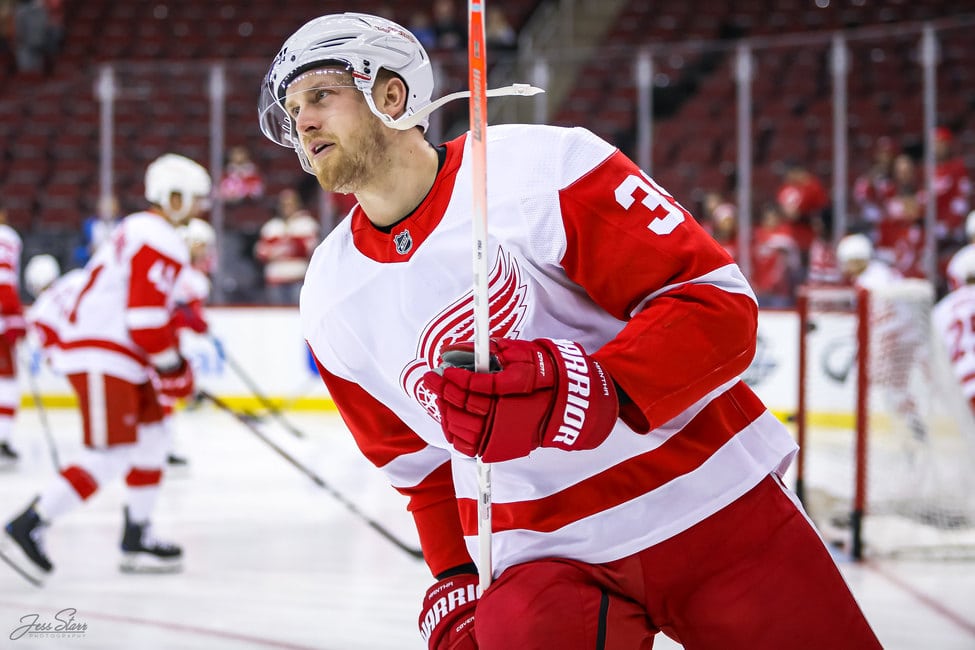 The Red Wings have several options to slot in as the two middle-six centers. Look for Robby Fabbri and Valtteri Filppula to fill those roles at first, with Vladislav Namestnikov also seeing time at center this year.
"[Namestnikov's] a real interesting player who came into the league as an offensive player and he's really grown to appreciate the defensive side of the puck and the importance of being a two-way player," Blashill commented. "What that says to me is you're getting a guy who understands that two-way play is what leads to winning."
On the blue line, expect the Red Wings to be much better than they were last season. A healthy Danny DeKeyser and the added depth of Troy Stecher, Jon Merrill, and Marc Staal gives Detroit an intriguing group of defensemen. They won't be a high-scoring bunch, but they'll be responsible in the defensive zone and able to keep pace with NHL teams night after night. The same could not be said of last year's crop of blueliners.
Finally, Thomas Greiss gives Jonathan Bernier a dependable partner in net. With eight back-to-backs this season and several instances of three games in four nights, expect the two to split starting duties evenly.
Related: Expect More from the Red Wings' Power Play in 2020-21
2020-21 Season
Due to the COVID-19 pandemic, we'll see two idiosyncrasies with the 2020-21 season: Detroit's 56-game schedule and their opponents.
To be in compliance with broadcast partner and sponsor contracts, NHL teams will play 56 games this season, with playoffs concluding before the start of the Summer Olympics in Tokyo.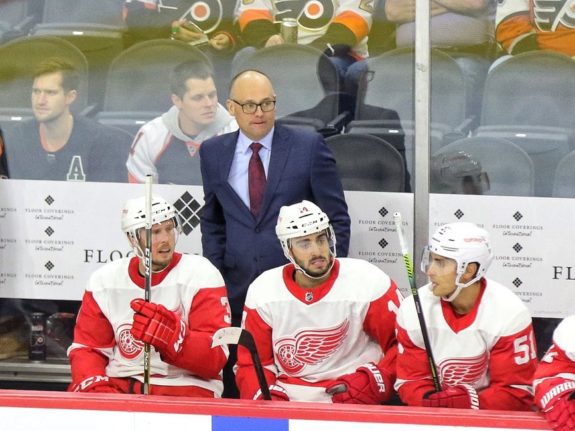 So while there will be less action in Hockeytown, the season will proceed at a much faster pace. Detroit's 56 games are jam-packed into a 115-day schedule that runs from January to May. 
With such a compressed schedule, expect there to be plenty of injuries, especially when a majority of the team hasn't played competitively in 10 months. We've already seen Ryan, Svechnikov, and Darren Helm miss parts of training camp after being deemed "unfit to play." Detroit's improved depth will surely be tested this season.
To minimize travel, the Red Wings will only compete against their divisional foes this year. As part of the newly formed Central Division, that means eight games against each of the following teams:
Carolina Hurricanes
Chicago Blackhawks
Columbus Blue Jackets
Dallas Stars
Florida Panthers
Nashville Predators
Tampa Bay Lightning
In addition, 10 of Detroit's games will be televised nationally. So regardless of where you live, you'll be able to watch three matchups with Chicago and Tampa Bay, two with Columbus, and one game apiece against the Stars and Panthers.
Related: Red Wings Expansion Draft Projections 3.0
Success Criteria & Expectations
Now that we've discussed Detroit's lineup and schedule, it's time to dive into expectations for the season. 
First, from a team standpoint, we should see an improvement over last season's brutal performance. The Red Wings won 17 of 71 games last year; 17 wins (in 56 games) should be the bare minimum this season. It's an attainable goal, too. 
Here's how I see the 2020-21 season playing out:
| | | | | | |
| --- | --- | --- | --- | --- | --- |
| Opponent | GP | W | L | OTL | PTS |
| Carolina Hurricanes | 8 | 2 | 6 | 0 | 4 |
| Chicago Blackhawks | 8 | 4 | 2 | 2 | 10 |
| Columbus Blue Jackets | 8 | 3 | 5 | 0 | 6 |
| Dallas Stars | 8 | 2 | 5 | 1 | 5 |
| Florida Panthers | 8 | 3 | 3 | 2 | 8 |
| Nashville Predators | 8 | 4 | 3 | 1 | 9 |
| Tampa Bay Lightning | 8 | 2 | 5 | 1 | 5 |
| Total | 56 | 20 | 29 | 7 | 47 |
This would likely result in Detroit having the fifth- or sixth-worst record in the NHL – much better than last season's result.
The Athletic's Dom Luszczyszyn shared a similar sentiment in his season preview for the Red Wings.
His proprietary model suggested an improvement, albeit a small one.
"Regression is coming in the form of an average season of 49.6 projected points, but regression here means 'joining the rest of the league in the NHL' rather than playing in a pitiful league of their own."

–Dom Luszczyszyn (from 'Detroit Red Wings 2020-21 NHL season preview' – The Athletic – 12/30/20)
Still, this is progress for the Red Wings. Slowly but surely, they're improving.
That said, the Red Wings still need to stick with their rebuilding plan. That means shipping out pending unrestricted free agents at the deadline for draft picks and prospects. Doing so will open up playing time for Seider and Veleno once their SHL seasons wrap up in the spring.
Finally, part of the rebuild is for players to continue progressing along their developmental path. For Detroit's young core, there are quantitative and qualitative benchmarks that they'll need to reach this season:
Dylan Larkin – Establish himself as a true No. 1 NHL center.
Anthony Mantha – Stay healthy and score 25 goals.
Tyler Bertuzzi – Become a better play driver.
Filip Zadina – Score 15 goals and remain a fixture in Detroit's top six.
Michael Rasmussen – Play 25-plus games and be dependable at even strength.
Evgeny Svechnikov – Play 20-plus games and have a relative corsi-for rating above zero.
Robby Fabbri – Establish himself as an effective middle-six center.
Filip Hronek – Score double-digit goals and finish with an expected goals-for percentage above 50 percent.
If these players can accomplish their goals, the Red Wings will be a much more competitive team not only this season, but moving forward as well.
Related: Red Wings Bold Predictions for 2020-21
Final Word
Make no mistake, the Red Wings hit rock bottom last year. This season stands to be better, though. Not only is the team stronger, but, well, it can't get any worse than last season.
But seriously, the 2020-21 Red Wings are deeper and hungry to prove they're not just a punchline. They may not make the playoffs, but they'll be a fun bunch to watch this year. The ascent from the NHL's basement has begun.
Plus, Dylan Larkin is now the Red Wings' captain.
---
---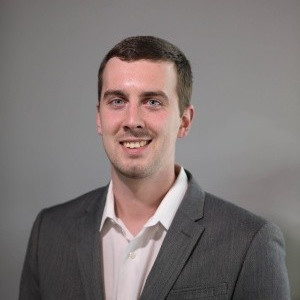 Tony Wolak is based in the Washington D.C. area and covers the Detroit Red Wings for THW. As a former junior and college hockey player, Tony has a unique perspective on Red Wings topics.