In this edition of Sabres News & Rumors, I'll take a look at the team's final cuts at training camp, their current practice lines and the announcement of their two new helmet sponsors for the 2020-21 NHL season.
12 Players Assigned to Rochester Americans
The Sabres made their final roster cuts on Monday and Tuesday, sending 12 players to the Rochester Americans. Monday's cuts included forwards Brandon Biro, Steven Fogarty, Brett Murray and C.J. Smith; defencemen Casey Fitzgerald and Ryan Jones; goaltenders Michael Houser and Dustin Tokarski. On Tuesday, forwards Andrew Oglevie and Arttu Ruotsalainen; defencemen Jacob Bryson and Mattias Samuelsson also joined the list of players heading to the AHL.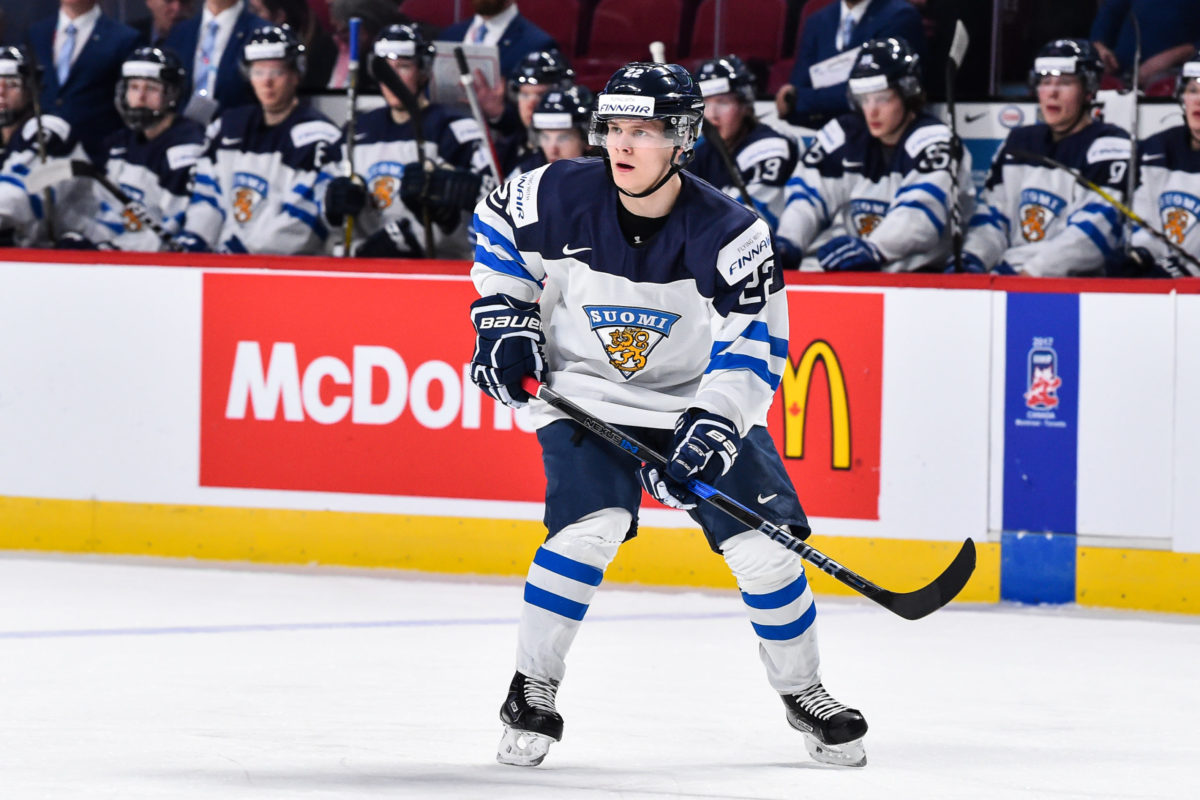 Two of the most interesting cuts, Ruotsalainen and Tokarski, have been sent down to the Americans. Ruotsalainen was a strong candidate for a roster spot in Buffalo, heading into training camp leading the Liiga with 16 goals, 11 assists and 27 points through 19 games with Tampereen Ilves this season. There are some questions about how he will adjust to playing a North American style of hockey, so his move to Rochester makes sense for now as a low-risk introduction.
Tokarski, on the other hand, was initially expected to serve as the Sabres' taxi squad goaltender, while Ukko-Pekka Luukkonen and Jonas Johansson were the presumptive Americans netminding duo. Alas, it appears Johansson will be the third-stringer in Buffalo, and Tokarski will serve as a backup to Luukkonen when the 2020-21 AHL season begins on Feb. 5.
Tuesday's Practice Brings More Clarity to Potential Lines
On the eve of the 2020-21 NHL season, two days before the Sabres' season opener against the Washington Capitals, the team's potential forward and defence lines have become much clearer. As of Tuesday, Buffalo is practicing with the following lines:
Forwards:
Hall-Eichel-Thompson
Olofsson-Staal-Reinhart
Rieder-Eakin-Okposo
Skinner-Sheahan-Cozens
Mittelstadt-Asplund-Quinn
Defence:
McCabe-Ristolainen
Dahlin-Montour
Miller-Jokiharju
Irwin-Borgen
Davidson
Curtis Lazar is currently out day-to-day with an undisclosed injury. Okposo, after taking a maintenance day, exited practice on Tuesday and is also listed as day-to-day. It is unclear if either player will be available for the Sabres' first game on Thursday.
Sabres head coach Ralph Krueger confirms that all players on the ice for Tuesday's practice will be on the team's main roster or taxi squad this season. The most intriguing names on the list include Dylan Cozens and Jack Quinn, two of the team's top prospects coming off very strong performances for Team Canada at the 2021 IIHF World Junior Championship.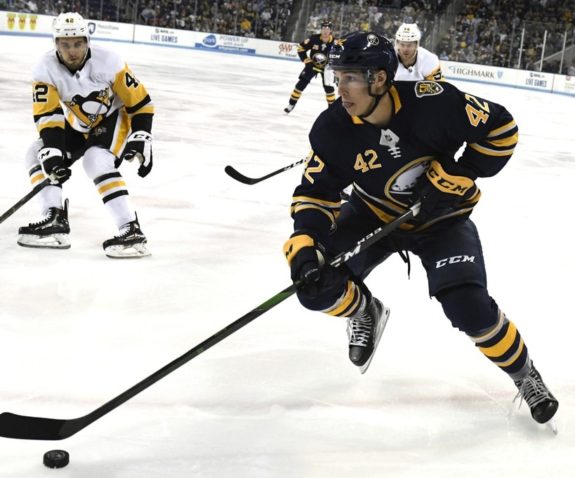 Cozens led all players in the tournament with eight goals, and ranked second with sixteen points and eight assists. Quinn also impressed with five points (one goal, four assists) and a +/- rating of +10, good for third-best at the World Juniors. Both players are currently 19 years old and will look to prove themselves worthy of a spot on Buffalo's roster as the two youngest players at Sabres training camp.
KeyBank, Roswell Park Confirmed as Sabres' Helmet Sponsors
For the first time in NHL history, teams are allowed to display sponsor logos on their helmets. On Saturday, the Sabres announced that they would wear a KeyBank logo on their royal blue helmets and a Roswell Park Comprehensive Cancer Center logo on their white helmets for the 2020-21 season. Both sponsors have longstanding relationships with the team, so it comes as no surprise that they are the first two in franchise history to be featured on Buffalo's helmets.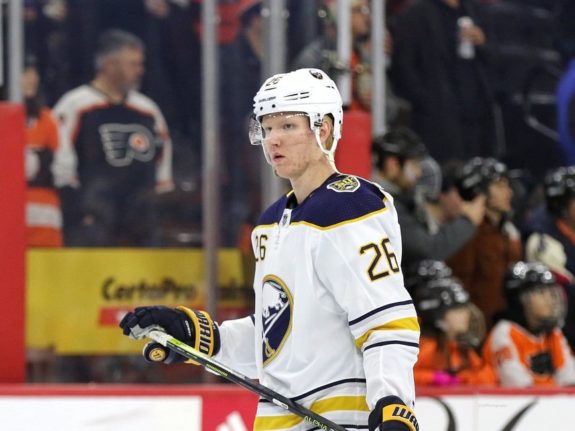 Although many hockey fans dislike the idea of helmet advertising, the NHL is using it as a strategy to make up for lost revenue caused by the COVID-19 pandemic and inability to have fans in the majority of arenas. It is unclear whether teams will use helmet sponsors after this season, but they are an effective solution for the meantime until the league can return to normal operations.
The Sabres will open their 2020-21 season at home on Thursday when they face-off against the Capitals at 7 p.m. ET. It will be the first game for Buffalo since their 3-2 shootout win over Washington on March 9, 2020.
---
---