---
Now that the Detroit Red Wings are done with their offseason moves, the organization can turn their focus to the 2020-21 season. And what comes at the end of next season? You guessed it – the Seattle Kraken expansion draft.
Previously, the Red Wings appeared to be in good shape with regard to the expansion draft. They don't have any no-movement clauses. They didn't stand to lose someone significant. But have Steve Yzerman's latest acquisitions changed that?
Let's dive into Detroit's projected expansion draft protected list and who will likely be exposed to the Kraken.
Related: Projecting the Red Wings' Opening Night Lineup
Exempt Red Wings
As a quick reminder, the following Red Wings prospects are exempt from the expansion draft. This also includes all 2020 draft picks.
LW Filip Zadina
D Moritz Seider
C Joe Veleno
D Jared McIsaac
G Filip Larsson
D Albert Johansson
G Victor Brattstrom
C Chase Pearson
LW Mathias Brome
Protected Red Wings
As I've said previously, Detroit should opt to protect seven forwards, three defenseman, and a goalie. With that in mind, here's how the latest protected list shapes up.
F Dylan Larkin
F Anthony Mantha
F Tyler Bertuzzi
F Michael Rasmussen
F Robby Fabbri
F Vladislav Namestnikov
F Evgeny Svechnikov
D Filip Hronek
D Dennis Cholowski
D Gustav Lindstrom
G Thomas Greiss
There were two difficult decisions to make when putting together this protected list – the last forward and the last defenseman.
Starting up front, I chose Evgeny Svechnikov as the final forward to protect solely because I'm predicting a breakthrough season for the Russian forward. And by "breakthrough", I mean solidifying a spot in the lineup.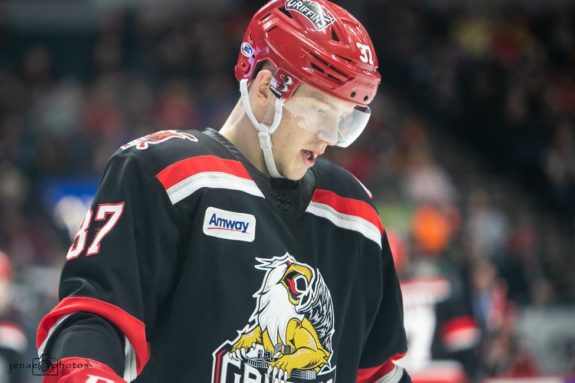 Svechnikov had impressive stretches at times last year, but was otherwise inconsistent skating with the Grand Rapids Griffins. Now, it's do-or-die time for Svechnikov. He needs to prove his worth next season, or else Givani Smith, Dmytro Timashov, or Taro Hirose will be protected over him.
On defense, the decision came down to Gustav Lindstrom and Troy Stecher. But before I discuss those two players, I feel the need to validate my choice to protect Dennis Cholowski. 
Yes, he has been inconsistent since turning pro. But Cholowski is only 22 and has outstanding hockey sense in the offensive zone – something the Red Wings constantly need more of. I value his offensive upside over Lindstrom and Stecher's defensive prowess given Detroit's stockpile of well-rounded blue line prospects. And as we've seen with Stecher, Patrik Nemeth, and Jon Merrill, there's no shortage of defensive defenseman available via free agency.
As for Stecher and Lindstrom, the former may be a stronger player now, but neither project to be more than a third-pairing defenseman who can jump to the second pair if need be. When in doubt, default to the younger player. And in this case, it's Lindstrom.
Protection Loophole?
It's worth noting that the Red Wings have 10 players who will become unrestricted free agents (UFAs) after the 2020-21 season. This includes Nemeth, Merrill, Luke Glendening, and Jonathan Bernier.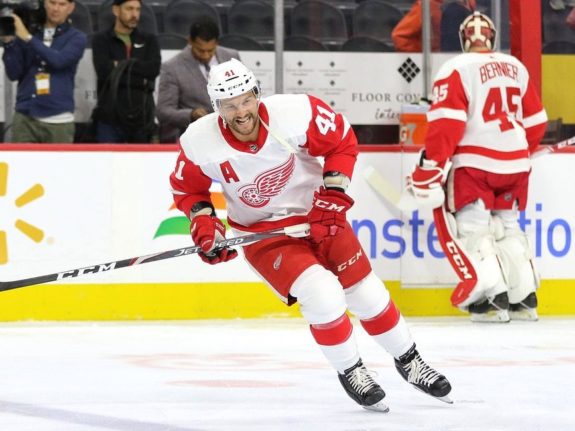 It's entirely possible that Detroit opts to re-sign a couple of those players to short-term contracts. However, they should wait until after the expansion draft to do so. Why? Seattle likely won't want to select a UFA. They'll be able to negotiate with any team a few days after the expansion draft takes place, leaving Seattle with a wasted pick. The Kraken would likely prefer to select someone whose rights can be held for at least a year. 
Because of their UFA status, you can say these players are "protected" – even if they're technically not. In the meantime, Yzerman can negotiate with them and even have a deal in place that can be signed after the expansion draft.
Related: Red Wings' Most Important Offseason Move
And the Kraken Select…
Given the protected list above, Seattle's top option is Givani Smith. The abrasive forward does not offer top-six upside, but can be a highly effective player in the bottom-six. His style of play and underrated offensive instincts would serve Seattle's fourth line well.
In previous iterations of the protected list, Smith did not need to worry about being selected. The acquisition of Vladislav Namestnikov changed that, though. That said, Namestnikov provides more value and could stay with the Red Wings beyond his current two-year contract.
---
---