It has been an eventful week for Buffalo Sabres goaltenders, specifically Dustin Tokarski, Jonas Johansson and Ukko-Pekka Luukkonen. Tokarski joins the team after spending the 2019-20 season as a member of the Pittsburgh Penguins organization, Johansson has been loaned to the Deutsche Eishockey Liga (DEL) in Germany to put in extra work before the AHL return to play and Luukkonen is now a solidified top-five goaltender in Liiga. Let's take a look at Buffalo's latest goaltending developments in this goalie-focused edition of Sabres News & Rumors.
Tokarski Signs Two-Year Contract, Likely to Play in AHL or ECHL
The Sabres signed Tokarski to a two-year, $725,000 contract on Wednesday. The 31-year-old goaltender played with the Wilkes-Barre/Scranton Penguins last season in the AHL, recording an impressive .924 save percentage (SV%) and 1.97 goals against average (GAA) in 18 games. Drafted 122nd overall by the Tampa Bay Lightning in the 2008 NHL Entry Draft, he has played 11 seasons in the AHL and is a two-time Calder Cup winner. Tokarski has also suited up in 34 NHL games split between the Lightning, Montreal Canadiens and Anaheim Ducks.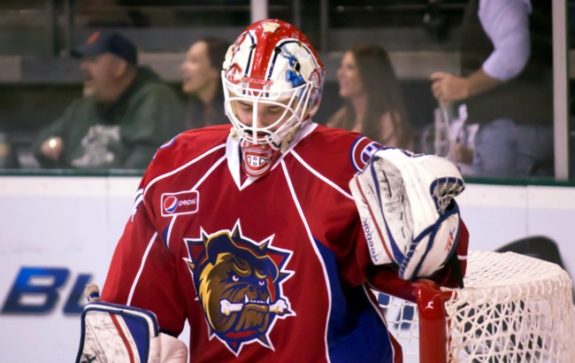 It is still unclear where Tokarski, still an AHL-calibre goaltender, will fit within the Sabres organization as Luukkonen and Johansson are the expected goaltending duo for the Americans' 2020-21 season. A few possible outcomes include Tokarski or Johansson being sent down to the Cincinnati Cyclones in the ECHL, extending Luukkonen's loan to HC TPS for the remainder of the Liiga season or rotating three goaltenders in the AHL's return to play. General manager Kevyn Adams has yet to comment on his plans with an excess of AHL netminders, but it will be interesting to see how things unfold.
The biggest positive, and likely the main reason for this signing, is Tokarski's eligibility to serve as the Sabres' exposed goaltender in the 2021 NHL Expansion Draft. The team no longer needs to worry about finding ways to protect their most valuable netminders, Luukkonen and Ullmark, from the Seattle Kraken. With all things considered, this is a great acquisition by the Sabres that provides them with some long-term clarity in goal.
Johansson Loaned to Krefeld Penguins in Germany
Last Sunday, the Sabres loaned goaltending prospect Johansson to the Krefeld Penguins of the DEL. The Gavle, Sweden-native made his NHL debut and played six games with the Sabres last season, but spent the majority of his time with the Rochester Americans, posting a .921 SV% and 2.28 GAA in 22 games. With the AHL season set to begin on Feb. 4, 2021, this loan provides Johansson with extra gameplay to prepare himself for the upcoming season in Rochester, or wherever he ultimately ends up.
Johansson was drafted 61st overall by the Sabres in the 2014 NHL Entry Draft and has yet to show promise of being a successful starter at the top level. His short stint in Buffalo last season resulted in less-than-ideal numbers with a .894 SV% and 2.94 GAA. Although he doesn't seem capable of handling full-time minutes in the NHL, his AHL statistics are on a steady upward trajectory. It is still quite possible that Johansson could suit up as the Sabres' backup to Luukkonen in a few seasons' time if he continues to show improvement with the Americans.
Luukkonen Proving Himself as Sabres' Next Elite Goaltender
Luukkonen is the Sabres' goaltender of the future, and he continues to prove that with his stellar play for HC TPS in Liiga. Ranking fourth among goaltenders in the top professional Finnish league, he has posted an outstanding .921 SV% through six games played. The 21-year-old netminder recently had his loan extended until Dec. 18, which could be extended even further if the Sabres decide to keep him with HC TPS until the start of the AHL season.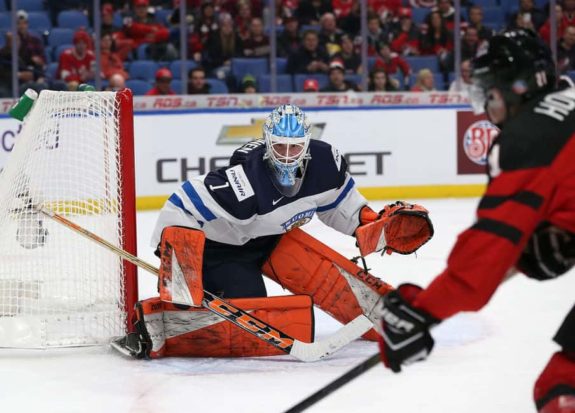 Luukkonen will likely serve as a full-time goaltender for the Americans when the AHL returns in what will be just his second season of professional hockey in North America. Despite being new to the different style of play from what he grew up with in Finland, Luukkonen managed to win the Red Tilson Trophy in 2018-19 as the OHL's Most Outstanding Player of the Year and represented the Cyclones at the 2020 ECHL All-Star Classic as a rookie. Needless to say, the future looks very bright from him in the Sabres' net.
HC TPS is next scheduled to play on Nov. 11 versus the Pelicans, but a starting goaltender has yet to be confirmed. If Luukkonen suits up in goal, he will be matched up against fellow Sabres prospect Oskari Laaksonen, who currently ranks fourth among Liiga defencemen with nine points (three goals, six assists) in 11 games. Make sure to keep an eye on this game as it will be a must-watch for Sabres fans if Luukkonen gets the start.
---
---