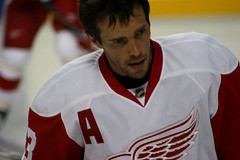 LOS ANGELES- The Red Wings got primary, secondary and even tertiary production as Detroit walloped the Los Angeles Kings 7-4 at Staples Center Monday night.
Nicklas Lidstrom and Pavel Datsyuk both scored off beautiful offensive efforts while Henrik Zetterberg headed a list of multi-point performers that also included Jiri Hudler, Darren Helm and a two-goal game from Drew Miller.
Jimmy Howard also stopped 35 of 39 shots on net with all but one goal against coming in the academic portion of the game. That top-to-bottom effort earned the Red Wings their sixth consecutive road victory.
"On the road we keep it really simple," said Howard.  "We just play a north-south game and get pucks on net.  We don't get fancy and that's why I think we've been able to be so successful on the road."
For the Kings, the regulation loss stood as only their second in the last 16 games. Three late goals tightened up the scoreboard in what was a loose effort filled with bad bounces, slow punches, poor decisions and plodding legs.
Jonathan Quick allowed six goals on 24 shots before he was pulled, but his performance was more an indictment of the hard luck and soft play in front of him throughout the game. For almost every turnover, long shift or giveaway, the Red Wings seemed to have some sort of punishment in store for the Kings.
"They're not the only team that can do that but they are a very skilled, very talented team. When we make mistakes, they capitalize," Quick said.
Helm's hooking minor afforded the Kings their opportunity to strike first.  Michal Handzus worked along the right-wing wall and low-to-high puck movement led to a Jarret Stoll blast from the point.  Stoll's shot ricocheted in front and was tapped home easily by Handzus at the right side of the net.
Miller drew Detroit even moments later.  He collected a failed clearing attempt and zigzagged to the net where his tight, tough-angle shot somehow got through the pads of Quick.
"We came out and scored the first goal and then I let up a bad goal, kind of took the momentum out of our end and put it in their end a bit. Next thing you know it's 2-1," Quick said.
On the next possession, Hudler's rising shot had eyes as it got past a back-checking Handzus and onto the stick of Danny Cleary.  Cleary's deflection redirected the puck sharply and easily beat Quick to give Detroit their first lead of the evening.
"Even though they scored the first goal, we didn't get discouraged as a team," said the Detroit captain Niklas Lidstrom.  "We kept taking the plays to them."
"We got a lucky goal to get us going on Miller scoring from the corner but we're getting pucks to the net.  That's something we talked about, getting more shots and pucks to the net. You're gonna get the bounces and that's what we really got tonight."
Matt Greene gave a tough shoulder check to a vulnerable Tomas Holmstrom at the red line.  Holmstrom remained down on the ice and a late whistle led to a controversial high-sticking call.
The former Michigan State star Justin Abdelkader left his feet to nail Trevor Lewis behind the Kings' net while the puck rotated high to Jonathan Ericsson.  Ericsson's 55-footer nearly extended Detroit's lead, but it dinged the right post before a sprawling Quick covered it up with his glove.
Yet another high-sticking call, this one to Stoll, gave Detroit a man advantage.  The Kings weathered a dangerously dynamic attack down low from the veteran Mike Modano but could not fend off a searing shot from the blue line by the ageless Detroit captain Lidstrom.  His shot hit the crossbar and dropped in behind Quick to give Detroit a 3-1 lead.
"The momentum seemed to change late in the first period to me," said Kings Head Coach Terry Murray.  "That's a good hockey club; they're on a tough trip right now, they've got like four games in six days here.  They're going to be very busy and they're coming to play. That's a veteran team that knows how to do things right at a critical time in the year."
Drew Doughty jumped up on the rush and nearly beat Howard in the opening minute of the second period.  His well-timed pinch set up a solid chance for Anze Kopitar in the first period as well.
Nearly 15 minutes of fast-paced action yielded no further scoring.  Sustained pressure by the Kings drew a holding penalty on Ruslan Salei.  A quick play in transition led to a shot-pass from Kopitar that sailed just wide of being a slammed into an open net by Ryan Smyth.
Instead of closing to within one on the power play, the Kings had their fate sealed a man down after another Stoll penalty.  Datsyuk mesmerized the Los Angeles defense, covering plenty of ground with a series of stickhandles, before he roofed the puck.  The tally showed off his keen vision, superb puck skills and lightning quick release as it earned Detroit a three-goal advantage heading into the second intermission.
"(Datsyuk's) so tough to get the puck off of as well, he's good at hanging onto it," said Lidstrom. "When he sees an opening, he's going for it, he's taking that shot.  It was great to see it go in but we've seen him do that many times where he's hanging onto the puck and making a move to get the shot off."
Doughty's rope along the ice surface nearly set up a goal with the twin towers of Smyth and Handzus set up in front. Detroit weathered over 1:40 of power play pressure before a Doughty turnover sent Darren Helm the other way for a shorthanded breakaway goal that heaped dirt on a Kings team that already buried up to their necks.
"If you're going to over-handle the puck, if you're going to get cute with it, you're going to get casual with it, this is the team that will expose you and capitalize on it," Murray said.
Detroit would add an insurance goal.  Another L.A. turnover turned the puck into a Super Ball that hit multiple sticks and bodies before Miller banged home his second goal of the game. The frustrated Quick was pulled from a game in which his team allowed several high-percentage chances that led to Detroit goals.
Miller's two goals were his fifth and sixth of the season, making him an unlikely star in this game.
"(Miller's) been working hard, he's a good player. He comes to the rink every night and does what he has to do, and to get those two the way he did, the way he plays every night, it's great for him," Helm said.
Hudler added a one-timed goal off a cross-ice pass against the reserve goaltender Bernier to conclude the scoring for Detroit.
Three late Los Angeles goals preserved some shreds of enthusiasm for a thoroughly thinned crowd on hand.
The L.A. captain Dustin Brown added a goal off a scramble in front.  Doughty's nimble dance along the blue line led to a Wayne Simmonds tally. Finally, Brad Richardson scored just before the final horn to leave the final score at a deceptively less distant 7-4.
"We made it a little bit more respectable at the end, but you don't want to get embarrassed," said Kings defenseman Jack Johnson. "They're not going to stop playing so we can't either."
The Kings next face the Phoenix Coyotes Thursday at Staples Center.  Like Los Angeles and the San Jose Sharks, the Coyotes are a surging team in the Pacific that is clawing for every single point in the Western Conference standings.
"It's easier to just say okay and forget it, let's move on and reset," said Johnson. "We have a big division game on Thursday so you just move on. We still did some good things out there against a great hockey team. They're a great team, the puck was going in a lot for them tonight."
In a broader context, the Kings made some headway on the eve of Monday's trade deadline and at the 11th hour of deadline day as well.  Right winger Justin Williams inked a four-year, $14.6 million extension Sunday night and the Kings acquired left winger Dustin Penner from Edmonton for two draft picks and a prospect Monday.
"I'm glad I get to play with him instead of against him. He's a good player, he's hard to play against and we're excited to have him, all the guys are. It's a real exciting thing for us going into playoffs, we're putting all the chips in to win this and we're excited about it," Johnson said.
"It's definitely a great message to all of the players and everything. We're excited about it, we're excited that they did it and we're really looking forward to having him here."