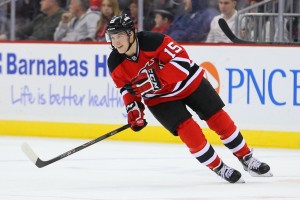 Reid Boucher is known among Devils fans for one thing; his 62-goal season with the Sarnia Sting back in the 2012-2013 season where he surpassed Tampa Bay Lighting's superstar Steven Stamkos for the club goal scoring record. Now one may assume because Boucher had the phenomenal season in juniors that it would translate almost seamlessly into the NHL. That Boucher would turn into the next Stamkos, and be scoring goals left and right.
Wrong.
This isn't meant to criticize Boucher. He's still a young player (21 years old), and has a lot of upside. However, at some point, whether it's during the tail end of this season, or at the start of next season, Boucher needs to start producing points.
Get This Kid Some Ice Time!
In 30 NHL games, Boucher has amassed only two goals and seven points. On top of that, Boucher doesn't have a point, and more importantly, a goal, in seven games this season. Now to be fair, he hasn't had the prime opportunity to play with a high-end player who can put the puck on his stick. While Scott Gomez has had a career-saving year, he's not the elite playmaker he once was. Even more to the point, Boucher has averaged around 12 minutes a game, with him playing an ok 14:07 in last nights 3-1 defeat by the hands of the Carolina Hurricanes.
Reid Boucher – 12:09, 2SOG Stefan Matteau – 9:46, 2 hits. Thought both played reasonably well. NJ should keep them in the lineup.

— Todd Cordell (@ToddCordell) March 24, 2015
There's an urgency for Boucher to begin producing on at least a respectable level because the Devils prospect pool is void of almost any talented forwards besides Stefan Matteau, and Devils 2014 first-round pick John Quenneville. Heck, even aside from prospects, New Jersey biggest organizational need is a top-six forward who can score goals more than anything else. So if Boucher can become the player they envision him becoming, than New Jersey can at least be in a better spot for next season.
Going into play tonight, unless the Devils miraculously won the draft lottery, they would have the sixth-overall pick in the upcoming draft. With the way teams like Buffalo, Arizona, and Toronto have tanked for a higher pick in the upcoming draft, there's no shame in losing, and for the last seven games of the season, New Jersey just has to suck it up, and play Boucher 17-18 minutes a night. New Jersey would be going against their morals by doing this, but by giving a guy like Boucher more ice time, it could lead to surprising results.
Put Him in Position to Succeed
At a glance, aside from the meager ice time Boucher receives, considering Boucher's best quality is his quick shot; maybe it wouldn't be a bad idea to throw him on the power play? You know, just a thought. In all seriousness though, putting Boucher on the power play is simply another place where Boucher could gain some confidence.
Another aspect of the game where he can be effective is in something, which only grew the hype train at the time of this happening. The shootout.
Now granted the goal was Peter Budaj, but it was a glimpse of the talent we are waiting to see.
Will Boucher turn into the player we all hope he can be? Nobody knows. However, there is a feeling Boucher is on the cusp of flipping the switch to turn himself into the top-six forward the Devils need so desperately. He's listening to the coaching staff, and improving his defensive play, but Lou Lamoriello isn't one to be patient, so if he doesn't start consistently scoring soon, Boucher may take his talents elsewhere.
Corey Spina lives in Wayne, New Jersey. He is a senior at Centenary College, and is majoring in Communications/Journalism. Corey is in his second season covering the New Jersey Devils for The Hockey Writers, he completed a sports journalism internship with TAPinto, and he is the Host/Producer of the Sports Buzz on WNTI.org.