With rumors looming over Jets defenseman Jacob Trouba, the team and their fan base must deal with the chances that the team will be without one of their top defenders next season. Last week The Hockey Writers Rob Mahon discussed rumors surrounding Trouba, originally reported by Hockey Night in Canada's Elliot Friedman. Friedman reported on his segment Saturday night that the Avalanche, in particular, have their eyes on the Jets defenseman, stating:
"Not saying Winnipeg's going to do it, but I think that's a player Colorado would like to get its hands on."
https://twitter.com/FriedgeHNIC/status/739284489533313024
Now, yes, this is just a rumor and Friedman even qualifies it, but it is worth discussing due to Trouba's contract status and the perceived interest in Winnipeg's young American defenseman. With what seems like no movement towards resigning Trouba, this topic is becoming more and more real everyday, and it seems more likely the Jets will be without him going forward. That being said, the most interesting aspect of this possibility would be Trouba's replacement, and where that player would come from.
The System
Should Trouba find his way out of Winnipeg this summer this deal is the most likely possibility. Winnipeg has always preached growing the team through the proper channels — the draft and their minor league teams. Right now Winnipeg's top defensive prospect is Josh Morrissey. Morrissey plays the left side though, opposite to the player he would be replacing. Not that this would rule out the possibility, but it does make it difficult for the Jets.
After Morrissey, the Jets are thin on the blue line, despite the talk about their prospect depth. Brenden Kichton led the Moose last season, but there are doubts about his chances in the NHL, and he is also another left shot. Further down the list the Jets have Jan Kostalek, Sami Niku, and newly-signed Nelson Nogier. None of those names really inspire confidence and the Jets may need to look elsewhere if they want to add a player of similar, or close to similar, skill.
Trade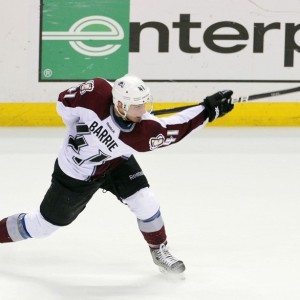 Should the Jets lose Trouba, they will hope to be able to deal him and add a piece or two in return. When the rumors about Trouba and the Colorado Avalanche first broke, it was Tyson Barrie — who happens to be in the same situation as a restricted free agent — that was the rumored return. Avalanche general manager Joe Sakic has since quashed the rumors, saying Barrie will be in a Colorado jersey next season.
Travis Hamonic's name was another that came up in rumors earlier this season. The Manitoba native requested a trade from the Islanders but has since rescinded his request.
A trade still seems to be in the cards for Winnipeg, but the return is an unknown. Player for player trades have become more rare in today's NHL, but the Jets will want a top player in return. Not many teams want to lose a top four defenseman, but if the Jets want to replace Trouba through trade they need to find one.
Free Agency
This team has not made many big splashes in the free agent period. Instead focusing on role players like Mathieu Perreault and Matt Halischuk. There are many free agent defenseman available this season but the talent is debatable. The top free agent on the blue line is veteran Brian Campbell, but a player with a price tag like his is not likely in the Jets' cards.
Instead, look for the Jets to focus on some more affordable options. Look no further than former Flame Kris Russel, who finished last year with Dallas. Last season Russell commanded a salary of $2.6 million, and that would be in the Jets' price range. A player like that would find a perfect role for Winnipeg.
The Draft
The draft is how the Jets have built their team thus far, and with a second overall pick this year and two in the top 40, Winnipeg will again stock their prospect cupboards. Though their second pick will definitely be a forward, their other picks will likely focus on the blue line. Though their current draft positions likely don't net them a NHL player, there are options.
Trading up or acquiring another potential top ten pick through another trade could give the Jets a chance at a defenseman that could play in the NHL next year. In Craig Buttons latest draft rankings, he has Mikhail Serbechev going 8th overall as the first defenseman. Other D-men who may draw interest include Jake Bean, Jakob Chychrun, and Olli Juolevi. Should the Jets manage to get their hands on any of these players they would get a chance to replace Trouba on the blue line.
Re-sign Trouba?
Of course the Jets could still re-sign the young defenseman, but the longer this goes on the less likely Winnipeg is to retain Trouba. For the amount of money that rumors say Trouba is asking for, the Jets are unlikely to keep him. Though he has shown flashes of brilliance, especially early in his career, Trouba struggled last season. Though his skill is obvious, consistency is a question, and reportedly he has no interest in any kind of bridge deal. All signs point to Trouba leaving Winnipeg. However, if the two sides can work out a mutually beneficial deal, fans would love to see him back in a Jets uniform.