Thomas Vanek has long been a prolific goal scorer in the National Hockey League, having scored 25 goals or more every year of his 12 year career, save for the lockout-shortened season in which he scored 20 goals in 38 games. On July 1st, 2014 he signed with the Minnesota Wild as an unrestricted free agent. Minnesota was a natural fit for Vanek who went to college at the University of Minnesota and made Minnesota his home every summer. In addition, the Wild was looking to add some more goal scoring punch to a lineup that had long struggled to put up points. But when the 2014-15 season started and began to progress, the Wild got less from Vanek than they bargained for.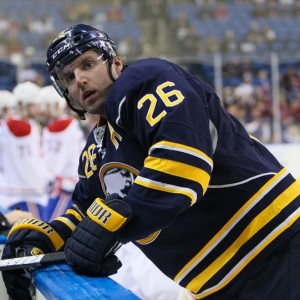 Vanek was much maligned in the early part of the year but responded with a strong second-half where he looked much more like the player that has been a problem for opposing defenders for years. Now his strong finish to last year has carried into this season and his play is coming at a most opportune time for the Wild.
Night and day
The start to last season was one Thomas Vanek would probably like to forget. The Vienna, Austria native began his Minnesota Wild tenure with a meager 2 goals in 22 games. His 12 assists during that time were nice but as so many fans were quick to point out, Vanek was brought in to score, not to be a play maker.
Whether it was due to his unfamiliarity with the Wild's system, his frequent moving around (Minnesota was Vanek's 4th different team in a calendar year), or perhaps his complacency after signing a new contract with his "hometown" team, Vanek was criticized not only for his lack of goal scoring but also for his tendency to turn the puck over frequently; a problem that was especially pronounced on the power play. He also had his conditioning and work ethic called into question as many noted that Vanek looked tired and slow.
Vanek however, was able to respond to his tough start with an ultra-strong finish to his regular season. In the final 40 games, he scored 14 goals, two-thirds of his total goals on the year. Vanek has brought that strong finish over to the start of this season.
While Vanek had just 2 goals through 22 games to start last year, he has amassed 10 goals through 22 games this year, the most by any Wild player thus far. The 6-foot-2, 218-pound forward has added 9 assists for a total of 19 points and he's showed no signs of slowing. Vanek has 9 points (6-3=9) in his last 9 games and 16 points (8-8=16) in his last 17 outings; he has at least 1 point in 15 of 22 games.
Vanek has led the team offensively and in doing so provided an offensive spark for a team that was without Zach Parise for 8 games recently. Whatever it is that has allowed Vanek to have a resurgent year the Wild hopes he can continue to provide offense like he has, and fans probably wouldn't mind if he added a couple more goals like the one below.
Looking ahead
If any criticism can be rendered towards Vanek it's that he's never been as consistent in the playoffs and he had no goals and 4 assists in Minnesota's 10 playoff games last season. However, with the way the Wild has been playing lately, it will need to worry about simply making the playoffs before worrying about Vanek's production in said games.
For now, Minnesota is finally getting healthy again and that should serve Vanek well. He'll likely be playing regularly with Charlie Coyle and newly healthy Justin Fontaine, who Vanek has shown great chemistry with at times. The current goal for Vanek should be simple: help pull the Wild out of its mini-slump by continuing to have the resurgent year he's having now.