At this point in the season, I, along with many of you probably would have already packed your bags and headed home on the New Jersey Devils chances of making the playoffs. There would have been no point to turning on the TV to watch another pointless game. That's what last year felt like; last year it was almost agonizing to try and get through a game because it wasn't fun watching the team you love be toyed with for 60 minutes. I couldn't even get excited when they scored a goal because it didn't matter whether they won or lost the game. They were already out of it, but this year's a different story. They are finally watchable again.
New Jersey just took three of four possible points in a home-and-home with the Carey Price-less Montreal Canadians, who even without Price, as he will be in out for the next six-weeks, are a very solid team. The Canadians are the highest scoring teams in the league as well, and the Devils limited them to four goals over those two games, not including the shootout at New Jersey.
To watch the Devils play with the best team in the league, compared to last year where they would be lucky if they weren't down by 20 shots by the end of the game is hard to describe. However, to top it off with coming back from 2-0 down with only 10 minutes left to win the game in overtime, in Montreal, is almost mind-blowing.
Cory Schneider is a Vezina Finalist
If we were to cast ballots now on who would be in Vezina finalists, they would all come from the Metro. Henrik Lundqvist from across the Hudson is off to the best start of his career, while Braden Holtby from Washington has finally established himself as an elite goaltender in the NHL, as he leads the league in goals-against-average and wins.
However, the biggest difference between those two teams and the Devils, is from the outset, they are better teams than New Jersey. Cory Schneider is playing like a Vezina finalist, and the guy who might win it at season's end. He has a .928 save percentage and a 2.03 GAA, which ranks fourth in the league. Goaltending statistics can look a bit askew through the first half of the season with some goalies that don't play much putting up good games in not many starts, which inflate their numbers. Schneider, like Holtby, has now established himself as one of the best goalies in the league, but he's done so under a smaller window of opportunity from playing with a good team.
Schneider isn't the sole reason as to why the Devils aren't near the league cellar, as they have gotten production from many other sources, but he's played so well, that it gives the players in front of him the confidence they need to go out there and make plays knowing that Schneider has their backs. It's all about playing a team game, and for Schneider, it's about making the timely save to give his team a chance to win. He's always been able to do that, but now the players in front of him are doing what they haven't done since he got to New Jersey.
Teams Will Keep Underestimating Devils
It's only natural that teams will underestimate the Devils and believe that coming into the Prudential Center will be an easy night. Teams did that to Calgary last year and look what happened, they made the playoffs and advanced to the second round in a very strong Western conference. The Devils already have it easier by playing in the east, but to them, it doesn't matter who they play, John Hynes has them in such a competitive spirit that they feel like they can play with any team any night.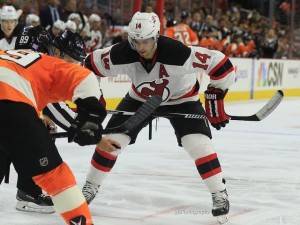 What other teams don't know about the Devils is a multitude of things. First thing is that Adam Henrique is playing like a true number one center. He's got 19 points in 23 games, and he's a plus eight, that's good enough for me. Mike Cammalleri is producing at a point-per-game pace; Kyle Palmieri is a threat on the power play and with a one-timer, which tied the game on Saturday. Patrik Elias is back and playing well in his first three games back from injury, and the Devils defense is solid, starting with captain Andy Greene and budding superstar Adam Larsson.
On paper, sure, the Devils don't have the name-power that other teams like Pittsburgh or Chicago does, but they don't care about that. They don't care that even though they are having a better season than people thought, that when the all-star game rolls around, their only representative would be Cory Schneider. It's about the team effort; it's about playing for the guy next to you. That's what makes hockey one of the best team sports in the world. If New Jersey doesn't make the playoffs, of course I won't be a happy camper, but until we reach that point, I'm going to enjoy watching this team for the first time in years.
Subscribe to our Devils stories to get email updates every time a new story is published.
Corey Spina is a New Jersey Devils staff writer for The Hockey Writers. You can follow him on Twitter, @CSpinaTHW.
Corey Spina lives in Wayne, New Jersey. He is a senior at Centenary College, and is majoring in Communications/Journalism. Corey is in his second season covering the New Jersey Devils for The Hockey Writers, he completed a sports journalism internship with TAPinto, and he is the Host/Producer of the Sports Buzz on WNTI.org.