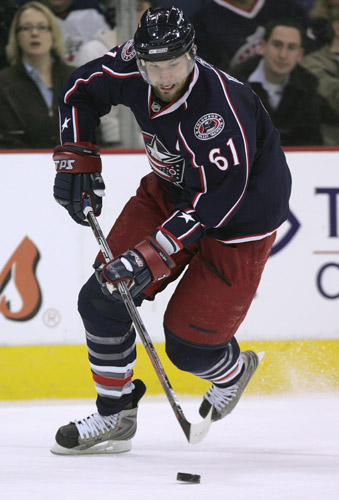 A successful goal scorer at every level, in just his second season in the NHL, Rick Nash tied Jerome Iginla and Ilya Kovalchuk for the Rocket Richard Trophy as the league's leading scorer with 41 goals.  Who would have thought it would be another 5 seasons before he would taste playoff hockey…
Rick Nash was born June 16, 1984 in Brampton, Ontario.   Like most youngsters growing up in Ontario, Nash began skating at a young age on a neighborhood pond.  Being a big fan of the hometown Toronto Maple Leafs, Nash grew up idolizing Doug Gilmour and Mats Sundin.
He began playing organized hockey with the local Brampton Maroons, however, hockey wasn't the only sport he played as a child.  He was also a very talented lacrosse player and played every summer up until he was 15 years old.  Like many other NHL players, including Brendan Shanahan and Joe Nieuwendyk, Nash credited lacrosse with helping him develop great hands for hockey.
Nash may have had excellent hands, but one pretty hilarious situation happened to him involving his feet.  When he was 8 years old, he and the family and friends took a trip to the hockey rink one night to go public skating.  When done everyone just threw their ice skates in the trunk.  The next day, when he went to grab his skates out of the trunk, he would grab the wrong skates.  A friend of his had the same pair and Nash happened to grab the right skate from each pair and proceeded to play an entire game with two right skates on.  Needless to say he didn't skate very well that day…
At 10 years old he joined the Toronto Marlboros triple-A club.  It was with this team that he would meet the person that probably had the greatest impact on his hockey career.
Keith Carrigan was asked to coach the Marlboro's atom level team.  Up until then he had exclusively coached older teenage hockey players but decided to give it a try.  Nash took a liking to Carrigan and was glued to everything he said and taught the team.  Much of what he was teaching the team Nash would end up doing in NHL practices as well.  To this day, Nash and Carrigan still get together during the off season to work on certain skills and run through various skating drills.
Carrigan coached the young star up until he moved to major junior hockey with the OHL's London Knights during the 2000-01 season.  Nash would score 31 goals and 66 points in 58 regular season games and added 3 goals and 6 points in 4 playoff games.  He was awarded Rookie of the Year honors and was a member of the OHL First All-Rookie Team and CHL All-Rookie Team.
In 2001-02, he would play his second season for the London Knights scoring 32 goals and 72 points in 54 games.  He was a member of the OHL's Third All-Star Team and also a member of Canada's 2002 Silver Medal World Junior Team and member of Canada's Gold Medal Under-18 Team at the 2001 Six Nations Tournament where he led Canada in scoring (5-5-10 in five games).
In 2002, Nash fulfilled the dream of many young kids growing up in Canada and became the 1st choice, 1st overall selection of the Columbus Blue Jackets in the 2002 NHL Entry Draft,
In 2002-03 he made the jump from junior to the NHL and quickly became one of the bright young stars of the future.  He became the 8th #1 overall pick in NHL history to score a goal in his first game and was the first to do so in his draft year since Mario Lemieux in 1984.   In 74 games with Columbus, Nash accumulated 39 points (17-22-39) and was named to the NHL All-Rookie Team, and was a finalist for the Calder Trophy as the league's top freshman.  The Calder Trophy was awarded to defenseman Barret Jackman of the St. Louis Blues that year.
Although Nash had a strong rookie season, he would announce his arrival to the NHL in his second season.  Nash exploded offensively in 2003-04, increasing his goal total from 17 to 41 and tying for the league lead in goals with Calgary's Jarome Iginla and Atlanta's Ilya Kovalchuk.
After a strong NHL season in 2003-04, an NHL labor dispute would negate the 2004-05 season.  Many NHL players played for European clubs during the lockout, including Nash who suited up for HC Davos for the 2004-05 season.  Nash teamed up with another NHL star, Joe Thornton, and led HC Davos to the Swiss Championship and the 2004 Spengler Cup, an annual invitation tournament held in Davos, Switzerland.
Following his season in the Swiss League he would make his senior international debut for Team Canada at the 2005 World Championships, leading his team and the tournament in goals (9) while earning his second silver medal.  Nash also added 6 assists for 15 points in 9 games. Nash's international experience carried over into the 2006 Winter Olympics where he skated withTeam Canada, however, this was a very disappointing tournament for both Nash and Team Canada.  Nash would only score one assist in 6 games and Canada would finish in 7th place.
However the following year he would lead team Canada to a gold medal in the World Championship, its record 24th world title.  Nash would score 6 goals and 11 points in 9 games, including 2 in the gold medal clinching game.  Rick was named MVP of the tournament.  He returned to the World Championships again in 2008, managing 6 goals and 13 points in 9 games, however Canada would not repeat as gold medalists and settled for a silver medal.
Meanwhile,  Rick was still building a successful career in the NHL.
Following the NHL lockout and his international competition, Nash would miss much of the first half of the 2005-06 season with knee and ankle injuries.  However, Nash would return and play his best hockey in his NHL career to date, scoring at a point-per-game pace over his 54 games of the season with 31 goals and 54 points.
During he 2006-07 season, Nash would match his career high of 57 points and would be named to the NHL All-Star Team for the second time in his young career.  Nash scored the game winning goal for the Western Conference.
The following season, 2007-08, Rick would set more personal milestones.  He would set a new career high with 69 points in 70 games, falling just short of his career high in goals with 38.  During the final minute in a game against the Phoenix Coyotes on January 17, 2008, Nash scored what many commentators called the "goal of the year."  It must be seen rather than described.  Later that same month, Nash would play in his 2nd straight, 3rd of his career, All-Star Game and scored the quickest goal in All-Star Game history, just 12 seconds into the game.  He ended the game witha hat trick. Finally, shortly before season ended, on March 12, 2008, Nash would be named the fifth captain of the Blue Jackets, following the trade of Adam Foote.
This was not enough for him.  During the next season, 2008-09, Nash would set another career high with 79 points in 78 games, andwould reach 40 goals for the second time in his career.  On March 7, 2009, Nash scored three unassisted goals in an 8-2 demolishing of the Detroit Red Wings in Detroit, becoming the first player to score three goals unassisted since Maurice "Rocket" Richard, who scored four against the Rangers at Madison Square Garden on March 14, 1948.  More important than any of those personal achievements, however, Nash would lead the Columbus franchise to its first appearance in the NHL playoffs.  Unfortunately, their opponent would be the much superior, defending champion Detroit Red Wings.  Columbus would have significant trouble scoring against the much superior Red Wings, scoring only 2 goals in the first 3 games before finally breaking out for 5 in game 4.  Unfortunately, the Red Wings would score 6 goals in that game and complete the sweep.
Although swept in their first appearance in the playoffs, the Columbus franchise finally seems to be on the right path and Rick Nash continues to lead them on that path.
For Rich Nash's career stats, refer to the Internet Hockey Database