So I said back in the Shea Weber column that the Predators shouldn't be looking for a replacement for Pekka Rinne just yet, because Carter Hutton was playing pretty solidly, and the timetable for the big Swede to get back between the pipes wasn't a particularly long four weeks.  Last night however, the Predators' goaltending landscape changed for the worse, with a report confirming that a strain of E coli is causing Rinne's hip infection and extending his return date by two-to-four weeks.
In his absence, Hutton has played commendably, but not nearly as well as he was in relief.  The U-Mass Lowell graduate has allowed twelve goals in his past three games, and appears to be unraveling a bit given a starter's workload.  An unlikely amount of goal support from the league's 24th scoring offense has earned the 27 year old points in his last two starts, but in an absurdly competitive Western Conference, loser points don't equal playoff spots.  If Nashville wants to rebound from its dismal 2013 with an expenses-paid trip to the postseason, Dave Poile might have to get on the phone.  Here are some of the possibilities in the early-November goalie market: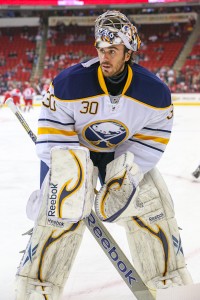 Ryan Miller
Why: He's the trade market's best goaltender by light-years, and he represents the best long-term solution if Rinne's hip problems become a recurring theme.
Why Not: Darcy Regier is asking the moon (or at least a first round pick) for him, and that's just not worth a six week rental.  Miller's 6.25 million cap hit is also out of whack with what his usage would be in Nashville, and trading for him also runs the risk of alienating Pekka Rinne via goaltending controversy.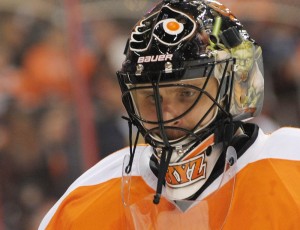 Ilya Bryzgalov
Why: He's the FA market's best (read: its only) option, he's got starter's experience, and he only costs cash and cap space.  The other thing, is that if he comes in and succeeds behind a very good Nashville defense, he turns into a troll-tastic deadline asset to ship to some random team in the East and ruin Buffalo's plans about flipping Miller.
Why Not: He can be something of a distraction, he was terrible in Philly (but what goaltender isn't?) and if he plays well, expect the same manufactured goalie controversy that would come with a Miller trade.  Also, if you can't ship him somewhere at the deadline, you don't want him clamoring for starts if Rinne hits a rough stretch.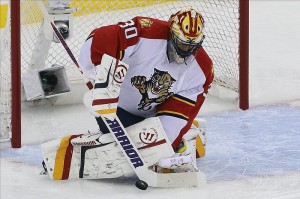 Random Team's Backup
Why: It's cheap, it lets Magnus Hellberg's .750 save percentage go back to the AHL for actual starts, and gives Hutton the more irregular workload he's had the most success with.
Why Not: This type of deal doesn't really exist right now, or at least it isn't obviously available.  The teams definitely not making the playoffs would still need a body in net coming back, Nashville can't afford to move Hutton until Rinne is back, and doesn't want to cut ties with Hellberg yet either.  If Tim Thomas gets healthy, perhaps Scott Clemmensen would represent a better short term option than the two Hs, but the 39 year old veteran isn't cleared to return yet, and his history of groin injuries already might make Florida more comfortable with a three-man platoon.
The Verdict
 If Poile is really afraid of Rinne's hip, there's no reason not to go out and sign Bryz on the cheap for a year.  It's a win-win if he has a good two months and secures a starting job elsewhere, and playing behind Shea Weber might be Mr. Universe's best shot to crack back into the league.  The locker room concerns are there, but if things get that bad because of a guy who was signed off the street, waiving him is a perpetual option.  His ability-to-cost ratio is by-far the best of Nashville's options.  If Bryzgalov's feeling about Nashville mirror his opinion of Winnepeg however, Poile should stick with what he has.