The Colorado Avalanche continued their hot streak against the Montreal Canadiens on Saturday night, and are now sitting at 12-1-0. The Avalanche have now run up their second six-game win streak of the young season and are riding high. Or they were until they received news that silky-handed forward, Alex Tanguay, will be out at least two weeks with a knee injury. To this point of the season, the Avalanche have been very healthy and haven't had to deal with any injuries to their top players, until now. The Avalanche got through Saturday's game okay, but what changes are going to happen to the lineup and how will this affect the team?
Nathan MacKinnon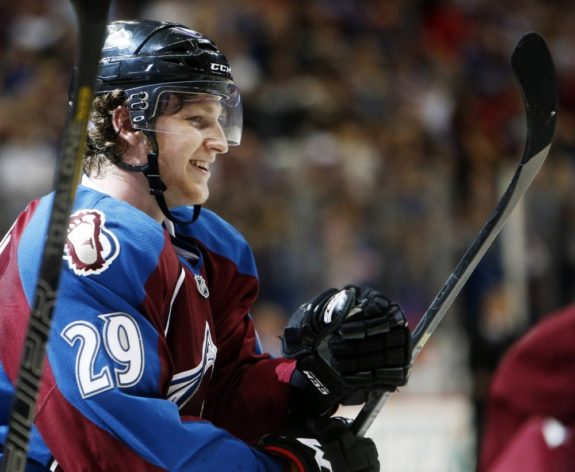 Nathan MacKinnon was moved up to Tanguay's spot on Paul Stastny's right wing against Montreal and figures to stay there until Tanguay rturns. He did pretty well, and scored the game winning goal. This will be a solid move for this line and for MacKinnon. MacKinnon needs more offensive minded players to help jump start his game, and we saw the move pay immediate dividends for MacKinnon. MacKinnon's presence will help this line because he brings a speed aspect that wasn't as prevalent before. in addition, MacKinnon has much more of a shoot first mentality than Tanguay, who will shoot as a last resort. This line is already playing very well, and adding MacKinnon will make them even more dynamic.
More Defensive Third Line
With MacKinnon moving up to the second line, the third line is now one that is going to have a much more defensive focus. P.A Parenteau was moved to Matt Duchene's line, and now MacKinnon up to Stastny's line, Steve Downie was traded, so only Jamie McGinn, who should return to the lineup against the Nashville Predators, remains on the third line. The will be another line with multiple centers on it as both Maxime Talbot and John Mitchell will be able to take draws, but my guess is Talbot will play more center since Mitchell has shown an ability to play wing over the past couple of seasons. This line will be able to play both ends of the ice solidly, and grind opponents down. While this more physical, grinding style will be a change from what they had been at the start of the year, it might be a more effective line in the long run as a result.
Power Play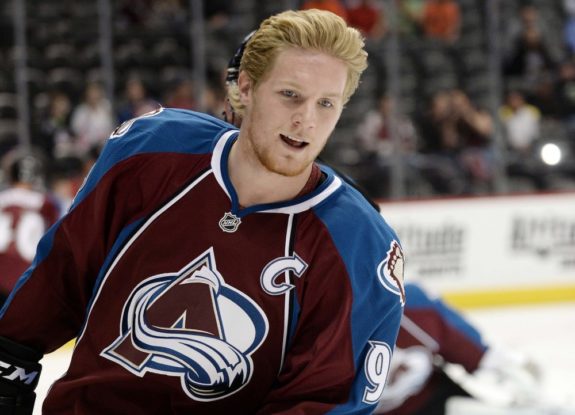 This will be the area that the Avalanche will miss Tanguay the most. Tanguay has been playing on of the points on the second power play unit this season with Andre Benoit. P.A. Parenteau and Erik Johnson have manned the point on the other unit, so the question now becomes, who fills this void? MacKinnon has already been playing with Stastny and Landeskog as the forwards on the second power play unit, and none of these three are really the types of players you want to have up on your power play point. Each of them are far more effective down low.
The question then becomes, would you want to take any of the forwards off of the first unit in order to fill this spot. Matt Duchene has played point before on the power play, but he's another player, along with Ryan O'Reilly, who are just more effective doing their thing down low. Duchene has been so dominant in the corners and right in front of the net, it would be nothing short of foolishness to take him out of that. John Mitchell has been the other wing on Duchene's power play unit, and is another one that isn't much of a point style player. So that leaves the other defensemen. With Erik Johnson and Andre Benoit already playing point positions, which defenseman makes the most sense?
Really, the best choice is Jan Hejda. Hejda is much more of a stay-at-home style of defenseman, but he has shown an ability to pick his spots wisely in offensive situations, and also has a cannon of a shot. I don't know that Hejda will make the power play better, but he definitely won't make it worse.
This is the first real taste of adversity that the Avalanche have had this season. Each of the smaller bits of adversity the Avalanche have come up against this season they have tackled like champions, but this is the most serious one so far. Alex Tanguay is a very good player, and they must hope that they have the depth in their roster to overcome this challenge.
I'm a Denver native who has been a fan of the Avalanche since they came to town and a fan of the game before that. I started writing my own blog a couple years ago before moving to Bleacher Report and becoming a Featured Columnist there. You can also find me the Burgundy Brigade Podcast