The New York Riveters played their final home game of 2016, falling to the Connecticut Whale 4-2, but despite the final score, there were a bunch of positives to take away from the game with a rematch next week on the road.
Taylor Holze netted her first career goal for one, which is a great story of endurance and passion as she has started each of the two NWHL seasons as a practice player. Diminutive in size and listed at 5'3" (only taller than one player in the league: sorry Emily Pfalzer), she plays with as much heart and hustle as any player. Last year she played in seven games, losing the rest of the season with an injury and this season Holze has already played in eight of the nine Rivs games.
Bittersweet Goals
"It took fifteen games, but it happened," Holze said following the game with a grin. "I saw it developing and I was like: ooh it's going to happen," she said describing the perfect passing play between Courtney Burke, Rebecca Russo and herself. The excitement was a bit dampened with the loss, though. "It was definitely nice to get it out of the way but at the same time that was two points that we really needed," Holze lamented. "We didn't do what we had to, it's bittersweet."
https://twitter.com/aqbelsarafl/status/808371815802347520
"Last year before I got hurt I played in every game, so it's just showing up and whatever role is open that I need to fill," she said giving us a glimpse into the mindset of an NWHL practice player. "I don't think my game is going to change," Holze said, referring to the void left by the retirement of Morgan Fritz-Ward.
"It's cliche, but I think everyone in the room is a leader and I think we get away from ourselves when we look to one person or put in on ourselves, or wait for someone to else to do it. I think we play at our best when we are playing a team game, and we need to buy into the team system. We're not a team of superstars; we're at our best when we play as a team."
Russo's assist on Holze's goal was her team and league-leading eighth of the season as she continues a very impressive start in her first NWHL season. Burke's assist came in her first game back on the ice after missing a month with an injury and now has two points (1g-1a) in two games against the Whale.
Captain Stretch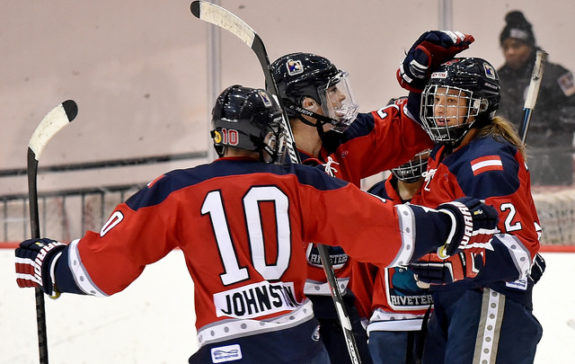 A third bright spot was the second Rivs goal of the game, when captain Ashley Johnston used a little shake-and-bake/dipsy-doodle move and scored for the second consecutive game — and has already doubled her goal total from last season.
"You'll never see that again," she said with a laugh when asked about her goal. "I just saw net. Something I have been trying to work on is my hands a lot. Especially I hurt my hand earlier in the season and then got my finger partially cut off; it kind of made my hands really go away. It was nice to see all that hard work paying off."
GOAL #2 @strettyit pic.twitter.com/FUJuvttHud

— Metropolitan Riveters (@Riveters) December 11, 2016
More important, and perhaps troubling to the Riveters captain was the effort of the team in a game where their opponent had played the night before, herself included.
"It was a tough one. Sometimes were really into it and sometimes we weren't; there's a lot of little things we need to fix," Johnston said addressing the media following the loss that leaves the team in fourth place. "Coach talked about being dialed in; myself, I was not always dialed in. I was 50-50 and at this point that's unacceptable, it's almost January – we have to be dialed in one hundred percent of the time."
Next week the Rivs will play their final game of 2016 in Connecticut before returning to home ice on January 7, when they get another shot at the Boston Pride.