The Team Canada World Cup roster was revealed to have three goaltenders on Tuesday. Despite an impressive season at age 36, Roberto Luongo was not among them. He took to Twitter after the announcement to cheer on his countrymen, saying "Canada in great hands."
He also joked that he wanted to know where the over-35 team sign-up is.
A play on the U-23 Team North America that is being fielded, many laughed off the idea of a roster comprised of the NHL's most greyed out.
But, in actuality, it's possible compile an over-35 team that could be competitive. In fact, they may have a more compelling forward group than Finland, Czech Republic or Team Europe. The defense is a step up from what the Czechs and the Russians are able to field. The goaltending isn't bad, particularly if you think Team North America has a shot at a run, then you'd have to believe this group of goaltenders can do it to.
Ground Rules for the over-35 roster:
1. Team Village Elders gets first pick of over-35 skaters, just like Team North America got first pick of U-23 skaters.
2. Players must be 35 by Sept. 7, 2016, when the World Cup commences.
3. Same roster restrictions as the other teams.
4. The over-35 roster is not limited by geography.
Is there a team Canada over 35 I can sign up for anywhere?Kidding aside those r 3 great and well deserving goalies. Canada in great hands 🇨🇦

— Strombone (@strombone1) March 2, 2016
The Roster
GOALIES
Roberto Luongo, Florida Panthers
Craig Anderson, Ottawa Senators
Ryan Miller, Vancouver Canucks
DEFENSEMEN
Francois Beauchemin, Colorado Avalanche
Brian Campbell, Florida Panthers
Zdeno Chara, Boston Bruins
Niklas Kronwall, Detroit Red Wings
Andrei Markov, Montreal Canadiens
Mark Streit, Philadelphia Flyers
FORWARDS
Pavel Datsyuk, Detroit Red Wings
Shane Doan, Arizona Coyotes
Marian Hossa, Chicago Blackhawks
Jarome Iginla, Colorado Avalanche
Jaromir Jagr, Florida Panthers
Chris Kunitz, Pittsburgh Penguins
Patrick Marleau, San Jose Sharks
Mike Ribeiro, Nashville Predators
Brad Richards, Detroit Red Wings
Daniel Sedin, Vancouver Canucks
Henrik Sedin, Vancouver Canucks
Joe Thornton, San Jose Sharks
Henrik Zetterberg, Detroit Red Wings
The Blue Line
The defensive group that can be pulled from 35+ NHLers is fairly well-rounded and there isn't a hard drop-off after those seven. Missing the cut are Kevin Bieksa, Willie Mitchell, Michal Rozsival, Paul Martin and Brooks Orpik.
In Campbell and Kronwall they get some tough players who can kill penalties and log a lot of minutes (though they aren't the only ones there). Chara, Beauchemin and Markov offer some players who can man the point on the power play and create some offense. Overall, it's a group with good size and skill and they all have a little something left in the tank.
In Net
There wasn't much of a decision. These three, plus Calgary's Niklas Backstrom (feels weird to type that), are the only goaltenders in the NHL who are over 35. Backstrom hasn't played a game this season, so the decision here is easy.
Ranking these three is a little tougher. Anderson is perennially underrated despite posting solid numbers year after year. In the end, Luongo is having the best season of any of them and this was his idea. He's the starter.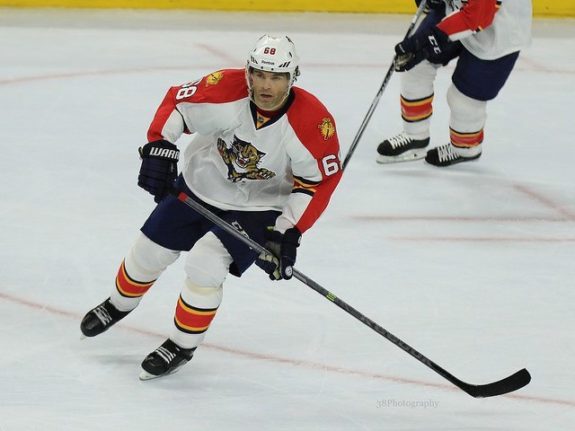 The Attack
Up front isn't a hard drop-off either. There are some solid defensive guys and offensive weapons that are getting cut, such as Matt Cullen, Alexandre Burrows, Radim Vrbata, Brian Gionta, Mike Fisher, Jason Chimera and Joel Ward. A couple of those are tough calls, and the decision came down to having a well-rounded forward group and keeping an extra that could move to the middle.
The Sedins are a no-brainer to pair up on a top line. Jagr is going on the right wing, but Iginla could be a good pick there as well. Jagr gets it basically because the guy is 44. You have to put him on the top line. It's a statement thing. Roster of old guys, oldest guy is going on the frontlines.
Iginla gets placed on the second line with Sharks teammates Thornton and Marleau. Their presence could make a case for Ward to get in there since he's had a great season and the familiarity would be alluring. Yet Iginla remains a great weapon and a tough player in front of the net. Putting him with Thornton gives Iginla one of the NHL's best distributors. Plus with those two out there, this is a big, tough line.
The third line is a threat too, but has strong defensive capabilities with Datsyuk centering teammate Zetterberg and maybe the best stick among NHL forwards in Marian Hossa. And no, 'Hawks fans, Hossa isn't getting dissed. I'll call it line 1C if it makes you feel better.
The fourth line has Richards centering Kunitz and Doan, with Ribeiro serving as the extra to keep an extra center on the roster. The line would be a little slow, but it's a roster of guys over 35. It'd be surprising if there wasn't a line that was a little slow.
Who is missing? Who shouldn't be here? Let us know below.
Official World Cup Rosters:
Team Canada Roster Announcement
Team Czech Republic World Cup Roster Announcement
Team Europe World Cup Roster Announcement
Team Finland World Cup Roster Announcement
Team North America World Cup Roster Announcement
Team Russia World Cup Roster Announcement
Team Sweden World Cup Roster Announcement
Team USA World Cup Roster Announcement