In the wake of Ryan Ellis signing a five-year, $12.5 million contact in order to stay with Nashville. I figured it would be a good time to take a closer look at the former first round pick, and assess where he is in his NHL career. Also I'm going to explain my theory about his development and the biggest asset to him for the upcoming season.
Junior Achievements
The Predators got what looked to be the steal of the draft in 2009 when they took Ryan Ellis 11th overall. Ellis was a winner in every aspect of the game. He was a two-time Memorial Cup champion in back-to-back years in 2009-2010, He collected 314 points throughout his four years with the Windsor Spitfires which left him just 16 points shy of Hall-of-Fame defenseman Dennis Potvin for the OHL point record.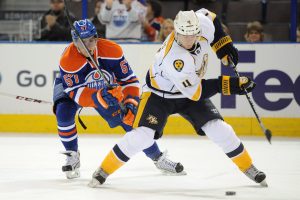 He made the OHL/CHL All-Rookie Team in 2008. He won the Max Kaminsky Trophy for OHL defenseman of the year in 2009, and 2011. Ellis made the OHL First All-Star Team in 2009, and 2011, and was named CHL player and defensemen of the year in 2011. Now those are about half of his accolades from Junior which also include a number of OHL defensemen of the Week/Months, as well numerous Gold Medals from playing on several World-Junior Canadian teams, and awards from international play.
What Went Wrong?
So it begs the question, what went wrong in his development? Why isn't Ellis one of the premier defensemen in the league? Why hasn't he been able to command P.K. Subban-like money?
My theory is simply he was overly developed.
Watching from afar, I had heard about all of his accolades and wondered why he wasn't making his mark in the NHL by now. After Nashville drafted Ellis, they sent him back to Windsor, which after just being drafted is totally understandable. That season he got off to a slow-start thanks to wrist surgery, but he recovered nicely and was able to collect 61 points in 48 games.
At this point, Ellis entered his second training camp with Nashville with full intentions to make the opening-day squad. Not only didn't he make the team, but because he still had another yeah of junior eligibility, they sent him back to Windsor for a fourth season. Ellis exploded that year, he was named captain, and put up over 100 points which was the first time that occurred in over 17 years by a defensemen. He also received a majority of the accolades in that season which put Ellis in prime position to make Nashville's roster, come the start of the 2011-12 season.
Did Ellis make the team out of camp? No he did not. It's crazy to think that they wouldn't give one of their star prospects a spot, but with Ryan Suter still with the team, and Shea Weber, along with other good young players, there simply wasn't any room left. Unfortunately for Ellis, this streak would continue, as he was bounced around from the AHL's Milwaukee Admirals, and the Predators for 2 full seasons before he finally got a chance to stick with the team full-time last season.
https://www.youtube.com/watch?v=GlH_7sW2TSM
Barry Trotz Vs. Peter Laviolette
It's fair to wonder what may have happened had Ellis made the team after the 2010 season, however with Barry Trotz running the show, every defensemen was going to have to pay their dues before playing full-time. For Ellis though, staying in juniors for two extra seasons, and playing against competition that you're by far better than, in my eyes, doesn't help improve anyone as a hockey player, let alone a highly touted NHL prospect.
I do understand the theory of putting him the line-up immediately after drafting him which may ruin their development. Just ask Josh Bailey of the New York Islanders who is only a year older than Ellis. However, what GM David Poile and Barry Trotz made Ellis go through was in all honesty unfair to someone who should have been given a better chance than that. What Ellis can be relived about though, is he now has to answer to Peter Laviolette, rather than the aforementioned Trotz.
Last season, Ellis really struggled at times. He may have put up career-highs in both goals and assists, however it seemed like he was always being held back by Trotz, who was always known for being a player's coach. His emphasis on defense is something which Ellis needed to improve, however with Laviolette running the show, he's going to allow Ellis the freedom to make plays, and show the hockey world why he was so highly touted coming out of the 2009 draft.
Simply put, Ryan Ellis is one of the great young defenders Nashville is going to deploy once opening day comes knocking. He, along with the likes of Seth Jones, Filip Forsberg, Kevin Fiala, among others, are the future this organization has chosen to ride with in hopes for a return to the playoffs this season. Laviolette is going to keep a very close eye on how they all develop, but if they want to get to the next level, then it's time to take the chains off Ellis and let the kid become one of the next golden boys on this team.
The Predators had better enjoy these next five years because they're going to be paying a hefty sum to keep him once he hits free-agency.
Like/Dislike? Leave a Comment Below!