Simon Gagne hasn't played an NHL game since April 2013, but he has an honest chance at playing one again in the future. The 34 year old forward was invited to attend the Bruins training camp this summer and has done his best to impress those who would possibly give him another chance on NHL ice.
Injuries Altered Simon Gagne's Career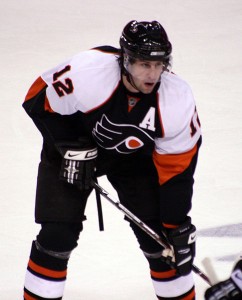 Gagne has had an interesting career in the NHL thus far. Drafted
22nd overall by the Philadelphia Flyers in 1998
, Gagne spent a majority of his playing years in the orange and white. In his rookie year he scored 20 goals and garnered 28 assists leading him to be named to the
NHL All-Rookie Team
. Gagne was also named to the NHL All Star Team in both 2001 and 2007 as well as a received a few other awards from the Flyers organization during his tenure in Philadelphia including team MVP for two years in a row (2005-2007 inclusive). While these awards and accolades are all well and good, Gagne also had a major injury in Philadelphia that somewhat changed his career path.
In October 2008, Gagne was on the ice in a Flyers/Flames game and while being checked his jaw smashed into the shoulder of Flames defenseman Jay Bouwmeester. The resulting concussion caused Gagne to miss 4 games and his injuries began to compile. He was injured on November 7th of that year and missed 26 games, only to be reinjured upon his return to the ice. It became a bothersome issue for the former All-Star player and he met with a specialist to figure things out. Dan Gelston, AP Sports Reporter, states that:
Gagne was told by a specialist that he didn't suffer three concussions, but that the first one in October never properly healed and was aggravated with each additional blow. Gagne originally complained of vision problems and dizziness, but was not first diagnosed with a concussion, one reason why he returned so quickly after the first hit.
Gagne returned to the ice and was healthy for a few seasons until he was sidelined once again with a double hernia in 2009. He missed another 24 games after having the hernias surgically repaired. In 2010, he was on the ice again as the Flyers made it to the playoffs and defeated the Bruins in the second round. Gagne himself scored the game winning goal in game 7 of the series.
Gagne was traded to the Tampa Bay Lightning in 2010 and spent a season with them before becoming an unrestricted free agent. He signed a contract with the Los Angeles Kings and won a Stanley Cup with the team in 2012. It was during the offseason before the 2013-14 season that the injury bug hit Gagne again as he was diagnosed with a 5cm mass in his neck that was causing him chronic pain and needed to be surgically removed.
Gagne played his last game in the NHL as a member of the team that drafted him after being traded from LA to Philadelphia in the 2012-13 season.
Gagne Joins the Bruins Camp
Patrice Bergeron had a hand in Gagne being invited to the Bruins training camp on a professional try-out agreement. The two met at a charity golf tournament and struck up a conversation. Zack Cox (NESN) reports:
"He kind of asked me where I was in my training and asked what I was looking for," said Gagne, who sat out last season as he recovered from neck, head and groin injuries. "At first, he thought I was looking more for a contract, but I told him no, I was looking to go for a tryout this year — something I was not willing to do last year."
One thing led to another and soon Gagne was on his way to Boston to participate in camp where he is presumably working hard to gain a spot with the organization. His situation differs from almost everyone on the ice at camp. While he is attending the camp, he is not a part of the Bruins organization where a majority of the other players are either Bruins players or prospects under contract to the organization. Gagne will have a tough time proving he's worth a roster spot, especially since the money for him may not be there. It is no secret that the Bruins are having severe cap problems and have yet to sign two key players (Torey Krug and Reilly Smith). Should the Bruins want to sign Gagne, they will be adding another part to their cap dilemma.
Is Gagne Worth It?
This is a tough question to answer to be honest. He has accomplished a great many things in his career, but has had many injuries. Another factor going against his hopes to make the team would be his age when the Bruins have younger players that they can invest more time into developing. On the other hand, his age and experience may also be viewed as a benefit to the Bruins decision makers as he would likely be willing to sign for just a year based on that factor as well as his injury history. Giving him a contract is not necessarily the best option out there, but he has clicked with his training camp linemates, Daniel Paille and Ryan Spooner, and this may play a factor into the decision on whether or not to sign him. Zack Cox (NESN) reports:
"I think we've started clicking," he said. "We try to talk between each shift and in practice to try to find ourselves on the ice. (Paille) has been here for a while, so he knows the system that Claude likes to play, so we try to take advantage of that, me and Spooner. I thought we had a pretty good game, even though we lost the game 6-1 and we didn't score a goal, but I thought that things went pretty good. Hopefully, we'll have a chance to play a real preseason game together (Tuesday) night."
Bruins head coach, Claude Julien, also appears positive about Simon Gagne's ability on the ice and his improvement in his play.
I'm not exactly okay with Gagne being in a Bruins jersey, but I don't necessarily outright hate the idea. I think it's something I could warm up to provided that he, Spooner and Paille stay together and mesh well on the ice. I'm going to just say though that he will not be a Boston Bruin next season. I could be wrong, but there appears to be too many variables in play when it comes to the decision. While the argument could be made that he would add another veteran presence to the locker room, there are already other Bruins players that can provide that experience and advice to younger players, most notably captain Zdeno Chara. Gagne's age, his injury history and his having not played for a while all work against him, at least in my eyes. Add to it that there are still players to sign and a major cap issue and I just don't see how this is Simon Gagne's year to wear the black and gold.