Ryan Murray THW Close-Up:
Date of birth: September 27th, 1993
Place of birth: White City, Saskatchewan, Canada
Ht: 6-0 Wt: 185
Shoots: Left
Position: Defense
NHL Draft Eligibility: 2012
***
Click here for the live updated NHL 2012 Draft Preview Guide – The Next Ones – your quintessential draft resource.
***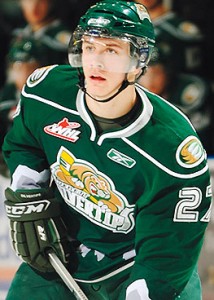 Murray's late September's birthday kept him from being eligible for the 2011 NHL Draft and, as a result, he had to wait another year before being selected by an NHL team. With one more junior year under his belt, during which he recorded 9 goals and 22 assists for 31 points in 46 games with the Everett Silvertips of the WHL and played at the World Junior Championships for Team Canada, Ryan Murray could be the surprise number one overall pick of the Edmonton Oilers next June.
After the early playoff elimination of his junior team, Murray was invited to participate in the 2012 World Championship's training camp in the Swiss Alps with other NHL players. This decision could be considered strange and unheard of, but the Team Canada GM is Kevin Lowe, president of hockey operations for the Edmonton Oilers and owner of the first pick in the upcoming NHL draft… Lowe wants to have front row seats to assess Murray's talent, along with head coach Brent Sutter, who is rumored to be the Oilers' next head coach, replacing Tom Renney behind the bench.
After drafting offensive gems like Ryan Nugent-Hopkins, Taylor Hall and Jordan Eberle in the past few years, the Oilers desperately need a solid defender to improve their mediocre group of blueliners. While Mathew Dumba is the most electrifying defenseman available, Murray is the most complete rearguard of the 2102 crop.
While Murray is unlikely to play in Helsinki, Finland or Stockholm, Sweden, the experience he will gain from practising with NHL players will certainly prove invaluable. Paired with PK Subban of the Montreal Canadiens in practice, Murray doesn't look out of place, and appears composed out there. The smooth-skating Murray, who's been asked to fill a pre-tournament spot for late-arriving players, is blessed with excellent hockey abilities ranging from a great hockey sense, to great shot-blocking abilities and sound defensive positioning.
The 18 year-old Murray can play big minutes and could make the jump to the NHL as early as next year, which is exactly what the Oilers need. As a result, while Nail Yakupov of the Sarnia Sting is ranked first on most scouts' list, don't be surprised to see him go first overall at the 2012 NHL Entry Draft next June in Pittsburgh.
Excerpt from Ryan Murray: The Next Scott Niedermayer? written in October 2011, by our own David O'Connor:
One of the main reason's that Murray will be drafted very high in next summer's draft is that his skill set is tremendous. His skating ability and decision-making on the ice are outstanding, and his puckmoving ability is arguably his best talent. Sounds a bit like Scott Niedermayer, doesn't it? Even though is offensive ability is off the charts, Ryan doesn't shy away from physical play, and always seems to be in the right position. Size isn't a concern with Murray, as the 6'1″, 195 pound blueliner is plenty capable of handling himself against larger opponents. Strength isn't an issue either, as Murray says that the key to being a top defenseman is "using body position and keeping a good stick, you don't have to be able to crush guys."
Scout's Honour:
After missing nearly two months of the WHL season due to a high ankle sprain and a generally forgettable WJC tournament, Murray will finish out the season with the last-place Everett Silvertips, who will look to their captain to lead their building team towards a brighter future. Murray is a great skater with excellent lateral movement, and sees the game well as plays develop around him. He is a very capable playmaker and can effectively jump into or lead the rush up the ice. With a heavy shot from the point, it certainly appears that Ryan Murray has all of the tangibles that NHL teams love to build around on their blueline. It will be important for Murray to forget some of his struggles this year, and continue to build towards what should be a very good professional career. – The Scouting Report
***
"I think Murray is more like a [Scott] Niedermayer; he just does everything under the radar and so smooth you hardly notice it. His skating is probably the best in the [WHL], but you don't really notice that so much because you almost take it for granted he's been there for three years. He never gets out of position and I've never seen him lose a one-on-one battle. He's always, defensively, in the right spots. He just does everything so seamlessly that he reminds me of Niedermayer only because he does everything so well at such a high level and after a while, you don't even notice it." – NHL Central Scouting's B.J. MacDonald
***
[…] Murray is a great presence on the back end with the puck because he rarely makes a mistake, doesn't limit himself to the basic plays but not will force the big passes if they are not there. He doesn't get rushed by opposing forechecks and is one of the best outlet passers in this draft. Murray makes smart reads defensively, takes his assignments well and will not shy from using his body to separate his check from the puck. He's an above-average to plus skater although he isn't the kind of player to threaten regularly with a speed game on the rush which he does do on occasion, rather he relies on a great first step and all-around mobility to keep the play in front of him and close on the puck.  Murray's puck skills are solid and while he's not a dangler he could certainly hold his own in open ice. On the powerplay he is a pass first guy who makes the smart plays and the difficult passes with consistency. He also has a pretty hard shot and can wire it through legs when he needs to. […] – Hockey Prospectus' Corey Pronman Twitter account: @coreypronman
***
"Ryan Murray oozes character and has a plethora of leadership skills as he has been the captain of each of his teams since he was 10 years old, excluding this year's WJC. Murray was brilliant in the finals weeks of the season to help Everett get into the playoffs and he showcased an offensive dimension not yet seen before in their opening round playoff loss to Tri-City. A breathe-taking skater equipped with a 360 degree turning range and glossy pivots, he has modest size to defend however it is his game reading ability and hockey sense that makes him stand out. Murray, laboured through an injury ravaged season due to a high ankle sprain but possesses a strong two-way game and more importantly has the maturity to be able to step into the NHL next season". – McKeen's Director of Scouting David Burstyn
McKeen Contest: Win a signed Sarnia Sting Nail Yakupov jersey (no purchase required)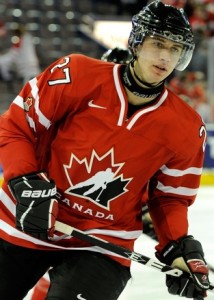 Statistics:
Bio/Interview(s)/Link(s):
• McKeen's Interview with Ryan Murray
• NHL.com's profile and video. Prospect Ryan Murray makes playing 'D' look easy
• WHL from Above: Officially On The Radar: Ryan Murray
International Tournaments:
ETA = 1 year
Risk-Reward Analysis:
Risk = 0/5 Reward = 4.5/5
NHL Potential:
Top Pairing Defenseman
Strengths:
• Great skater
• Accurate slap shot
• Great lateral movement
• Excellent defensive positioning and awareness
• Smart passer
• Excellent leadership skills
• Good offensive vision and hockey acumen
• NHL-ready
• Great endurance, can play 30 minutes per game
Flaws/Aspects He Needs To Work On:
• Not overly physical, he could add 10-15 pounds in order to be able to handle NHL players better
• Needs to improve his confidence with the puck, as he's always looking to pass it to his team-mates
• Needs to polish his offensive game, especially his decision-making in the offensive zone
Fantasy Hockey Potential:
Offensive = 7/10 Defensive = 10/10
NHL Player(s) Comparison:
– Scott Niedermayer
– Duncan Keith
Video(s):

BTN Draft Tracker with Ryan Murray, Everett Silvertips

NHL.com – 2012 Draft Prospect: Ryan Murray
Follow Fred Poulin for all your 2012 NHL Draft prospect needs and get more information on the NHL.
THW's The Next Ones prospect profile template design architect: Chris Ralph
A long-time Joe Sakic fan, Fred, 35, is a freelance sports writer and translator. Fred earned a Bachelor of Translation in 2002 at Laval University in Quebec City. He also writes on the Montreal Canadiens for HabsAddict.com and he is an associate editor and a baseball columnist on Dobberbaseball.com. He is also fluent in English, French and Spanish.