True North Knew an Arena Needed to be 'Cozy'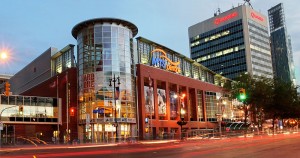 Prior to and during construction of Winnipeg's new arena, there was plenty of second-guessing and handwringing related to the size of the building and, more specifically, the seating capacity. The general public, media and people in the hockey business expressed concern over why ownership of the Manitoba Moose and their partners were constructing a building that could accommodate only just over 15,000 fans for hockey.
Criticism continued in the ensuing years, knowing ownership's ultimate focus and the fan base's main interest was in bringing the NHL back to the city. Phil Esposito, while visiting the MTS Centre, commented how beautiful the building was, but that he didn't know why they hadn't added another 2 or 3,000 seats while they were at it.
As it turns out, ownership (True North Sports & Entertainment Ltd) knew exactly what they were doing when deciding on the location, design and capacity of the arena. The organization came up with a design that worked well in a relatively confined area within the downtown, the part of the city where they always wanted to build an arena. They went with a building that a city the size of Winnipeg could be counted on to fill consistently, hopefully even 100% of the time.
What True North hoped to do was generate the maximum amount of revenue from a structure that was appropriate for Winnipeg. They did not try to replicate what worked in New York, Montreal, Toronto or even Calgary and Edmonton. Those were all larger centres, with much larger populations and corporate bases.
True North more closely followed models adopted by Major League Baseball teams in the past 20 years when it came to building new stadiums. Gone were the cavernous 70 or 80,000 seat parks (sometimes because they weren't dedicated just to baseball) that were more common in the first half of the twentieth century. Major League teams manufactured parks they didn't have to share with NFL teams and were designed with their fans' needs in mind (see NY Mets' Citi Field http://espn.go.com/travel/stadium/_/s/mlb/id/21/citi-field and Miami's Marlins Park http://espn.go.com/travel/stadium/_/s/mlb/id/28/sun-life-stadium). More importantly, they realized that it was better to have demand outstrip supply rather than vice-versa. Teams can always exercise more control over pricing when tickets are more difficult to come by.
This is even more essential in the NHL, where teams realistically hope to be at or near capacity every game of the season, unlike MLB, that has an 81 game home season and during which a wider range for attendance game to game is always the case. The Jets sold out for the entire season, finishing in the top 10 in the league in terms of attendance in relation to capacity (http://espn.go.com/nhl/attendance).
Although ticket prices were reasonable they were expensive enough, especially single game prices, to generate the kind of revenue the team needs to be operable. Along with an avalanche of merchandise the team has sold this year, the club has generated more than enough revenue dollars to remain viable. The Jets will not qualify for the league's revenue sharing program since they were in the top 15 revenue-generating franchises in the NHL, despite having the smallest seating capacity in the league by over 1,200 (the next smallest is the old Nassau Coliseum the  New York Islanders play in).
The MTS Centre has also been a huge moneymaker beyond hockey, attracting a large number of concerts, exhibitions and other events to consistently rank in the top 20 attended venues worldwide  since its' opening in 2004. The home for the new Winnipeg Jets has been  part of a very intelligent, thorough and well-thought-out plan to get an NHL team in Winnipeg and make sure that it stays there this time.
Long time sports fan dating back to the stone-age – when hockey players were ridiculed for wearing helmets! Besides being a part of THW team, Jeff is also a member of the Yahoo Contributor Network.