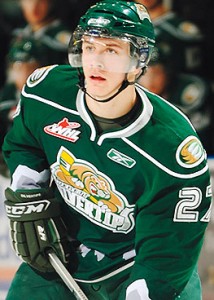 Ryan Murray is without question the top defenseman currently available for selection in the 2012 NHL Draft. This impact player from the Everett Silvertips of the WHL tallied 27 points in 52 games as a rookie in the WHL, and averaged 30-35 minutes of playing time a game. Murray was the team captain for Canada in the Ivan Hlinka Memorial Tournament, and led them to a gold medal.
He is regularly noted for his great puckmoving ability, and is already being called the next Scott Niedermayer. Murray nearly made Canada's World Junior team this past year, and he is almost already a lock to be one of the team's top defensemen for the 2012 tournament.
In 70 games with the Silvertips in 2010-2011, Murray scored 46 points, including 40 assists. Ryan Murray is looked at as a future two-way defenseman in the NHL, and will likely be a solid defenseman for years to come. Look for him to be the first defenseman selected in the upcoming draft, and he will certainly be picked in the top five selections.
Former Silvertips Head Coach Craig Hartsburg has said that "[Murray's] been unbelievable since the first day I saw him…at 15 he was playing like an 18 or 19-year-old. He does everything right, he's a total professional." That seems to be the message that everyone else is seeing too. Named captain of the Silvertips at 17 years old, Murray has been the complete package for the team, and pro scouts are looking forward to potentially having him play on their NHL squad as soon as next season. Murray's maturity is almost that of a seasoned veteran, making him future captain material in the NHL.
One of the main reason's that Murray will be drafted very high in next summer's draft is that his skill set is tremendous. His skating ability and decision-making on the ice are outstanding, and his puckmoving ability is arguably his best talent. Sounds a bit like Scott Niedermayer, doesn't it? Even though is offensive ability is off the charts, Ryan doesn't shy away from physical play, and always seems to be in the right position. Size isn't a concern with Murray, as the 6'1″, 195 pound blueliner is plenty capable of handling himself against larger opponents. Strength isn't an issue either, as Murray says that the key to being a top defenseman is "using body position and keeping a good stick, you don't have to be able to crush guys."
Born on September 27th, 1993, Murray's late birthday kept him from being eligible for the 2011 NHL Draft, where he still probably would have been a top ten selection. Now that the White City, Saskatchewan native will have another season of junior experience under his belt, expect Murray to go high in the 2012 NHL Draft, where the top three prospect (as of right now) appear to be him and Sarnia's dynamic duo of Alex Galchenyuk and Nail Yakupov.
Watch for a big year from Murray this season, expect a solid World Juniors performance, and make sure to follow his progress, because he's a name you'll be hearing a lot of in the very near future.
David O'Connor is a managing editor with the Sunbelt Hockey Journal. His writing has been on the Los Angeles Times' website, among other places. O'Connor also does some scouting work for the local Junior B hockey club. Please feel free to contact him at davidoconnorhockey@gmail.com.