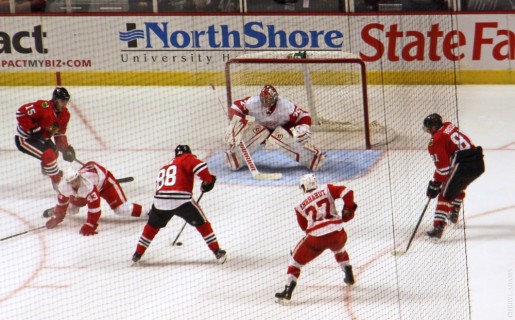 Goodbye, Stanley Cup hangover. Hello, reinvigorated Chicago Blackhawks.
The Chicago Blackhawks made some interesting moves in free agency, addressing some important needs (grit, sandpaper, toughness) in their summer acquisitions. How are those pickups – and the team – looking as we head into the 2011-12 season?
As the Hawks took the ice last night in Dallas, they were down a few regular players. Dave Bolland, Viktor Stalberg, Ben Smithwere all out with injuries, and Patrick Sharp was playing for the first time after missing preseason games as he recovered from an emergency appendectomy. Additionally, the Blackhawks haven't quite figured out who their second-line center should be – Patrick Kane was moved from wing to center as neither Marcus Kruger nor Brandon Pirri showed they were quite ready to shoulder the load at the NHL level.
Chicago also carried 11 forwards and 7 D-men into last night's game, which meant that defenseman Steve Montador spent some time on the fourth-line wing. Playing wing wasn't something he was necessarily brought to the team to do, but which he certainly can do – he spent time on wing while he was with the Florida Panthers.
The Blackhawks have not put their full regular roster on the ice during the pre-season. The closest they came to doing so was the September 28th tilt against the Detroit Red Wings on home ice, which they won, 4-3.
Still, unlike last year, the majority of this year's team has played together for at least one season, and the new players are almost all vets. While there will be a certain amount of early-season adjustment, there was nothing horrific about the game on the ice last night. Unfortunately, despite a few flashes here and there, there was nothing brilliant on the ice, either.
The most noticeable guys on the ice for Chicago last night were Marian Hossa, with 8 SOG, and Sharp, who had 4 SOG and a couple of nice breakaways but couldn't beat a hot Kari Lehtonen. In fact, the whole team couldn't beat Lehtonen until the final seconds of the game, when Nick Leddy put one in with just 13.6 seconds to go. Dallas won 2-1 with goals by Jamie Benn, who was a singular tour de force on the ice, and Alex Goligoski.
THE GOOD
– Marian Hossa looks the best he has in a couple seasons. After 3 Stanley Cup Final seasons followed by an injury-riddled 2010-11, Hossa got a full summer of rest, got refocused, became a dad, and returned to camp with a fresh spring in his step. He was a beast on the ice last night – his rush on the net early in the first when he threw a shot on goal then got his own rebound was one of the highlight moves of the night. Quenneville double-shifted him for the game, and he finished with 22:09 TOI, 8 SOG (+2 MS), 2 hits and a block. Remember how hot Hossa came out of the gate last October? If he stays healthy, then he will definitely be in hardware contention come June.
Marian Hossa vs Kari Lehtonen 10/7/11 CHI-DAL
– Jamal Mayers had a very good night. Only 8:09 TOI, but solid, and won 80% of his faceoffs.
– For a guy who just had his appendix removed and missed a good chunk of training camp, you wouldn't know it by watching Patrick Sharp. He's fast, he's dangerous, won all his faceoffs, and the only guys who threw more on net were Hossa and Kane.
– Corey Crawford looked like he picked up where he left off. He let in two goals on 33 SOG, but neither were horrific. Kari Lehtonen was just the hotter goalie (stopping 37 of 38).
– Patrick Kane was 67% on the dot. The "Patrick Kane at center" experiment is still a work in progress (he was reunited with Toews and Sharp late in the game), but it's not the hot mess that most people predicted.
– Aside from one giveaway that led to a goal, Duncan Keith looks back to form, despite 27:13 TOI (and 2 PIM). He can't ride that many minutes again all season long, but he was getting pucks to the net, hitting (1) and blocking (3) and looks ready for another top season.
– 38 SOG plus 16 missed shots and 14 shots that got blocked. That's a lot of pucks on net.
THE BAD
– The team still has a tendency, as a whole, to throw pucks on the net from too far out (blue line, top of the circles). Granted, sometimes it's because they're being muscled out, and as Gretzky said, you miss 100% of the shots you don't take. But one of Chicago's glaring flaws last season was an unwillingness to get "dirty" on goals. The team can't wait for Carcillo to step into the lineup; they have big bodies like Bryan Bickell and Rostislav Olesz, and those guys have to be willing to park their butts in front of the goalies, and shovel in the garbage. Andrew Brunette has made a career of this; expect to see him lead the team in these kinds of goals.
– Most of the new guys were invisible – or had bad moments. Part of that is team chemistry, but after the standout training camp some of them had, they've got to show more now that it's the real thing.
– Blackhawks got outhit 37 to 19. When the Hawks hit more, they do better. "More physicality" was the mantra of the off-season; now it has to translate on to the ice.
– Steve Montador has to start playing better. He was brought in to replace Chris Campoli. Campoli's mistake was taking the Blackhawks to arbitration – he wanted to be a Hawk, and had a pretty good end to his season last year; he could have done well on the blue line this year. Montreal scooped him up at the last minute, but he got injured in his first game and will now be out for at least a month. Campoli was very physical; and that was the expectation for Montador – which the ex-Sabre has got to live up to. He only saw 9:16 TOI last night, and a few of those shifts were on wing. His performance is going to be under a lot of scrutiny early; he needs to step it up.
THE LACKLUSTER
– Niklas Hjalmarsson had 2 hits and 2 blocks, but also got drilled through the glass by Jamie Benn. Hjalmarsson declared last season that he was going to be the shot-blocking replacement for the departed Brent Sopel. But the 6'3″, 207 pound defenseman has got to start playing like the big man he is, and hitting more frequently.
* * *
The Blackhawks open their home season at the United Center tonight. The pre-game red carpet show will carry live on the Blackhawks site at 5pm CDT; the game will be on CSN-Chicago starting at 7:30pm, and WGN 720 radio (available as a phone app).