As the old saying goes in life, when one door closes another one opens. Such is the case with 23-year-old Ryan Spooner.
The young center for the Boston Bruins was called up in February after a knee injury sidelined David Krejci for over a month. He took full advantage of the opportunity, posting a team-high 18 points in the final 24 games of the season, as the Bruins pushed for a playoff spot. Although the team would fall short, Spooner did his part to keep Boston alive right down to the wire.
Sweeney referenced possibility of Carl Soderberg being back: "Highly unlikely at this point in time that that will be happening"

— Boston Bruins (@NHLBruins) June 19, 2015
Thanks to his efforts down the stretch, the five-foot-eleven center may have earned himself a permanent place on the roster next season. New general manager Don Sweeney confirmed on Friday that regular third-line center Carl Soderberg is "highly unlikely" to return to Boston next season, making him an unrestricted free agent. This opens the door for Spooner to take his place in October.
Boston's number 51 is a cost-effective third line option for a cash-strapped club next year.
2014-15 Highlights
Spooner started last season on Causeway Street but did not record a point in five games. He was then sent down Interstate 95 to Providence after a slow start to the year. However, all was not lost for the second-round pick in 2010 as a February call-up gave Spooner new life in the Black and Gold.
https://www.youtube.com/watch?v=ufqLUd9IlMY
His first NHL goal in New Jersey against the Devils not only gave the Bruins two important points in the standings but also started a seven-game point streak for the playmaking center. The team responded to Spooner's resurgent return going 6-0-1 in those seven games to, at least at the time, put themselves in position for the postseason.
The Ottawa native would proceed to torment his hometown Senators twice in the span of nine days. Spooner scored four goals on 11 shots at the Canadian Tire Centre in front of friends and family, putting on a show for the hometown crowd. The goal-scoring touch that had eluded him for over 30 League games showed up in the friendly confines of Canada's capital.
Bruins coach Claude Julien paired Spooner alongside rookie winger David Pastrnak and Milan Lucic for the rest of the season trying to generate more offence. The line flourished, combining to score 48 points in the team's final 24 games. Spooner (18) and Pastrnak (17) were first and second, respectively, for Boston in points since February 22.
It was a strong stretch run for Spooner that undoubtedly played a role in Sweeney's decision not to bring Soderberg back next season.
Potential Linemates
Who will line up with Spooner come opening night in October? There are plenty of options for Julien to choose from.
Left Wing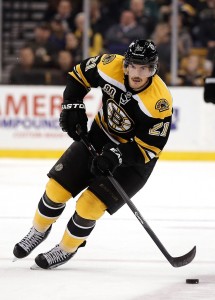 The favorite to occupy the left wing is 34-year-old veteran Chris Kelly. He has occupied the left side for the better part of the last two seasons with Soderberg and Loui Eriksson. Kelly recorded 28 points in 80 games last year but is better known for his defensive abilities in a bottom-six role. Julien may feel more comfortable leaving him alongside two younger players as insurance in the defensive end.
Eriksson is another option that could make more sense on offense. The 29-year-old was one of the Bruins better performers last season scoring 22 goals and 47 points in 81 games. The option is there for the Swede to keep his position, creating a third line that may be one of the best in the League. However, his performance is likely to turn into a top-six role, most likely with Krejci and Lucic for the upcoming campaign.
Right Wing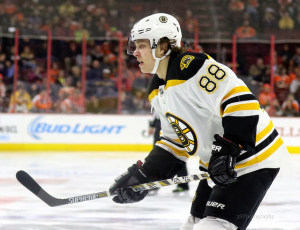 Pastrnak should line up to the right of Spooner. The 19-year-old had great chemistry down the stretch with his center, averaging a team-high 3.21 points per 60 minutes played in the final 24 games of the season. The two young guns are quick and like to push the pace on offence, which is exactly the style Sweeney wants from his club next season.
Reilly Smith is another option should Julien choose to go that route. The 24-year-old regressed a bit last year scoring 40 points in 81 games. Smith should have the motivation to silence the critics that have criticized his new contract worth nearly $7 million over the next two seasons. If Pastrnak starts the year with Bergeron and Marchand, look for the winger to play alongside Spooner at the start.
Ryan Spooner has the opportunity to cement his role as a third line center next season. As a restricted free agent, Sweeney will have to sign him to a new contract before anything happens. Given how important Spooner was in the home stretch last year, it is a question of when more than if he will be signed.
Joe is a writer covering the Boston Bruins. He is a lifelong native of Massachusetts and is currently a content writer/manager for a newsletter at a Human Services Agency. Joe can be found on Twitter: @JoeCherryTHW