In its storied history, many groups of siblings have joined the NHL. Rivalries born from humble beginnings on backyard rinks have taken shape in sold out arenas all over North America. The Buffalo Sabres claim several of these family ties spanning their 48-year existence, whether playing together or as opponents.
Recent fraternal pros include former Sabres forward Marcus Foligno, who broke into the league with his brother Nick, captain of the Columbus Blue Jackets. William and Alexander Nylander are currently playing just across the Peace Bridge from each other in Toronto and Buffalo.
Cal and Ryan O'Reilly both played with the Sabres from 2015-17 after Ryan was traded from the Colorado Avalanche. Former Sabres co-captain Chris Drury and his brother Ted bounced around the league in the 1990s and 2000s.
Darryl and Darrin Shannon played one after the other in Buffalo before reuniting in Winnipeg with the Jets from 1994-96. Marty Biron, the former Sabres netminder, stopped a shot or two from his brother Mathieu, a 1998 first-round pick of the Los Angeles Kings.
Older generations might remember Mike and Randy Moller, Bob and Jean-Francois Sauve, Jim and Larry Playfair, as well as Steve and James Patrick from Sabres teams of the 1980s. The league-wide list goes on and it begs the question: "Who's next?"
Buffalo Sabres Defenseman Brendan Guhle
There is a rising star in the Sabres prospect pipeline, who fans have known since he signed with the organization in 2016. Brendan Guhle, a 6-foot-2, 195-pound, left-shooting defenseman, was a 2015 second-round selection after spending three seasons in the Western Hockey League.
A native of Sherwood Park, Alberta, a hamlet on the eastern edge of Edmonton, Guhle prides himself on his strong work ethic, selfless attitude and patience. His positive energy and willingness to defend teammates does not go unnoticed.
The Sabres have developed the now 21-year-old to adjust to the professional game.  After suffering an upper-body injury from a Dion Phaneuf body-check in 2016, Guhle has taken his time to mature physically and mentally. Rushing early development would stunt his growth instead of properly molding what the Sabres feel is an important piece of their long-term puzzle.
His athleticism and drive to play in the NHL are apparent, but experience is first necessary. Entering training camp, Guhle's window to make the leap to a full-time role with the professional club is open. Brendan has his time with the Rochester Americans to thank for putting him in this ideal position. The opportunity to play full-time for the Buffalo Sabres is years in the making.
The AHL is a league designed to give those players with ample skill to play in the NHL enough time to adjust to a higher level of speed and physicality. Guhle and a cast of new and old faces assembled by general manager Jason Botterill and his team helped build a winning culture and earn the club its first playoff berth in three seasons.
Guhle's contributions were noted on the scoresheet and off the ice, helping to create a locker room culture intent on competing during each game. That mindset will serve him well at the NHL level. While he looks forward to a promising career in Western New York, checking in at home exudes a familiar source of pride.
Related – Sabres Defense: What It'll Look Like for 2018-19
Prince Albert Raiders Defenseman Kaiden Guhle
Kaiden Guhle is five years younger than his brother Brendan. However, their height, weight and shots are nearly identical. At 6-foot-2 and approaching 200 pounds, the 16-year-old has made his mark on minor hockey in Western Canada. In 2017, Kaiden was drafted first overall into the Western Hockey League by the Prince Albert Raiders, the same junior team that his brother played with from 2014-17. The Raiders selected Brendan third-overall in 2012.
Wow. Congrats bro! First overall that's amazing. Keep working hard! @kguhle_4

— Brendan Guhle (@guhles_) May 4, 2017
Before the draft, Kaiden was coming off of a season in which he scored 40 points in 30 games for the Okanagan Hockey Academy Edmonton Bantam Prep program. That performance won him the HockeyNow Minor Hockey Player of the Year Award for Alberta and Top Defenseman in the Canadian Sport School Hockey League.
Kaiden developed further in midget the following season, amassing 39 points in 35 games. The Raiders then gave him the opportunity to play in eight playoff contests before their season ended. That experience offered a preview of the competition in the WHL, facing skaters nearly as old and seasoned as his brother.
"In my opinion, it was a slam dunk that he would go first overall," said OHA Edmonton head coach Sean Beissel. "I thought of all the options to go first overall in that draft, there were lots of good players, but I thought Kaiden was probably the most well-rounded."
He held his own, expressing afterwards that the exposure motivated him to do what was necessary to make the roster in August, which he did. Kaiden is one of seven WHL rookies to join the 2018-19 Prince Albert Raiders. Their regular season begins Friday, Sept. 21 at home against the Regina Pats.
The matriarch of the Guhle household has watched Brendan and Kaiden accomplish so much in their relatively short hockey careers. When asked about her two sons, Carianne Guhle mentions how much the two get along, neither one shy to express pride in the other and offer mutual support on their respective journeys. She even admits the two have never fought (from 'Kaiden Guhle Is Our 2017 Hockey Player Of The Year For Alberta', HockeyNow.ca, 7/19/2017).
However, she also cannot help but note slight differences in their style of play. Kaiden has a little more "grit" and an edge to him. Mom knows best, but official scouting reports note that both the Guhle brothers enjoy the physical aspect of being speedy, two-way defensemen. They are unafraid to use their large frames to impede opponents.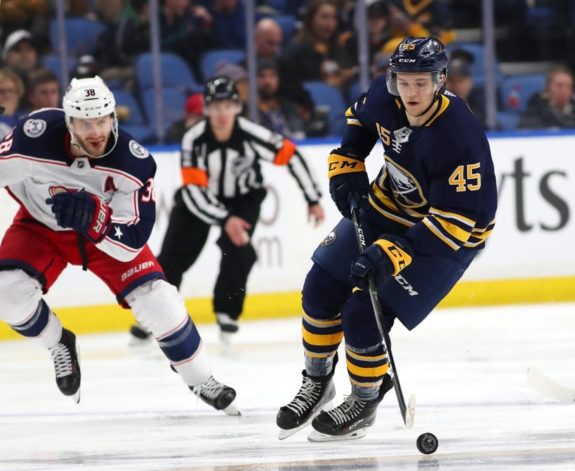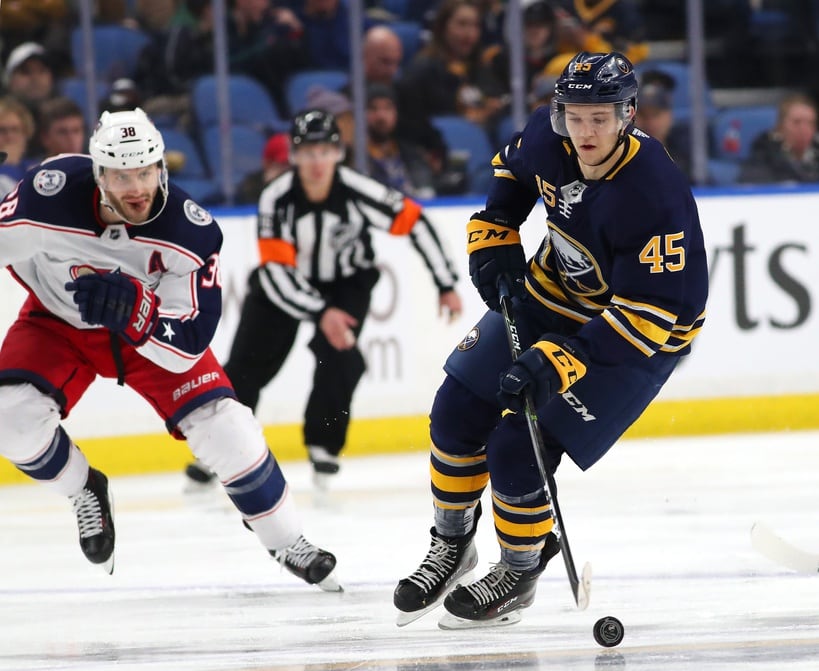 Kaiden is eligible for the NHL Entry Draft in 2020, already considered one of the top prospects in that rising class. By that point, Brendan could be a major anchor on the Sabres' blue line alongside Rasmus Ristolainen and Rasmus Dahlin.
The brothers may someday play in the same league at the same time, adding to the list of siblings before them who have lived that dream. Perhaps Sabres fans will see the Guhle brothers together in blue-and-gold. Those stars are years from aligning, but Kaiden surely fits the fast, physical style that Botterill admires in a blueliner.
Regardless of where Kaiden lands, Brendan will undoubtedly have plenty of brotherly advice to offer on how to turn the opportunity into a success.
Born and raised in Maryland with roots in Western New York. I became a Sabres fan at an early age and have decided to write about the team. There will be much to discuss on this journey back to the top.